Footwear for the First Lady (Part 2)
We were wowed last month by Michelle Obama's unfaltering style and grace throughout the long day of inaugural festivities. The fact that she was on her feet in heels for hours got us thinking about her tired tootsies and what kind of shoes might make her White House life a lot more comfortable! In our first set of proposals, we nominated several Cydwoq Vintage styles as winning candidates for Ms. O's (and your) wardrobe. Now, we're back with Round 2, this time turning to Chie Mihara, with a dash of Coclico and Trippen(!), as possibilities for keeping the First Lady well-heeled.
First up, the Chie Mihara Frieda: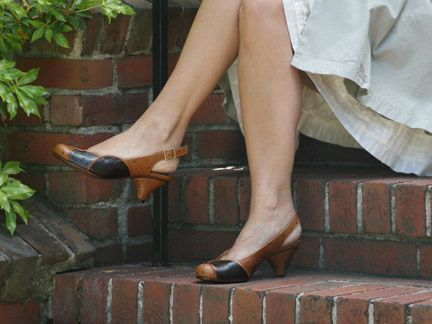 With spring just around the corner, this sling-back could well be Ms. Obama's perfect shoe. Its palette is dignified enough for welcoming heads of state, and yet its design has uncommon zing, thanks to the faux ostrich leather and the way Chie has overlapped the leather petals. The heel is not too high–but even if it were taller, those who've worn Chie Mihara know that her shoes achieve the nigh impossible: heels that are comfortable enough to stand in all day.
Next up, the Chie Mihara Enko: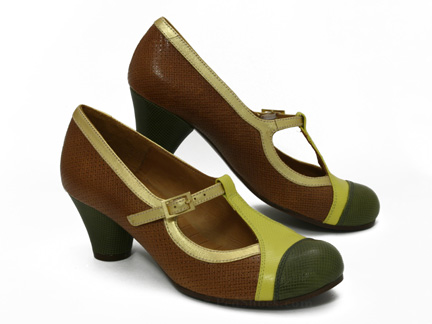 We know Michelle O. is not afraid of spicing up her outfits with color, and since we think she looks especially great in green, why not the Enko?  This t-strap is so fresh and sophisticated—a lot like the First Lady herself. Again, the heel is perfectly manageable for touring facilities or walking to and from Air Force 1.
Another fabulous walk-all-day shoe ideal for springtime in D.C. is Trippen's new 40s.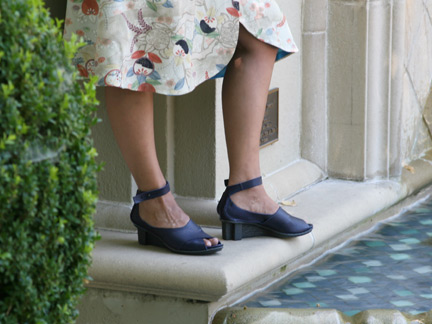 Standing on Trippen's deliciously comfortable x-shaped wedge, the 40s' interwoven design is simple yet ingenious. And the cobalt blue color is luscious. With its riveted ankle strap, this peep-toe offers a bit of European flair, which would win Ms. Obama style points when she meets French President Nicolas Sarkowzy or German Chancellor Andrea Merkel.
Since we've heard the President likes to keep his Friday nights free for "date night" with his wife, we think Coclico's Chiba would be an ideal choice for Ms. O. when out on the town with Mr. O:
I ask you, have you ever seen a prettier sandal? It's absolutely perfect for an evening stroll along the canal beneath the cherry blossoms (which we're sure the Obamas will do since it's the best part of spring in the Capital).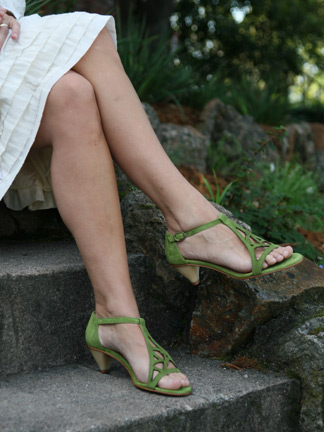 Finally, for those kick-back weekends at Camp David, Michelle Obama can't go wrong with Chie Mihara's Moisson: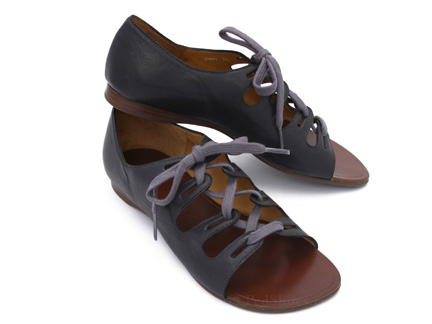 The First Lady is famous for her love of J. Crew separates, and we think this lace-up flat would look fab with her casual wear. After all, a sandal that's cute and comfortable always gets everybody's vote!
Tags: Chie Mihara, Coclico, green, spring, Trippen