Gear up for a getaway!
Here in the U.S., today is Memorial Day, a holiday that honors war veterans (somber), but which also adds an extra day to the weekend (happy)! What a perfect time to hit the road—or the air or the tracks—for a refreshing getaway! Here at Ped HQ, we know just how rejuvenating a three-day break can be, and we like to practice what we preach! You don't need much for a spur-of-the-moment mini vacation: just a great hold-all, versatile shoes, and something to keep you warm in case the temperature drops. To meet those needs, Ped's road-tripping experts offer these recommendations:
1) 49 Square Miles spacious and luscious Kerouac Satchel: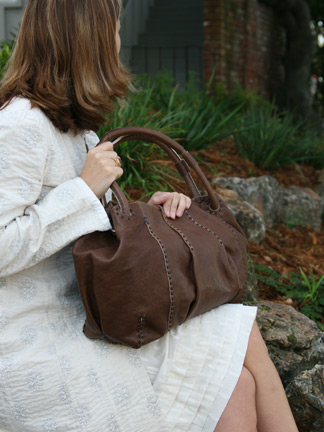 The size is ideal; it holds everything you need—a change of clothes, a good book, and a scarf—but it keeps you from overpacking. And we simply can't say enough about 49 Square Miles' leather, which is the very definition of "supple." Exquisitely crafted, the Kerouac will let you wander through a lifetime of long weekends!
2) Cydwoq's versatile Elect sandal in bronze:
Oo-la-la, how we love this sandal! With its gladiator-esque styling and metallic faux crocodile leather, this flat is so modern. But because it's handmade by Cydwoq, it's like an old friend on your feet—comfortable enough to run around in 24 hours a day. Plus, the bronze color magically transforms from afternoon-casual to after-dark-dressy with the change of an outfit.
3) A cosy Sophie Digard scarf: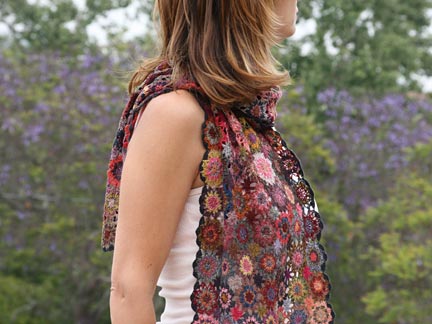 Behold Sophie's lovely wool Edelweiss scarf, which is light enough for warm-weather wear. But Ped's favorite Parisian textile artist also offers other choices, depending on how prone you are to feeling chilly. Those who start to shiver as soon as the sun sets may want to wrap up in a woolen beauty. But if you're a gal who simply gets a few goosebumps, Sophie's lighter linen fare may be all you need. Whichever you choose, you'll look drop-dead gorgeous!
So hit the road in style and enjoy a few fun days away!
Tags: 49 Square Miles, bag, Cydwoq, Cydwoq Vintage, handbag, leather, sandal, sandals, scarf, scarves, Sophie Digard, spring, summer, vacation, wool