Epice makes necking so spicy!
Not that kind of necking—we're talking scarves, beautiful, colorful, soft, and light-as-a-feather scarves from Epice! They're the latest additions to the Ped lineup!
French for "spice," Epice is the creation of Danish designers Bess Neilsen and Jan Machenhauer, who launched their artistic textile line in France in 1999. The pair collaborate with master weavers in India to translate their vibrant, complexly patterned designs into wearable expanses of soft cotton and silk. Exquisite to touch, Epice scarves feel wonderful wound around your neck, but they're also wide enough to wear as shawls—perfect when you need a little something on a summer evening.
See for yourself:
I personally own Epice's Garden Party scarf, and I wear it all the time!!!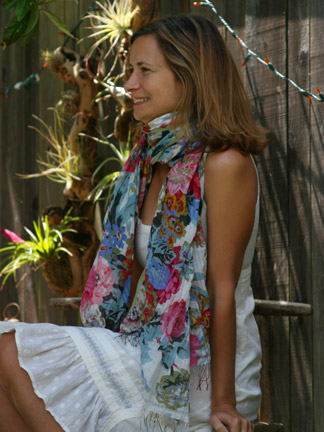 The colors of this all-cotton, floral delight will instantly lift your spirits!
At Ped HQ, we have a well-known weakness for stripes and dots, so we were down for the count when we discovered these next two treasures. First, representing the stripe camp, the appropriately named Stripe Party scarf: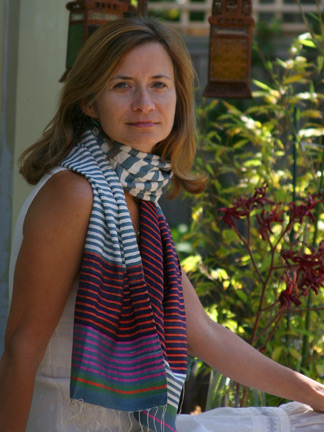 Woven from cotton with just a touch of silk, this gorgeous scarf has a nautical air (think French sailor's shirt) without any yacht-club stuffiness. We love Epice's playful juxtaposition of the various colors!
And on the dotty side of things, we have the Dot-a-licious scarf: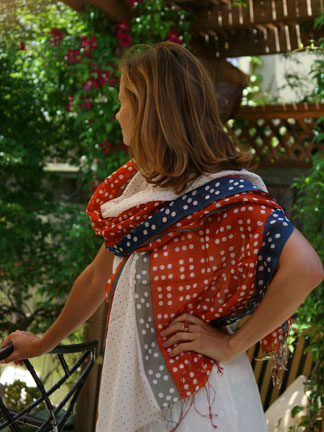 This wonderful all-cotton number makes us think of dominoes (preferably played on the porch with a tall glass of iced tea).
Dots and stripes also jazz up the dazzling pattern of the Epice Festival scarf (use the "zoom" at the Ped site to see what we mean):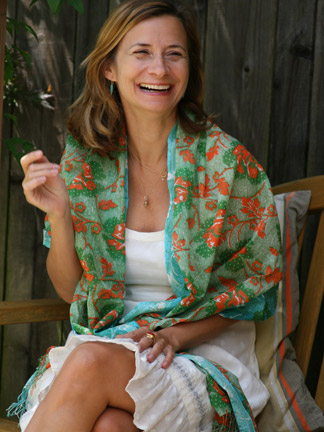 If you're a regular reader, you've probably guessed this cotton and silk beauty is Laura's favorite—orange and turquoise have her heart! We agree; the Festival scarf is worth celebrating!
So why let your neck go naked this summer when you can wrap it up with a sassy and soft Epice scarf? Spice is nice!
(Just fyi, if you haven't already discovered it, this week's "sweet treat" is Cydwoq's Mandarine sandal! Just click "be sweet to your feet" at the top of this or any other Ped page to reach the Mandarine with its 20% off discount code!)