Monday, December 20th, 2010
Ped fans, take a short break from holiday preparations or online ordering to watch this great video about our beloved Cydwoq, which we found posted at shoes.tv.

Isn't Ari a doll? He's the designer behind a lot of the latest styles coming out of Cydwoq, working alongside his dad, Rafi, as a true father-son team! Whenever we hear them talk about their philosophy and the effort they put into their shoes, it makes us so proud to carry Cydwoq! We've added a few new designs recently and gotten some of your favorites in new colors, so check out the freshest Cydwoq on the sidewalk:
You know by now that the oxford is the shoe of the moment, but Cydwoq's Classic Oxford is really something special: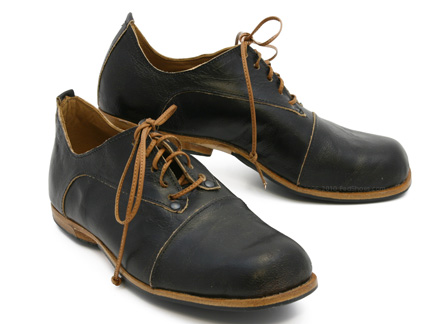 As Ari points out in the video, what sets Cydwoq apart is the cut and construction of the leather, as well as the internal architecture, which is so apparent in the way this oxford is put together. When I saw this design for men, I begged Rafi to adapt it for women, and he did! We love!
Another Cydwoq men's design we cajoled Rafi into doing for women is the Sparta: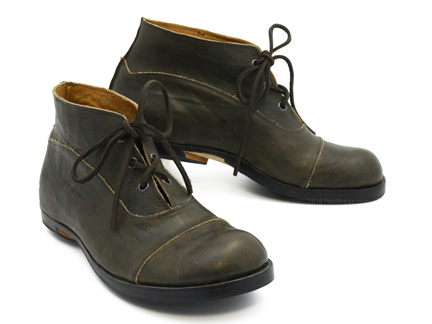 What a great lace-up bootie in beautiful washed grey leather! The Sparta's so practical—easy to wear on all kinds of outings, and it's sassy with skirts as well as stellar with jeans. (Bet you wish you'd had this number on when you went to pick out your tree!)
If you're lucky enough to live somewhere unchallenged by wintry snow and ice (or if you carry your cool shoes with you to slip into after you're out of your galoshes), you can't beat Cydwoq's brand new Smile Mary Jane for all-season cuteness: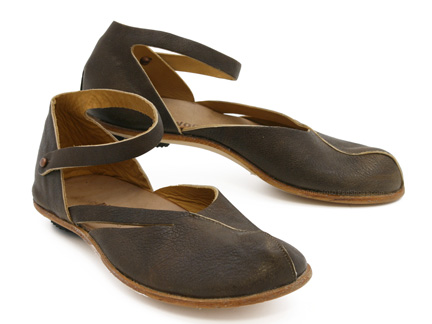 Such a winner in every way, from the stylish ankle strap to the comfortable toe construction! If you have the good fortune to be going on a mid-winter vacation, this is the shoe to pack; it will take you through sightseeing during the day and out to dinner at night. Your tired feet will thank you for keeping them happy!
On the other hand, if what you really need is a good boot, you can't go wrong with Cydwoq's new Flood: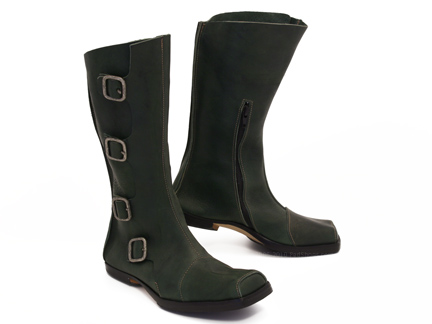 This Flood has everything to like: a practical mid-calf height; four adjustable buckles that require no fuss, thanks to an inside zipper; and twin exposed seams running up the back! Plus, the leather is emerald green!!! (You know how I love green…)
As for new colors, we now have the oh-so-chic Pi Bootie in antique silver (oo-la-la):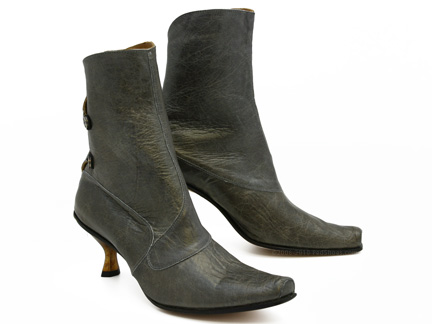 And the go-everywhere Buckle flat now comes in a to-die-for blue marble: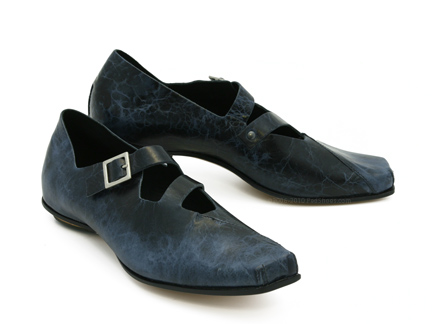 So whether you're new to Cydwoq or a long-time fan, it's a terrific time to indulge in a new pair! There's nothing like shoes that feel good and that you feel good about wearing—which is the very essence of Cydwoq!