-

Free Shipping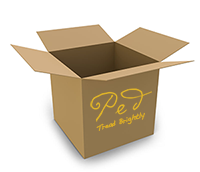 For orders shipped within the lower 48 United States, Ped offers free shipping for your entire order, if the order total is $250 or more.
One pair, two pairs, three, yup! Still free!
If you're in a hurry to get your goods, Ped also offers 3-day, 2-day and Overnight shipping. Our expedited rates are posted at checkout. If you choose to return your merchandise, Ped will deduct the actual shipping charge to you from your refund to cover some of the costs associated with your order. Expedited shipping charges are non-refundable.
Ped offers handmade European and American shoes, boots, handbags and treasures.
100% of our styles are handmade by small manufacturers, using time-worn techniques.
Styles at Ped only get better with time, and they definitely have soul!