Cool boots for hot days
For years I've been nudging gals to try boots with summer skirts and dresses because the look is so sassy and fun! Finally, the trend has caught on! Everywhere I turn these days, women are rocking boots with breezy sundresses, light, floaty skirts, and even shorts! Not only do they look fresh and chic, but they're also not stubbing their toes.
Because we think boots are for all seasons, here are few suggestions for how to kick up your heels while the sun shines!
Ped fans will agree that nobody makes better boots than Fiorentini + Baker! One of the easiest boots to wear with anything and everything is F+B's Mix: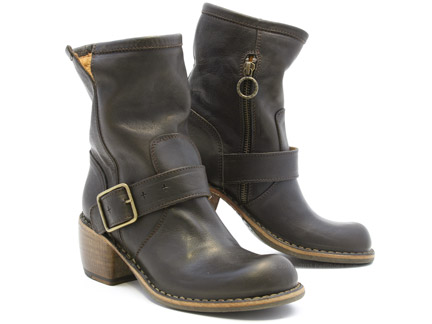 Everyone goes wild for a motorcycle boot, especially when it's made of such luscious leather! Plus, the Mix gives you a leg up with its chunky 2″ heel!
Want a little less heel and a little more buckle? Then say hello to F+B's Emmy (also known as Style 713)!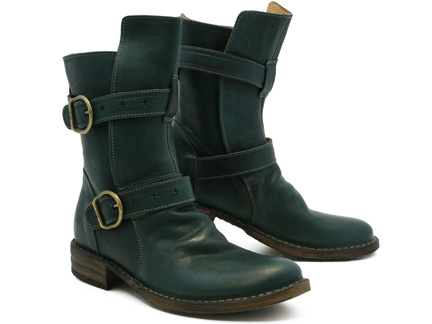 This beauty also comes in rabbit grey (always a good choice), but we especially love the teal version because it looks so cool (as in river-water cool) with light-colored summer skirts!
Still not enough buckles? Then Fiorentini + Baker's popular Eternity Boot is your answer!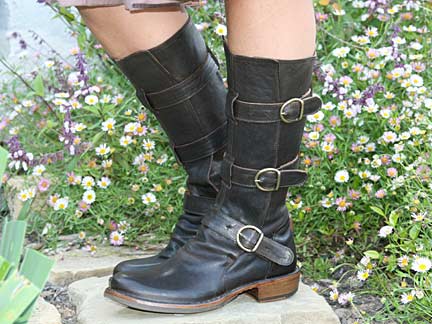 There's a good reason why this boot is a perennial object of desire: It looks terrific with EVERYTHING! Plus, it exudes a sexy, badass attitude. Ped offers the Eternity not only in delicious dark brown leather (pictured), but also in black, red, and caramel. All gorgeous!
Perhaps you prefer a sleeker, more minimal look, in which case, drink in the loveliness of F+B's Bessi Boot: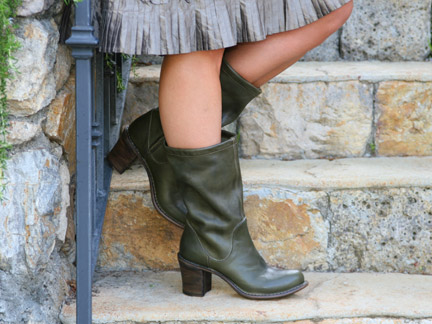 As Ped fans know, I can't get enough of green, and I adore F+B's bonsai green shade! It's like a refreshing breeze on a sweltering day! Gals who like to enhance their height will also appreciate the Bessi's 3″ heel.
Another fabulous minimal boot is F+B's pull-on Elgin Boot: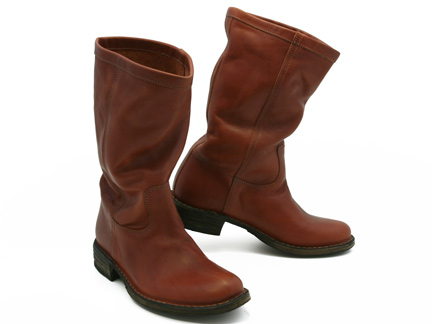 Also available in mocha ice suede, the Elgin is easy to wear anywhere with its clean-lined, relaxed design.
Of course, we know for some gals, only a tall boot fits the bill. Our personal favorite is F+B's Emma: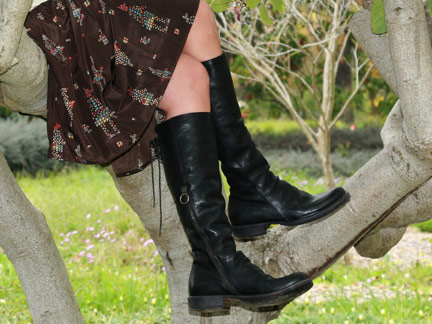 All of us at Ped HQ own this terrific boot (except Terry, of course—but even he's an Emma admirer)! Black is classic, but we also carry the Emma in dark brown, red, and caramel (which is, psst, on sale right now).
But if you want to go the opposite direction, and bare a little more skin—it is summer, after all—then Fiorentini + Baker's Paula is ready to be your warm-weather friend: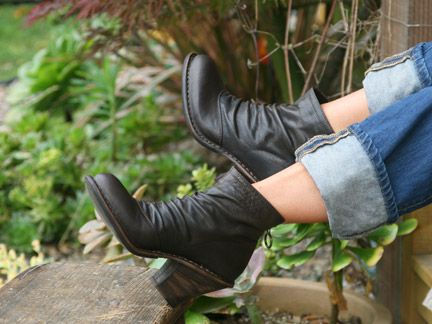 We love the Paula's rock 'n' roll attitude with its ruched front and zipper up the back! It's a knockout in chocolate brown, but Ped also offers it in cool blue and always-right black!
Believe it or not, there are still more boots at Ped's main site to let you two-step through summer's delightfully long days! So, give your hot-weather wardrobe a boost with a pair of boots!
(By the way, this week's Sweet Treat is a boot-a-licious sandal: Trippen's Tarantula! Just click "be sweet to your feet" in the upper right corner of any Ped page to reach the Tarantula with the magic discount code that will treat you to a delightful 20% off at checkout!)
Tweet

Tags: ankle boots, black, blue, booties, boots, brown, buckles, Fiorentini + Baker, gray, green, grey, Italian, leather, mid-calf boots, mocha ice, red, short boots, summer, tall boots