Tuesday, December 15th, 2009
One thing we love about the Holidays is getting together with old friends! So, Ped is delighted to have one of our oldest pals, the Aurora Shoe Co., back in the Ped family this season! When Ped first opened as a brick-and-mortar store in Seattle in 1993, Aurora was one of the first shoe lines we carried. We adored their simplicity and expert craftsmanship, and so did our customers!
Unfortunately, Aurora disappeared for a few years, but now it's back and as wonderful as ever. Aurora's new owner, David Binns, appreciates the legacy of the company and is continuing its commitment to hand making shoes using top-of-the-line leather. Aurora constructs its shoes in Aurora, N.Y., from all-American materials that will last and last. And if you ever wear through the hardy Vibram rubber soles on your shoes, Aurora will happily resole them, so you can love those shoes some more (and you will, trust us).
But don't just take our gushing word for it. Check out this video to see the care that goes into every pair of Aurora shoes:
Doesn't that make you feel good about slipping on a pair of Aurora's? And what a nice guy David is!
Ped currently offers two Aurora styles. The New Chinese: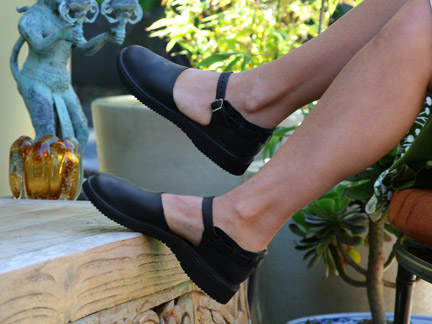 We love how easy this design is! The way the strap weaves through the heel—Aurora's signature detail— is so cool!
And the Middle English: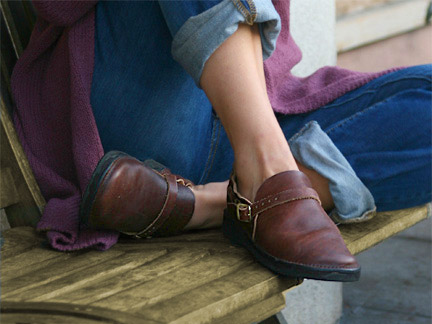 How can you resist this great all-around flat? As David says in the video, Aurora's shoes mold to fit your individual foot, so you'll never find footwear that's more comfortable. And for those of you wishing we had all four of Aurora's styles, good news! We're adding the New Mexican and West Indian to Ped's Aurora lineup for spring!
We are so happy to have our old friend, Aurora Shoe Co. back in the pack! Making them your new friend will be a stellar way to start the New Year!