Friday, September 20th, 2013
What we like about 21st century fashion is how open-ended it is! Just as hemlines have become wonderfully variable, boot heights are now left up to the whimsy of the wearer. Whether you like over-the-knee sexiness, mid-calf chic, or ankle-high edge, you'll always be in style!
That said, Ped fans, we hold a special place in our hearts for booties. They're just so fun and versatile—great with skirts and easy to wear with pants (no wrestling to get them over or under the fabric)!
This season our harvest of sweet-and-low ankle boots is especially bountiful! There are are so many juicy designs that it's hard to know where to begin. Here's just a taste of Ped's bootie buffet:
Pep Monjo is best known as the genius behind Argila, but a couple years ago he started his own eponymous line. Since then, every single Pep Monjo style has become an instant classic. We are WILD (wild, I tell you) about his new Cora bootie: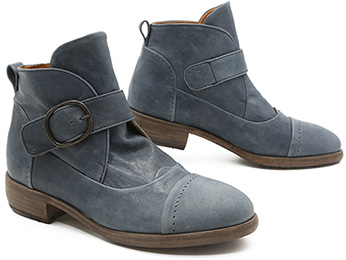 The leather is so luscious, and the details are exquisitely thought-out, like the simple perforations arcing over the toe and heel. Buckle us up!
Of course, Mr. Monjo still works his magic for Argila, too, as evidenced by the gorgeous Granada:
Modern and curvy, this wood-heeled bootie takes the lace-up into chic new territory! Spanish style for miles!
Speaking of wooden heels, the one supporting Coclico's Norma boot is particularly lovely:
The lines of the dark wood have subtle arcs that reflect the clean yet dramatic lines of the black leather upper! Plus, the .75″ platform under the toe offsets the 3″ heel to make the pitch a walkable 2.25″.
Looking for a lower heel but heightened feminine wiles? The Cydwoq Knee  is guaranteed to bring 'em to their knees:
The paisley burnt-out leather is stunning up front, and the corset-like closure is beyond sexy in back! Holy hot sauce, talk about a femme fatale!
A little less girly but no less charming, another ankle boot "with back" is Cydwoq's Cleo:
This beauty is handmade in Burbank, CA, but it radiates European street chic! The leaf-shaped strap across the back offers function in stellar form and offers people behind you something to see!
Want a zing of color for your ankles? Cydwoq's got just the thing: the Beacon bootie!
A dash of red adds zest to any day! The wonderful-to-wear Beacon, with its comfy round toe, is one of our big-time faves this season!
Trippen also does some dazzling things with color. Feast your eyes on the new Liverpool:
A fusion of a retro 60's rock 'n' roll boot with a modern-day Aussie pull-on, the lightweight Liverpool, with its brilliant purple elastic sides, may put you in mind of the Fab Four as you dash down the street looking fabulous!
As we said, these are just few tasty morsels from the wide-ranging menu of delicious booties at Ped's main site! While you do the walking, let your ankle boots do the  stylish talking!
(Psst, this week's Sweet Treat, the Cydwoq Marmot, falls into "shootie" territory—a little more than a shoe, a little less than a boot, but just right for everyday wear! We love it! Just click "be sweet to your feet" at the bottom of the box on the left of most Ped pages to land at the Marmot with the special code that will bring 20% off at checkout!)