Monday, May 12th, 2014
Ped fans, we love winter, we really do, but this year's was so llllloooooonnnnggg  that we have been chomping at the bit to peel off our socks and let our toes out to play! Spring fever is raging at Ped HQ!
It's finally time to pick out a pair (or two) of breezy sandals and dance in the sun! Ped has so many dandy designs to choose from this season that we've decided to offer a three-post "tasting menu" over the next several days. Today, we sample flats (or nearly so) that will give you high style while keeping you grounded in comfort.
A sandal ready to slide into and go, that's what we crave in summer! Cliff Dweller's Athlete is just the thing: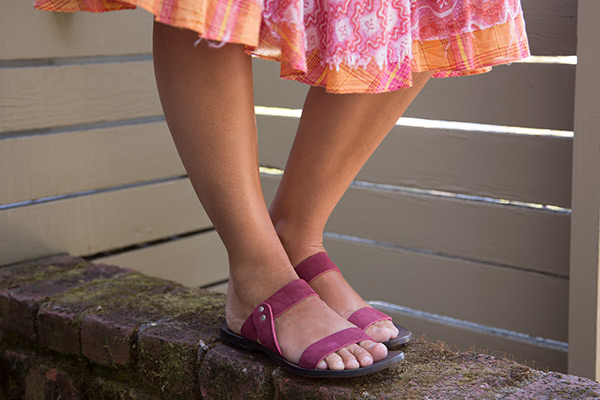 Super easy, super comfortable, and super stylish—the Athlete hits the sandal trifecta! The berry color pictured is so juicy, but the Athlete is also a winner in biscotti brown. (Berry and biscotti? I'm suddenly like a snack…)
For those of you who prefer the security of a back strap and the stability of a toe ring , Cydwoq's Train could be just the ticket: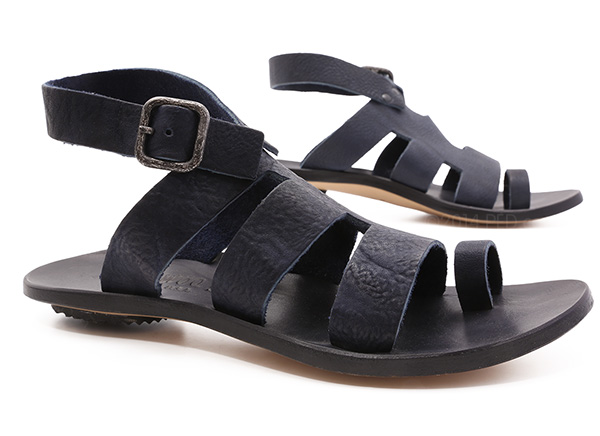 Edgy, chic, and interesting, it's as if a gladiator sandal went to art school! Plus the black leather with its blue variegation is to. die. for.
Fiorentini + Baker offers another modern variation on the gladiator sandal with the gorgeous Jeb: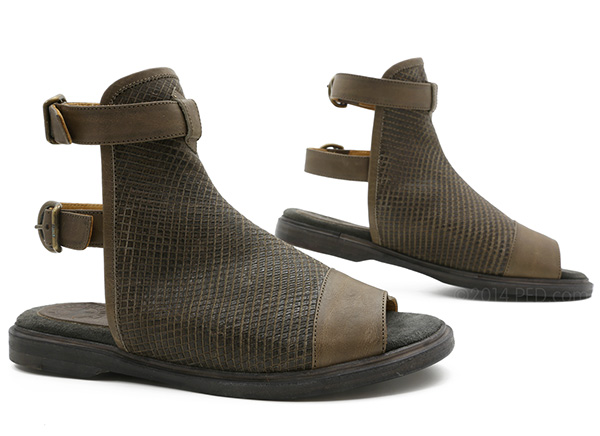 Words cannot describe how lusciously soft and lightweight this sandal's perforated skived leather is! Whether you opt for the mouse color shown or classic black, jaws will drop when you walk by in the Jeb.
Pep Monjo also knows how to make the most of a bold buckle strap, as he demonstrates with the knockout Angelina: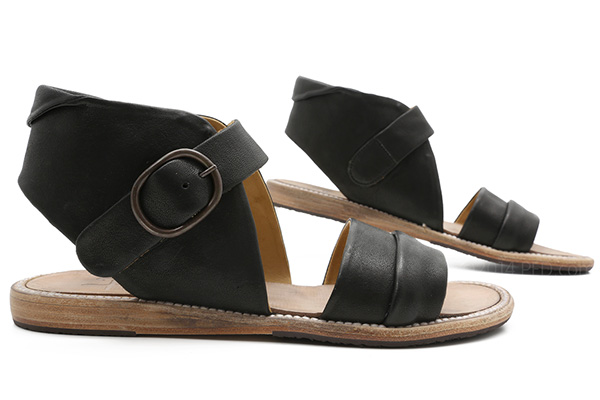 Practical? Yes! Gorgeous? YES! The Angelina embodies everything we've come to expect from Pep: luxe leather, signature details like the lipped collar in back, and style for miles! You can't go wrong with a black leather sandal, but then again, you can't go wrong with the Angelina in flint suede either. Win, win!
Just because a flat keeps your feet on the ground, doesn't mean it can't get a little high with funky fun. Case in point: the Trippen Eye!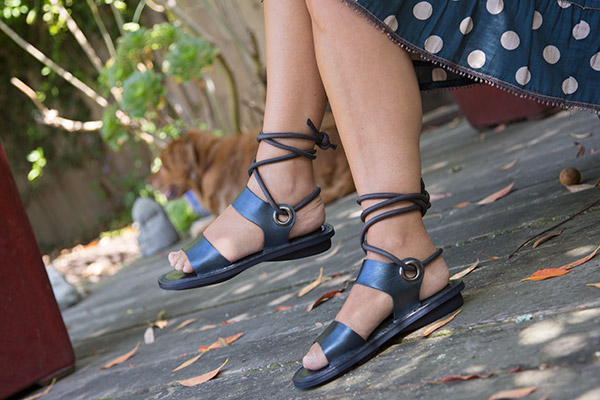 Broad bands of metallic blue leather form the front, as a leather thong laces through two over-sized metal eyes to form the back strap and crisscross wrapping rising up your ankle! Too cool for school!
Looking for something a little dressier but still heelless? The Cydwoq Laser is ready to shine: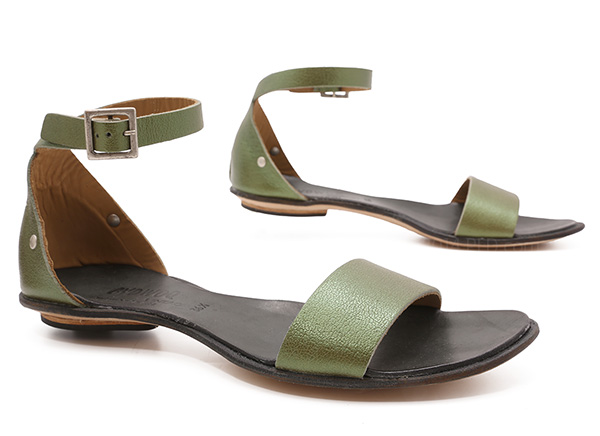 The metallic green leather is fresh and flirty, and the ankle-strapped minimal design is super sexy, so all we can say is, "Bring on the cocktails!"
Of course, if you really want to go girly, Chie Mihara is your best friend! Chie's Izan proves you don't need a high heel to be a femme fatale: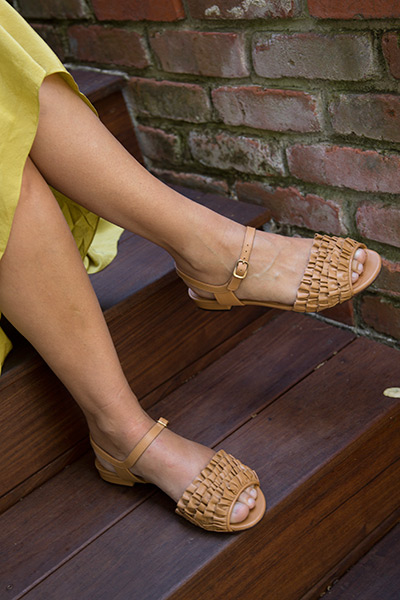 Five tiers of leather ruffles over the toe call to mind the swish of Spanish flamenco dresses., and the neutral camel color guarantees the Izan will dance with everything in your closet!
Ped fans, we've barely scratched the surface of the vast array of PHAT flat sandals ready to take on summer at Ped's main site! Word to the fashion wise: flat is where it's at!
(Unless, of course, you like a heel, in which case stay tuned for "Sandals for sunny days" Parts 2 & 3!)