Thursday, February 7th, 2013
February is the shortest month of the year—at least, in rational, according-to-the-calendar logic. But, Ped fans, the truth is it feels sooooo looooonnnngggggg! Winter makes 28 short days seem endless.
Ped's antidote? First suggestion: Start planning for warm days and green grass—what would you most like to wear once your winter coat is stashed in the back of the closet? Even better suggestion: Take a midwinter vacation to a tropical destination, where you can break out the warm-weather wear and give your sun-starved flesh a welcome dose of Vitamin D!
Either way, Ped is ready to help since fresh spring and summer goods are arriving daily at the warehouse! We'll have new eye candy to show you throughout the month, but for now take a gander at these sunny temptations just unpacked from Cydwoq!
If you need an infusion of spring stat, the style doctors at Cydwoq have the cure for what ails you: the Link!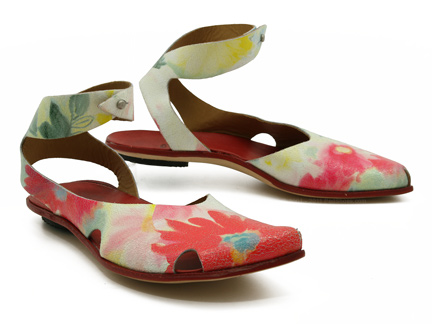 Doesn't this jazzy flat instantly make the world seem sunnier? Because the Italian leather is hand-painted, each individual shoe is unique—so fun! Time to throw your toes a party!
Although we love a big dose of color, we also realize many of you prefer to keep things black. You can air out your tootsies and still keep your urban edge in Cydwoq's Train: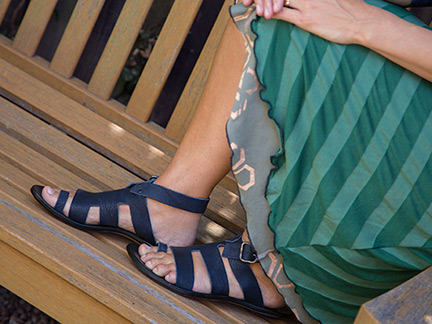 Chic day in and day out, this gladiator-inspired sandal will be your constant companion in warm weather because it looks fantastic with everything! We love how the Train's body, with its cage-like design, is cut from one piece of leather, accented by the stand-alone toe ring.
Another example of Cydwoq's virtuosity at cutting leather is the lean and lovely Prospect: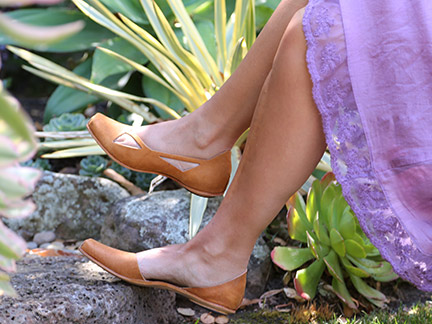 The perfect transitional shoe for going from spring to summer to fall, this simple flat is a breath of fresh air for feet that have under wraps all winter! If you need one shoe to do it all, the Prospect is IT—dressy when you need it to be and casual when you just want to relax. Also, two words: Travel. Shoe.
You know me, I live and die for anything green. Happily, Cydwoq has plenty to fuel my fantasies of new grass and leafy trees! A favorite among the latest arrivals is the Artery: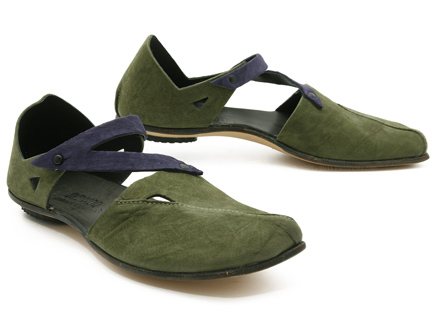 The aloe-colored brushed leather is so soothing, and the cobalt blue strap, which secures with a simple rivet, provides the perfect accent. In a word, yum!
Another fantastic shoe for making the seasonal jump is Cydwoq's luscious new Cover: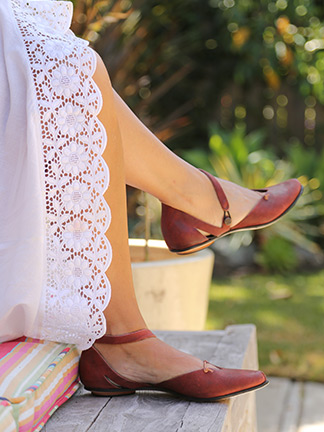 This is the one that has Ped's Laura beside herself with love! An innovative interpretation of a mary jane, the Cover turns heads with its brick-red leather, complemented by a natural-colored thong knotted over the forefoot.
Looking for a little more va-va-va-voom? Cydwoq's red-hot-and-ready-to-rock Steam is guaranteed to steam things up: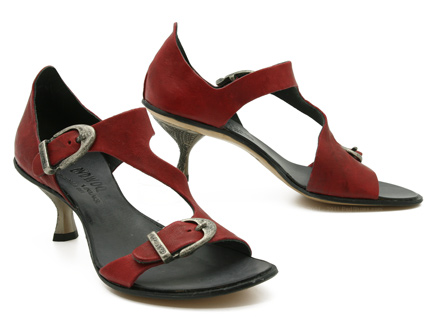 Holy moly! This heeled beauty is so likely to set hearts on fire, it should come with a warning label! But no matter how much trouble you manage to stir up in the Steam, your feet will be cool and comfortable, thanks to Cydwoq's superb all-leather construction.
We started this post with a knockout example of Cydwoq's amazing hand-painted leathers, so let's end with another—the jaw-droppingly gorgeous Boomerang: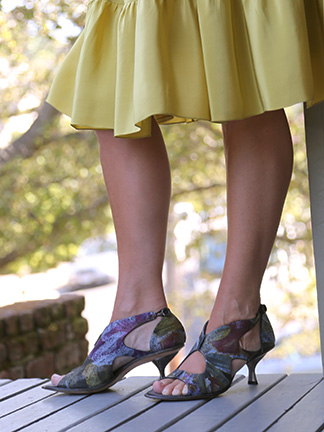 When we took this stunner out of the box, we were speechless; all we could do was sigh with admiration as we fell hopelessly in love! It's that beautiful!!! Yes, this sandal features a gorgeous etched resin heel and an amazing design, but it's the leather, with its layers of green, silver, fuchsia, and ochre, that walks off with the show! (Winter, what winter?)
Just writing this post brightened up our day! At Ped, we aim to make it easy to find something wonderful—Cydwoq or otherwise—to sustain you through winter or to carry you off on a tropical adventure! (Take pics—we  love to live vicariously!)
(By the way, this week's Sweet Treat is another wonderful transitional shoe: Trippen's Vivienne, a perennial Ped favorite! Simply click "be sweet to your feet" in the upper right corner of any Ped page to land at the Vivienne with the code that will bring 20% off at checkout!)