Friday, July 11th, 2014
Ped fans, every season Trippen comes up with new styles that wow our eyes and thrill our feet–we never know what those German geniuses will dream up next! At the same time, Trippen's best designs remain fresh! Their looks are ever-edgy and fun, while their comfort is timeless.
We get boatloads of requests for these favorites, so we decided to celebrate mid-summer by bringing you Trippen "greatest hits"! Get ready to clap your hands and dance out the door!
When we first introduced the Trippen Fence a few years ago, we could not keep it in stock to save our lives:
Every time we'd get a new shipment, these beauties would practically fly out the door! And with good reason because they're sliced to edgy perfection in front, while the lacing in the back gives the people behind you something to ooh and aah over! The black version is classic, but the Fence also shines in a metallic steel.
Trippen also uses its slicing technique to stellar effect in the Good: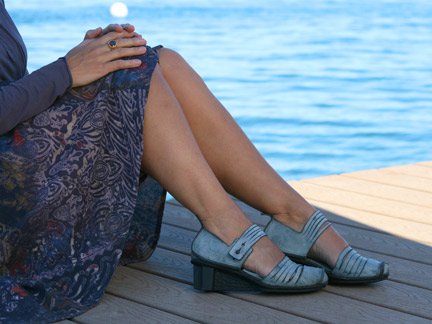 This super-comfortable wedge is light years beyond your average Mary Jane! Plus it's constructed from our all-time favorite "Black Ice" waxed leather. So. Very. Good!
Speaking of artistic variations on the classic Mary Jane, the Trippen Gotan is another greatest hit that's back in the Ped house:
The off-kilter angles and exposed seams, make this shoe something to see! Get ready to launch a thousand conversations every time you step out the door!
Exposed seams are one of the signature details of many Trippen styles, but we especially love their blooming beauty on the Poppy (and the Magnolia and the Peony):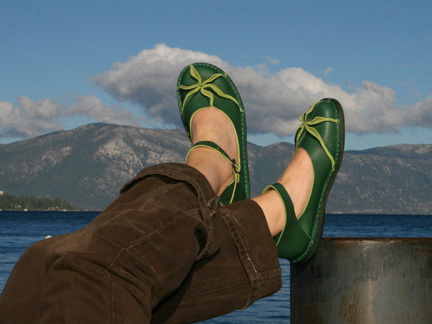 The Notte Plum version of the Poppy has proven a winner this season, so we decided to also bring it back in the wonderful Spring Green shown! Both colors are so juicy that we wish you luck in choosing between them. (You could always get both…)
Another much-loved style built on Trippen's classic rubber outsole is the lace-a-licious Burst: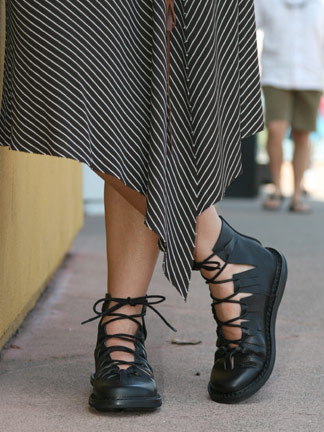 Trippen took equal parts oxford, sandal, and bootie, worked its design magic, and came up with the eye-popping and oh-so comfortable Burst! Walking the cutting edge has never been so easy!
Of course, the Burst's lace-up goodness looks almost tame next to the wild child known as the Trippen Pull: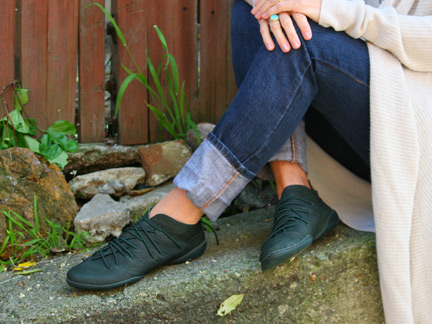 Fun to see and even more fun to wear, the Pull feels like a deliciously soft leather glove on your foot, while the featherweight "cups" rubber outsole keeps your steps nimble! (We adore this pine green version, but we also have the Pull in black.)
Trippen's "cups" construction also supports the latest style to achieve Trippen all-star status: the Sleek.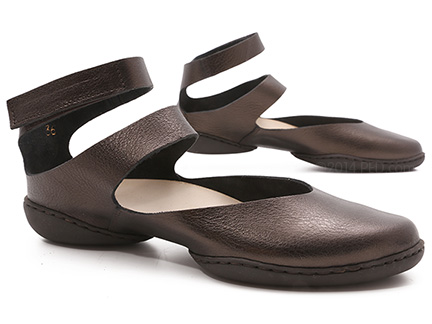 Ped fans who didn't blink might recall that we first offered this sweet style in a sunny yellow in early spring (and yes, that color is back!). But it rocketed out the door so fast it made our heads spin. So when we reordered the Sleek, we decided to also offer it in this gorgeous copper, which is ready to salsa to the end of summer and bossa nova into fall!
Tried-and-true styles are guaranteed to make your feet happy puppies during the dog days of summer ahead, so why not traipse through the rest of the season in a Trippen all-time favorite?
(And don't forget this week's Sweet Treat is another Trippen classic, the ever-popular Trippen Vivienne. Simply click "be sweet to your feet" at the bottom of the box on the left of most Ped pages to land at the Vivienne with the "Sweet Treat" designation. Pick your size, add it to your bag, and—voila!—receive an automatic 20% off at checkout!)