Friday, March 30th, 2012
We went out with a bang last post by showing you Trippen's knockout Strahl! A stunner, to be sure, but here's the thing: ALL of Trippen's new designs are a-maz-ing! This season those German geniuses have outdone themselves! The designs are eye-opening. The colors are dazzling. The leathers are supple. And, of course, the comfort is beyond compare!
But don't take our word for it. Have a look for yourself!
One way to brighten any spring day is to buckle up Trippen's Bora: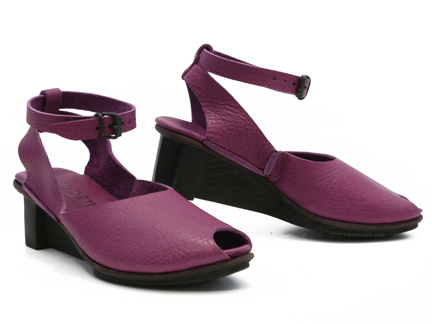 We can't get enough of the magnolia plum color! The Bora is just the thing for tiptoeing through the tulips! (You'll fit right in!)
Trippen also gives their leathers some extra oomph this season by coloring the edges, as demonstrated by the Army: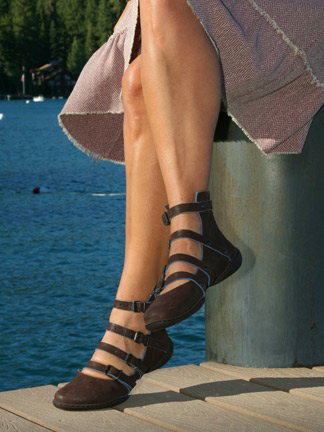 How cool are those blue edges? And how urban-edgy is the design? (That second strap from the bottom actually goes all the way around the instep!) This Army makes us want to join right up!
Want a sandal boot that's even more rock 'n' roll? Give it up for the Trippen Agave: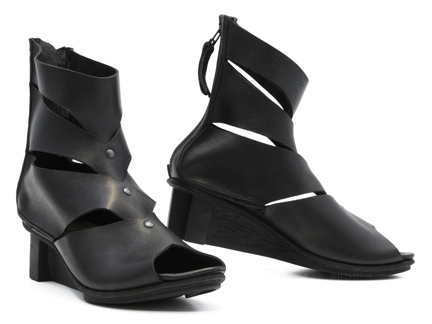 Talk about grrl power! This spectacular boot is simultaneously badass and drop-dead sexy! Nothing's hotter than a zipper up the back!
One of Trippen's hallmarks is using the leather structure of their shoes to create visual artistry. Case in point: their new seamed flower toe, seen here on the Poppy: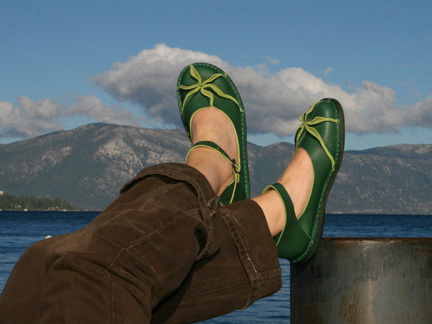 Ped fans know how I am helpless to resist a green shoe! But if you're not on team green, then perhaps you'd prefer the Peony in red or the Magnolia in blue-edged mocha—each varies in its heel and sole design, but fun flowers bloom on all their toes!
Speaking of toes with interesting details, check out Trippen's Tetra: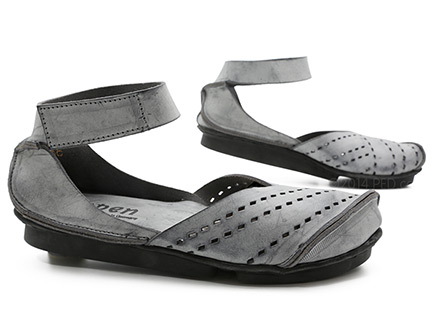 Crafted in our fave black-ice leather, this flat is such a head turner! The laser-cut lines of dashes on the toe are like negative-space stitching and have the added benefit of giving your toes a breath of fresh air!
One of the juiciest new leather colors is red berry, which looks fresh and luscious on a favorite style from last summer, the Good: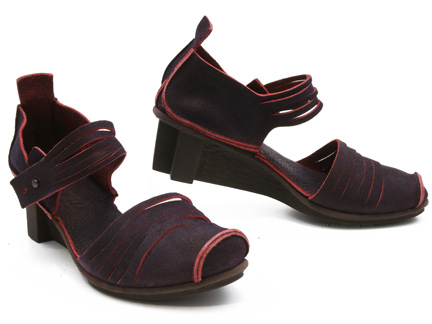 YUM! The sliced leather and seaming are so innovative! The icing on this berry cake? Trippen's t-shaped rubber wedge sole, which wins raves for comfort!
If you're looking for a shoe to go with everything, you can still have Trippen's wedge sweetness—just lace up the Sinus in versatile stone grey: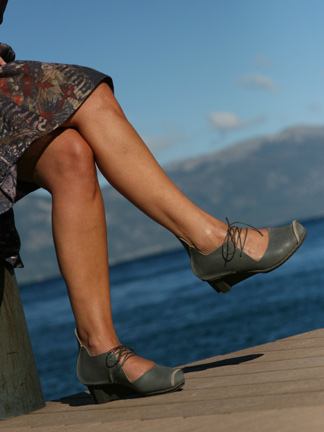 Wear this snub-nosed beauty to an art opening, and we guarantee the art won't be the only thing being admired!
Even a simple sandal becomes something to write home about when given the Trippen treatment! Say hello the the stellar Careless: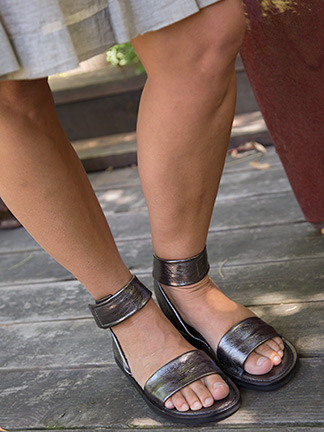 Perhaps the best traveling shoe ever, this easy flat will keep your feet comfortable through a day of sightseeing and then be ready to dress up for dinner and dancing! The soft steel leather is a wonder to behold—and wear!
These beauties are only a few of the Trippen treats that await you at Ped's main site! You don't need a car to experience German ingenuity and engineering—simply slip on a pair of Trippen shoes and traipse out the door!