Friday, February 13th, 2009
I'm in Las Vegas looking at shoes, but it's pretty hard not to look at everything else, too (all that neon does draw the eye). Not only are the hotels and casinos wrangling for my attention, but the quickie marriage chapels are aglitter with the promise of love everlasting. They may not be your idea of where to tie the knot (although if you did, you would be in the company of Michael Jordan and Joan Collins, according to the sign at The Little White Chapel). Nevertheless, they'll be doing bang-up biz this weekend since Valentine's Day is the most popular day to put a ring on it in LV.
Maybe because I'm a newlywed myself, I'm feeling especially romantic about Valentine's Day this year. You have to love a day when red and pink rule! So, to celebrate, here's a sampling of rosy-hued Ped things to put you in a "hearty" mood: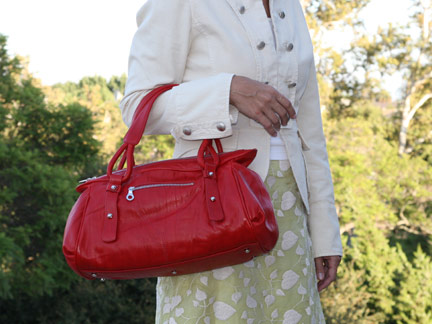 Christopher Kon's Maggie Holdall adds some sizzle to looking ladylike.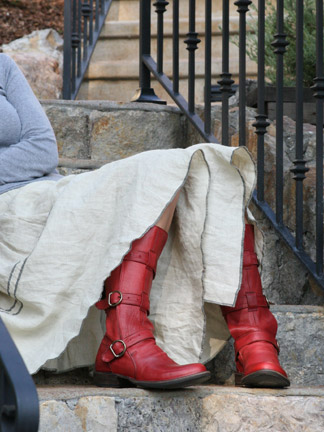 Maybe ladylike isn't your thing, in which case perhaps Fiorentini + Baker's ever-popular Eternity boot in red will light your fire!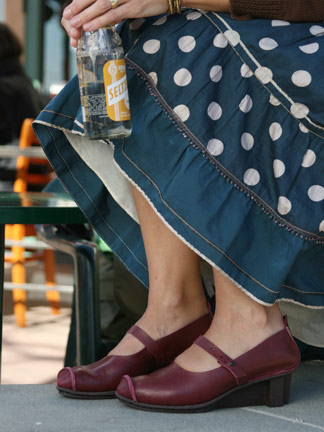 We showed you the Trippen Tidy in black the other day, but it's also super sweet in red, red wine.
Orla Kiely's rose wool scarf offers a way to stay warm and remember that cherry blossoms are just around the corner.
And if you really do want to put a ring on it, Jamie Joseph offers several LOVE-ly options:

From left to right, Jamie's Indian ruby ring, carnelian ring, and rose quartz ring. 
We hope all these reds and pinks have you feeling warm and fuzzy and in the mood for love!
A heartfelt Happy Valentine's Day from Las Vegas to Ped's beloved fans everywhere!