Boots that offer a breath of fresh air
It's no secret that at Ped we are big fans of wearing boots year-round. I've mentioned before how much I love the look of a breezy summer dress paired with boots. The only drawback is on days that are scorchers, your tootsies may feel, how shall we say, a smidge claustrophobic.
So, you can imagine how much I smiled when I discovered a number of our favorite designers created sandal-boot hybrids this season! What a great idea! The edgy look of a boot with the breathability of a sandal—what could be cooler, in every sense of the word? Below are just a few of the many variations.
No sooner did the Trippen Stream arrive in the warehouse, than it flew out the door! Fear not, though, because we just received our second shipment!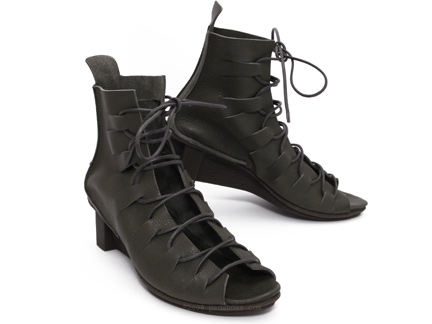 When you step out the door in this German head-turner, you are guaranteed to be the hippest thing on the street! Even better, you'll be über-comfortable because the Stream features Trippen's famous t-shaped wedge!
But if you prefer a flat with a closed toe, Trippen's Omen may just have your name on it: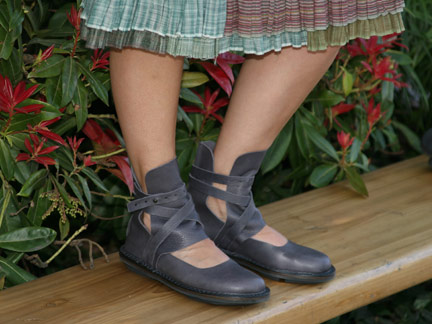 The style is cutting-edge, but the easy-to-wear grey color let's you pair it with almost anything. For instance, how terrific would these look with a floaty, yellow cotton dress?
If you want to get even funkier, check out Argila's Elizabetta: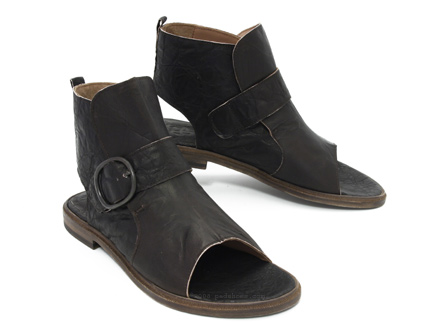 Ped fans have snapped up this sexy-tough-grrl style, but we have more on the way from Spain, so let us know if you'd like to be on the list!
You say you'd like something that's a little more sandal and a little less boot?  See what you think of Argila's Jolene: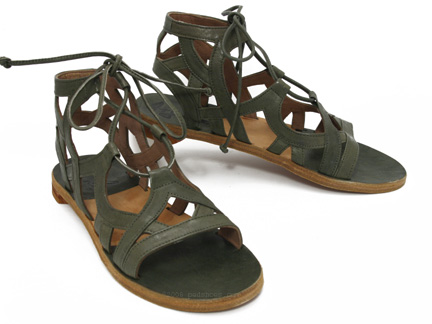 The airy leatherwork is amazingly intricate on this lace-up ankle "boot." Also, the olive green color reminds me of Italian gardens. Gorgeous!
Perhaps the award for Most Balanced Blending of Ankle Boot and Sandal, though, goes to Giraudon's Riley: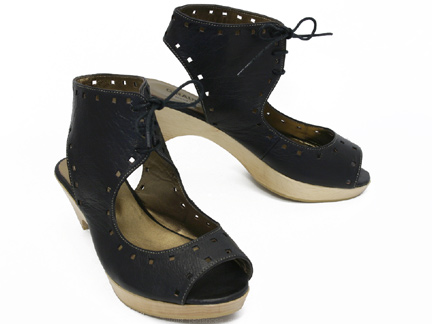 Oh my, this wooden-soled sandal (it's really a sandal-boot-clog) is something else! The gold lining, the ankle lacing, the tiny square cutouts—there's so much to love about this beauty! When you slip on the Riley, everyone's going to want your shoes!
And  there are even more sandal-boots to consider at the Ped site. What a great way to amp up your style and flash a little summer skin!
Speaking of summer skin, have you checked out Ped's "Sweet Treat" this week? It's Fiorentini + Baker's fabulous Tessa Sandal!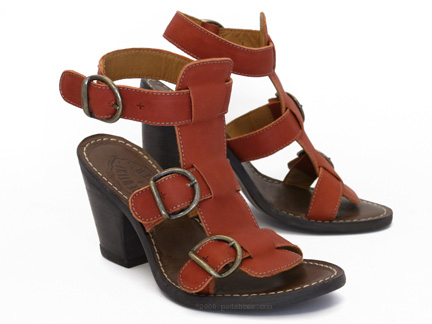 Not a sandal boot exactly, but a buckle-tastic, open-air cousin of F+B's Eternity Boot! (It also comes in black.)
Unfamiliar with Ped's "Sweet Treat"? Here's how it works: Just click "be sweet to your feet" up there in the upper right corner of this page (or any Ped page), and you're instantly transported to the treat of the week, where a magic code entered on the last page of checkout gives you 20% off! Just like that! Fun, eh?
The "Sweet Treat" changes every week. You never know when your favorite thing—you know the one you've had your eye on?—may suddenly be 20% off! So, be sure to click "be sweet to your feet" on every Ped visit to see what treat awaits.
Tags: ankle boot, Argila, black, boot, bootie, boots, buckle, clog, Fiorentini + Baker, flat, German, Giraudon, gladiator, gray, grey, heel, Italian, lace-up, leather, Omen, Portuguese, red, sandal, sandals, Spanish, Stream, Tessa, Trippen, wedge