Blue Moony
Blue skies. The deep blue sea. Bluebirds. Blueberries. Some of the most wonderful things in nature are blue!
Here at Ped, we have quite a thing for blue. We love how it's simultaneously dreamy, peaceful, and uplifting. (Not to mention romantic—there's a reason why brides carry "something blue.") Shades like turquoise add a jolt of color! Others, such as grey-blues, are nearly neutral and quietly add style.
Here's a juicy sample of the many hues of blue at Ped.
Cydwoq sandals are de rigueur for the summer because they're artistic and supremely comfortable. This season we decided to offer Cydwoq's Hook in blue: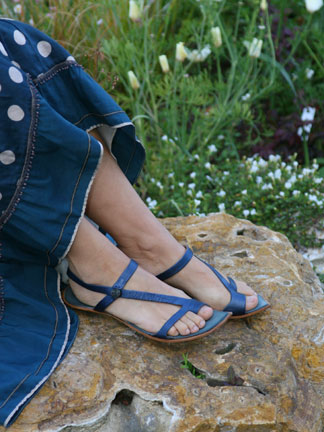 I bought this sandal myself in brown  a couple seasons ago, but this new blue version has turned my head. If you're looking for the perfect companion to take on vacation, the Hook makes an ideal sight-seeing friend!
Another favorite shoe that we've refreshed in blue is Chie Mihara's Vaive: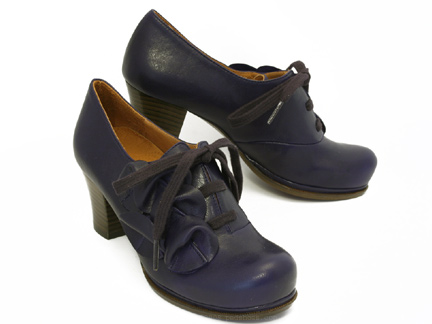 A cluster of violet-blue rosettes blooming on a heeled lace-up oxford—yes, please!!! The Vaive is the way to take your style to work!
Maybe you want something that's airier than an oxford but not quite as breezy as a sandal? Then drink in the lovely blueness of Cydwoq's new Border: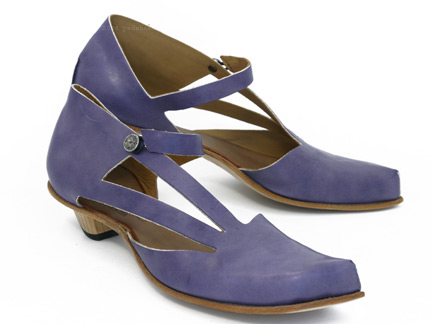 This wooden-heeled beauty is sophisticated enough for serious occasions, but it still let's you celebrate that it's summer outside! You'll be as pretty as a bluebell!
If there's one thing on which all Ped fans agree, it's the fabulousness of Fiorentini + Baker boots. Meet Eden, the latest member of the Ped F+B family: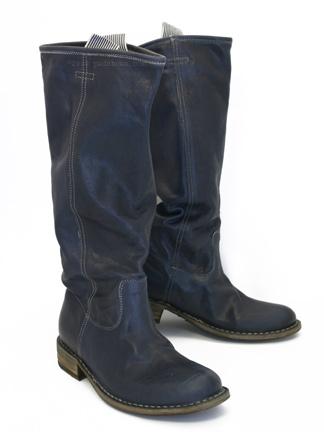 This boot's a slice of blue paradise! Imagine how great it would look with a white prairie skirt and camisole on a hot summer day! Although the Eden danced out of the Ped warehouse as soon as it arrived, we have more on the way. Let us know if you'd like to be notified when the next shipment of Eden lands.
But there's more blue than just shoes at Ped. Drink in the beauty of the linen Seville scarf that just arrived from Sophie Digard in Paris: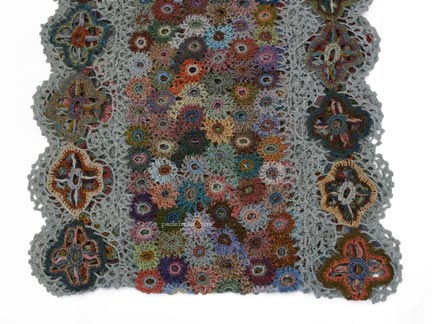 A lacy wonder, this scarf's sky-blue background makes all the other colors sing so harmoniously! As with every Sophie design, we suggest you zoom, zoom, zoom at the Ped site to appreciate the intricate artistry of the work.
One way to keep a blue sky with you, no matter what the weather, is to slip a Jamie Joseph ring on your finger. Then you can just look at your hand for a little pick-me-up. One of our favorites is her Rainbow Moonstone ring: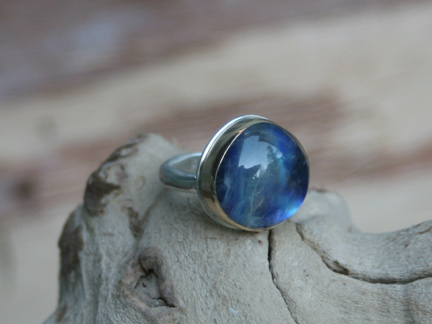 The stone's depth and luminosity are so spellbinding!
Finally, opening your wallet becomes a much less stressful experience when it's made of wonderful blue leather: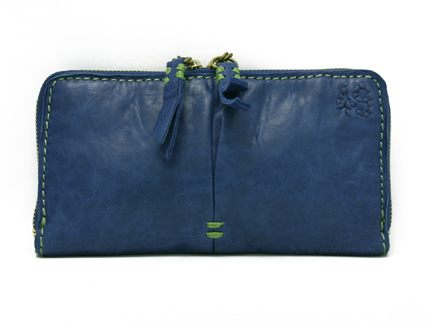 "Yvs Klein Blue" is our new favorite color for 49 Square Miles' Clingy Wallet!
Oh, and by the way, you can get this week's Sweet Treat—Cydwoq's Flap Bag—in teal, which is the loveliest blue green!
Just click "be sweet to your feet" in the upper right corner of this page (or any Ped page) to be whisked to the Flap, where a magic code awaits to enable you to knock 20% off the price at checkout.
So, head over to the Ped site to find your favorite blue to help you keep the blues at bay. Only blue skies for Ped fans!
Tags: 49 Square Miles, blue, boots, Chie Mihara, Cydwoq, Cydwoq Vintage, Fiorentini + Baker, heel, Jamie Joseph, lace-up, leather, linen, moonstone, oxford, ring, sandal, scarf, shawl, shoe, Sophie Digard, Vaive, wallet