Tuesday, February 14th, 2012
February sometimes seems like the longest month of the year, despite have the fewest days! Good thing someone thought to plop Valentine's Day smack in the middle of it! For one day, at least, the grey chill is mitigated by red roses, red hearts, and red you-name-it!
At Ped, we heart red all year long, but since it's Valentine's Day, we're taking a moment to celebrate its juiciness, its warmth, its flair, and its ability to sass up any outfit! Behold below a few of our favorite rosy-hued things to set your hearts on fire:
Let's start with a shoe that's perfect for transitioning from winter to spring: Cydwoq's Buckle.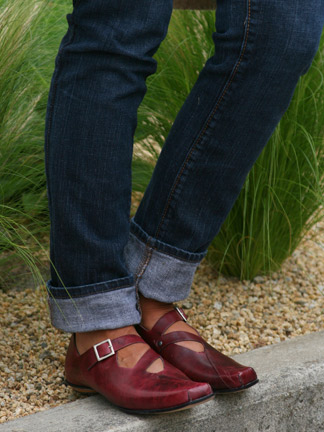 What a sweetheart! It looks fantastic with skirts. It looks terrific with pants. It looks stellar any way you wear it! And what a luscious wine red!
Perhaps your way of dealing with February's greyness is to jet off to a tropical destination. If so, make sure to pack Cydwoq's Thong: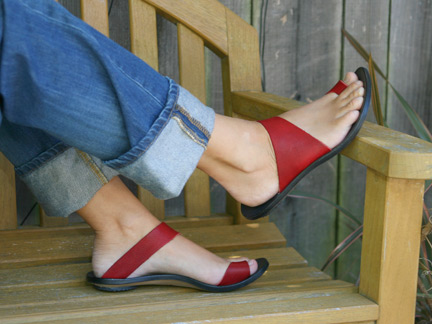 This simple sandal is the very essence of relaxation! Easy-going and chic, it will stay comfortable for as many miles as you care to stroll. And its red is guaranteed to turn every head!
"Nice try," you may be thinking, "but some of us are office-bound for the foreseeable future." Don't despair! Liven up work with Chie Mihara's Vaive!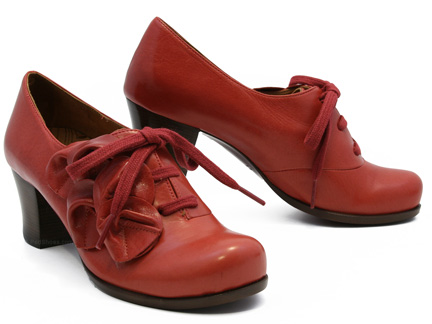 The most beautiful heeled oxford we've seen, the Vaive wins hearts with rosettes blooming along its side. Blue Mondays don't stand a chance when you lace up the red-hot Vaive!
Need something to spice up date night? Chie Mihara has just the ticket! Say hello to the Xifon!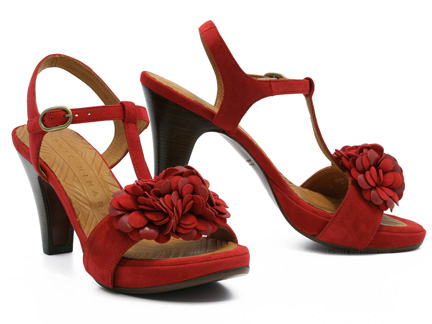 Oh my! What a temptress! Whomever you've set your sights on will be powerless to resist you when you wear this red suede charmer!
For those of you who prefer grrrrl to girly-girl, you can get your red fix with Fiorentini + Baker's Eli Bootie: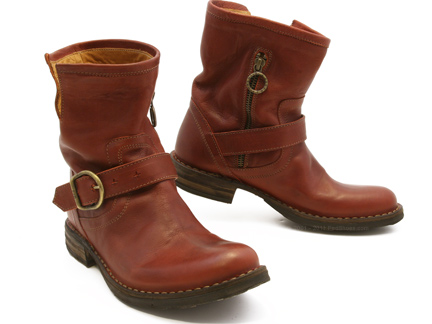 Rugged, ruddy, and ridiculously comfortable, this ankle boot lets you put a little badass in your beauty. (Leave it to the Italians!)
At Ped, our love of red goes beyond shoes. Feast your eyes on the rouge-a-licious beauty of Cydwoq's Flap Bag!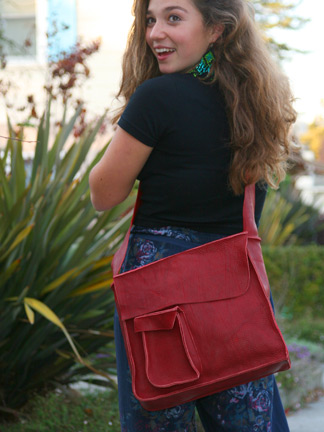 Cydwoq's genius of design, Rafi, has subtly combined angles and curves in this go-everywhere bag. Practicality meets artistry, with a generous helping of red!
Want to express your fondness for red on a smaller scale? Consider Jamie Joseph's Round Carnelian Ring: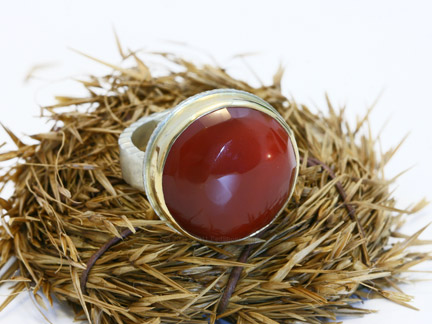 Stunning! The angles of the facets contrast beautifully with the gem's circular shape. Let your fingers do the flirting!
Of course, at the end of the day, it is still February, so staying warm is of the essence. Why not wrap up in Epice's Jardin Scarf?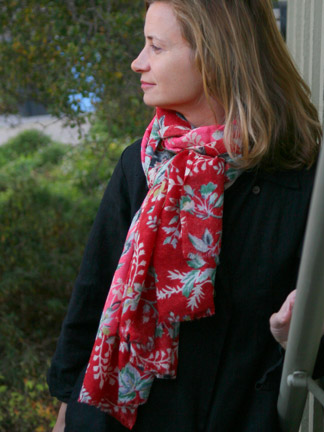 Loomed from the softest wool, this lovely will keep you cozy, while its red and fuchsia palette will chase away the winter blues.
There is more red loveliness to discover over at Ped's main site. Happy Valentine's Day, Ped fans—you put the color in our cheeks and a song in our hearts!
(Although not red, this week's Sweet Treat is certainly luscious: Trippen's Fox wedge bootie. Simply click "be sweet to your feet" in the top right corner of any Ped page to be whisked to the Fox, where you will find the code that brings 20% off at checkout! Foxy!)