Friday, September 28th, 2012
Last spring when I returned from the shoe shows in Paris and Milan, I told you this fall and winter would be colorful! Now, as promised, we're off and running with the hued shoes! First up, RED!
In our previous post, celebrating Trippen, we showed you the spectacular Corset boot. But it's just one of the red temptations from Trippen this season. For instance, who can resist the Wicked?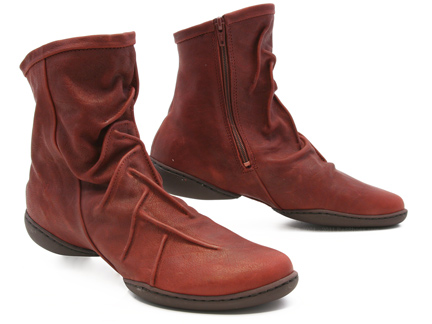 We are totally taken with the way Trippen has subtly stitched the  buttery leather to create folds that cascade down the front of this bootie! Stunning—yet comfortable and light, thanks to the "cups" rubber sole.
Trippen takes the same shade of red to new heights with the knockout Mexico boot: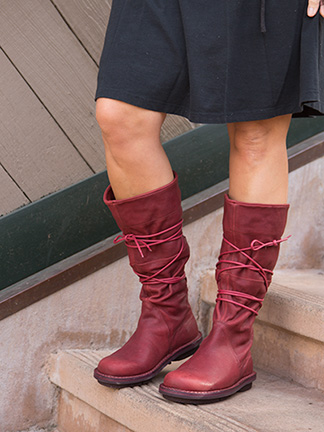 Everyone at Ped HQ is in love with this "Rubin Red," which reminds us of cayenne peppers. Spicy and delicious! Plus, the extra-long laces offer a wealth of ways to style the Mexico!
Trippen uses a slightly darker shade of red leather to create the smashing new Captain: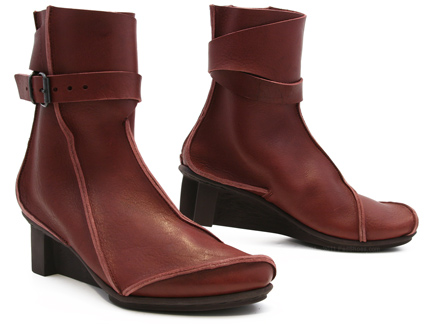 Take a closer look at the buckle on this great low boot—the strap extends right out of the leather that forms the shaft! Clever! And the Red Wine color makes us thirsty!
As long as we're on the topic of wine-red leathers, the burgundy shade of Cydwoq's Seek is intoxicating!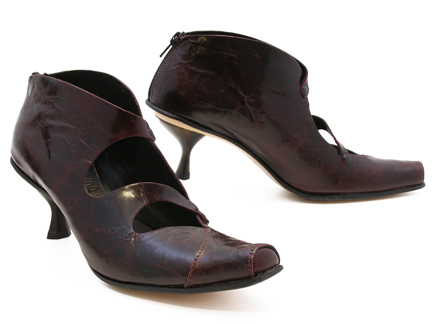 Deep and delicious, this darkest of dark reds makes the sexy Seek even more seductive! Pair this with your fave little black dress, and take your pick of the hearts beating faster at the sight of you!
And if going glam is your game, then consider buckling up Chie Mihara's Quesquece: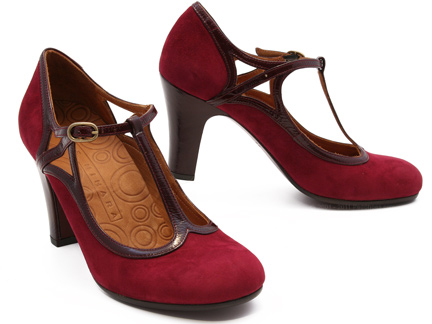 Holy cannoli, this curvy t-strap gives new meaning to the term "red hot"! The combination of the deep red patent leather trim with the crimson suede is dazzling!
Of course, menswear-inspired styles are also au courant. Perhaps the red version of the Fiorentini + Baker Eliza might be your cup of tea: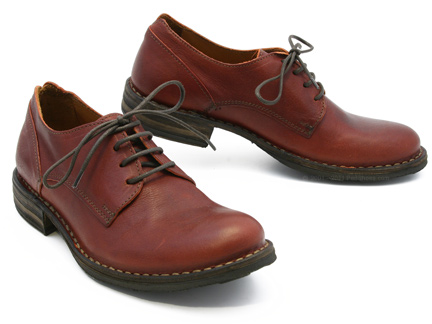 Heaven help us, we LOVE this shoe! The Eliza is truly the oxford to end all oxfords, and a ruddy color just enhances its rugged beauty!
Which brings us to our rosy finale, another Fiorentini + Baker favorite looking lovely in red, the timeless Eli ankle boot: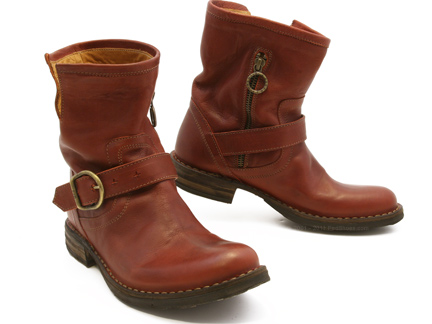 As beautiful as a sugar maple tree in fall, this luscious red looker will rev up your style! Motors all over the world will run a little hotter after seeing you out and about in the Eli!
And that's not all the red at Ped—lots more spicy styles are ready to set your heart on fire over at Ped's main site. So get the lead out and put the red on!
Stay tuned, Ped fans, next we do blue!
(By the way, this week's Sweet Treat is the Vialis Greta. It may not be red-hued, but it's definitely red hot! Just click "be sweet to your feet" in the upper right corner of any Ped page to land at the Greta with the discount code that will bring 20% off at check0ut!)