Monday, January 31st, 2011
Sure, it's still icy outside for many of you, but, Ped fans, before you know it, spring is going to bust out all over! But that doesn't mean you have to relegate your boots to the back of the closet. Heck no! Boots, especially those of the ankle-height and mid-calf variety, are perfect for skipping from one season into the next.
With that in mind, here are a few nominees for what to wear when the buds are on the trees but it's still too brisk to expose the toes.
Cydwoq's Pi Bootie is the perfect way to celebrate that last little bit of slush disappearing from the sidewalk!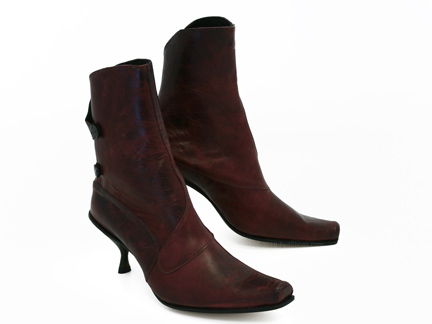 The sexy way the leather wraps around the back of this boot is enough to make the temperature rise! And the Pi looks superlative with bare legs and a swingy skirt!
Another great heeled boot (that's perhaps a little less "lady") is Cydwoq's Artemis: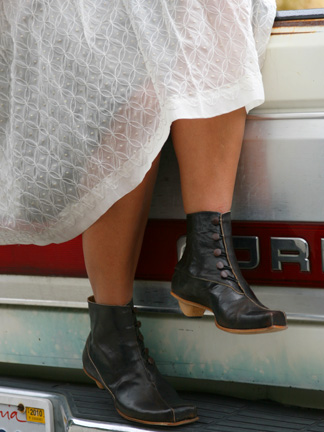 We love the retro feel of the buttoned closure combined with the modern square toe and hand-cut wooden heel. (And see what we mean about how terrific an ankle boot looks with a breezy skirt?)
Maybe you'd rather keep your heels on the ground, in which case Cydwoq's Sparta might be just the thing for moving into spring.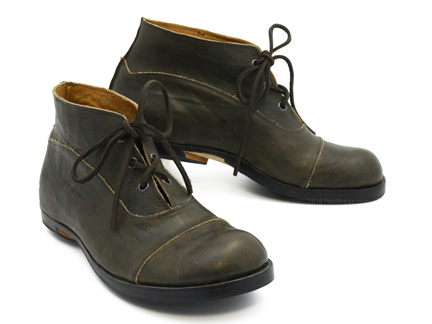 We went wild for this boot when we first saw it as a men's style, so we begged Rafi and Ari to make a version for women. Ta da! We love how the washed grey leather is distinctive but still go-with-everything versatile.
(By the way, the Sparta just happens to be this week's "sweet treat"! Click "be sweet to your feet" in the upper right corner of any Ped page to reach the Sparta with the magic code that's worth 20% off at checkout!)
If you want something that rises a little higher on the leg, check out the Sparta's taller sibling, the Iota.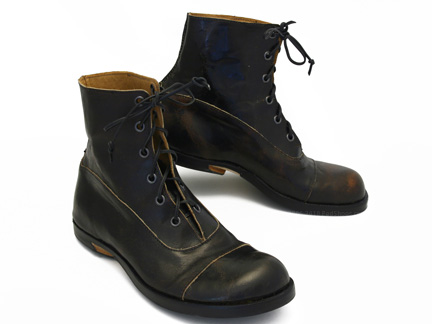 This gorgeous lace-up is made of "aging" black leather and will get a brownish patina with wear. It's one of our all-time favorite boots! Ped fans clearly agree since no sooner do we get a new shipment in than it flies right back out. If we don't currently have your size, just send us an e-mail, and we'll put your name on the wait list for the Iota!
Of course,  you may prefer a buckled motorcycle boot to a lace-up. If so, look no further than Fiorentini + Baker's Eli!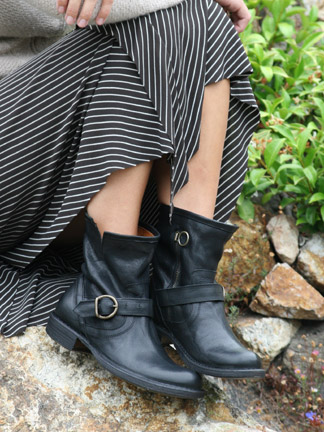 Such a great boot! You'll never want to it off—and, good news, you won't have to because the Eli looks as good with skirts as it does with jeans!
But if spring fever makes you want to rock out, Fiorentini + Baker's Paula is the way to go!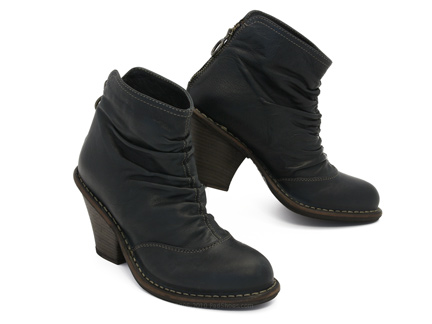 With a ruched front and a zipper up the back, the Paula is another hot number we can't seem to keep in the Ped house! If you'd like to be on the wait list for our next shipment of this kickass ankle boot, drop us a line!
Trippen's Royal Bootie is another transitional style with a rock 'n' roll edge!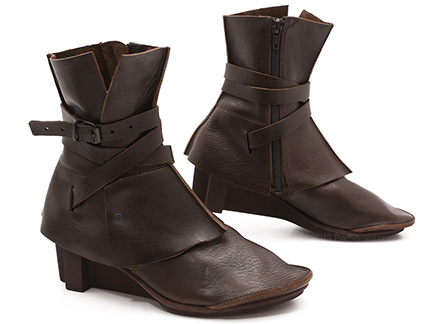 The spat-like upper wrapped by a buckle strap around the ankle ensures this boot will be the most cutting-edge thing on the street!
So let the sunshine in as the trees leaf out, but keep yourself well-booted while winter breezes into spring!