Monday, November 2nd, 2009
This past weekend, our friend Kimmy took the train from NYC to Charlottesville, Va. to see Thievery Corporation and to spend a little time with Ped pals Amy and Laura. She went with Laura to an art opening at the University of Virginia on Friday evening and convinced camera-shy LP to let her snap a pic (yes, that's a lovely parking garage in the  background—but we like how the yellow square on the sidewalk looks  with Laura's outfit, so  we decided not to crop).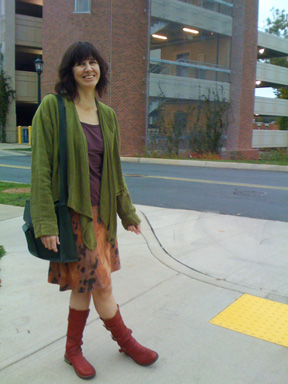 How fun that Laura's out and about in Fiorentini + Baker  Eternity boots and Cydwoq's Flap Bag, both from Ped!
When Kimmy returned to New York, she posted a new Ped-i-licious profile photo on her Facebook page: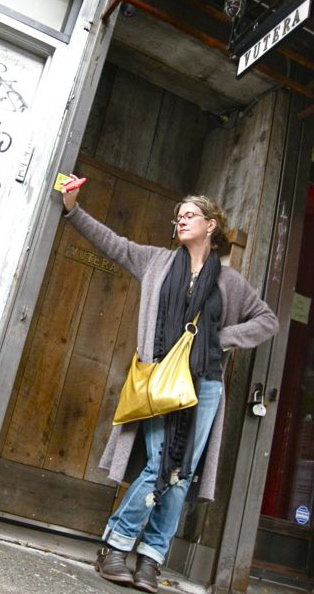 How cute is she with her Jutta Neumann Monica bag and Fiorentini + Baker Eli boots? (And she tells us the hand on her hip is sporting a little Jamie Joseph bling.)
We get such a kick out of seeing Ped items in action! If you show us yours with an explanation of what adventure you had while wearing Ped (it can be anything from a trip to the grocery store to the time you stood next to Viggo Mortensen on an elevator), you'll be in the running for $100 in Ped credit. Come on, don't be shy, tell us your "Tale of the Sole."