Friday, April 6th, 2012
. . . or at least for next fall and winter! Ped fans, in March I again jumped across the pond to visit the European shoe shows in Milan and Paris. These are the trips where I place orders for next season's goods, trying on and closely examining all the styles to make sure they're up to Ped's high standards for comfort and quality.
For Ped to carry a line, it has to persuade me of four things: 1) it's made with an eye to social and environmental ethics; 2) the company prioritizes outstanding craftsmanship using the very best materials; 3) the designs are comfortable and easy to wear; and 4) the goods must have style for miles!!!
I work hard on these trips! But I also have a lot of fun! I love soaking up European culture and observing new trends. Come along for a vicarious ride!
When I landed in Milan, spring was in full swing, even though it was early March. The colors were so beautiful!
Flowers weren't the only colorful spectacle—check out this dazzling display for Louis Vuitton:
Fabulous shoes were everywhere! Even in the gourmet food section of La Rinascente!
Granted, not everyone in Milan was there for shoes. I saw these McDonald's chefs on a photo shoot at Galleria Vittorio Emanuele (a must-visit indoor shopping arcade).
Speaking of food, on my day off I walked for five hours straight, visiting the famous Corso Como, and rewarded myself with gelato!
Whenever I'm in Milan I make sure to light a candle for my much-missed father at Il Duomo.
Then it was off to Paris, where my morning "commute" is about as stress-free as it gets.
At the show, Cydwoq had so many beautiful styles I had a difficult time choosing. I think you'll be pleased, though!
Wondering what looks are popular for next fall and winter? Well, the love affair with oxfords and menswear-influenced styles continues. Plus, booties are still big (the kind you wear on your feet!), worn unlaced and unbuckled in a casual European way. Vintage looks, as well as polka dots and stripes, are also on trend.
The big story, though, is a renewed emphasis on COLOR! Ruby red, mustard yellow, leaf green, royal blue—every saturated hue imaginable! I don't want to give too much away, but here's a little taste of what you have to look forward to!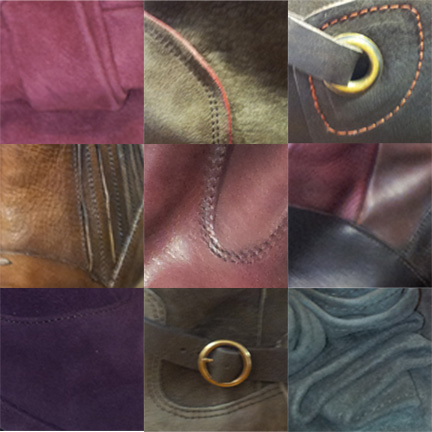 After a long day, I had a delicious Lebanese dinner with Cydwoq's Rafi and Trippen's Michael. This was our view as we walked home:
Ped fans, I love my job!