Wednesday, May 16th, 2012
I've written before about Ped's high standards for any line we carry. Just to reiterate: 1) the company must have a commitment to social and environmental ethics; 2) the items must exhibit outstanding craftsmanship using the best materials; 3) the designs must be comfortable and easy to wear; and 4) the goods must be gorgeous and have style for miles!!! Which is why I'm so excited about the newest member of Ped's family: Dean Leathergoods.
Dean was born in Los Angeles in 1999 when its founder couldn't find a watchband that combined vintage quality with a modern sensibility. He decided to design and make what he had in mind. And we're so glad he did because 13 years down the road, Dean is producing some of the finest leather goods we've ever encountered, each meticulously crafted by hand in the Dean L.A. studio. The materials are luxe. The designs are interesting and architectural. And the colors are eye-popping!
Take a look!
The quickest way to our hearts at Ped HQ is with a small bag for those times when we only need to carry a few items (e.g. cell, keys, ID, and cash). Dean's Rivet Wallet is just the thing!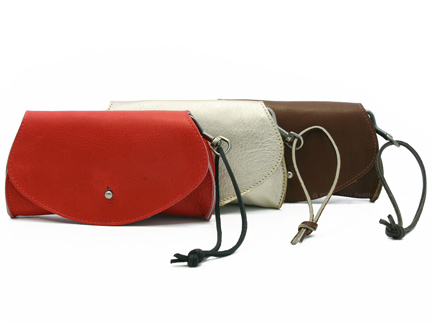 Perfect! We especially love the wrist strap that lets us slip it on and go! But that strap also detaches so the Rivet Wallet can easily slip into a larger bag, where it keeps the bibs sorted out from the bobs.
At the other end of the size spectrum is Dean's wonderful Suede Tote: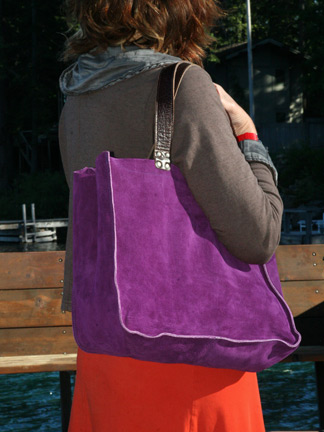 What a gorgeous way to haul everything you need for a day on the go—books, files, even a small laptop! And the suede is so delicious to touch!
Speaking of things that you might slip into that tote, couldn't your iPad use a classy new cover?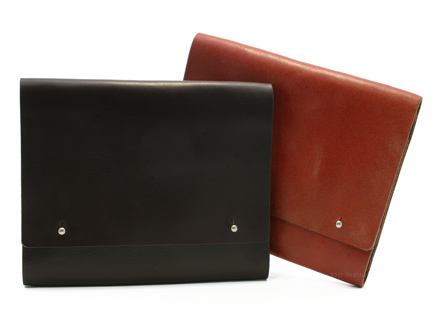 We love the lean elegance that characterizes Dean's designs. Undo the twin rivets of this clean-lined case to reveal an interior with four elastic corner straps to hold your iPad securely without obscuring the screen.
That laptop case would also fit sweetly into Dean's smashing Thimble Bag:
This knockout everyday bag takes its name from the two stainless steel thimbles that attach the shoulder strap to the bag. With Dean, hardware always marries form and function in aesthetic wedded bliss! (By the way, we also have the Thimble Bag in black leather and fuchsia suede, too.)
Looking for something a little more capacious that could work as an overnight bag? Feast your eyes on the Dean Bell Bottom Bag: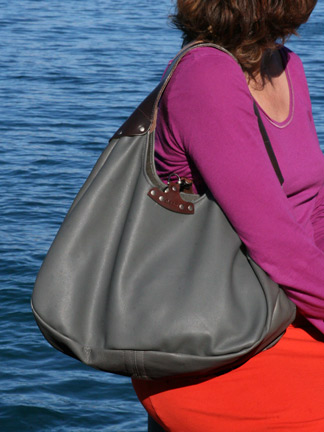 Just looking at its picture, you can practically feel how buttery the leather is! Plus, Dean realized an extra-big bag needs an extra-hearty strap made to stay on your shoulder, so they lined the Bell Bottom Bag's generous shoulder strap with suede to help it stay put! (We also offer this beauty in brown.)
Looker for something a little leaner? Check out the simple yet edgy Dean Zip Clutch: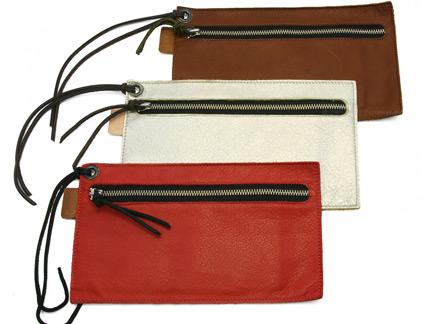 A charming companion for a night on the town, the Zip Clutch opens to reveal two credit card slots and a larger slot, perfect for holding concert tickets.
When you need to carry a bit more, like a book to read on the train or plane, Dean's Towner Bag has you covered: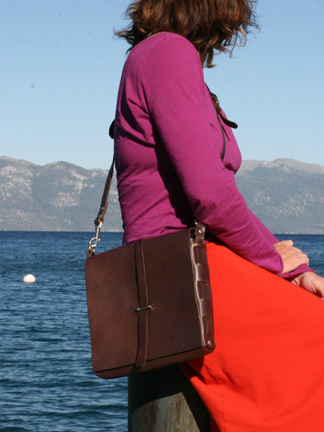 Every season, Ped's Laura falls in love with one item above and beyond all others, and this spring it's the Towner Bag! From the long leather tab ducking under the silver bar on its front flap to its cool woven sides and double-buckled shoulder strap, the Towner is truly crush-worthy!
So bag your old bag, and start a meaningful relationship with Dean! It's sure to last for years!
(Speaking of beautiful bags, have you checked out this week's Sweet Treat? It's Cydwoq's stellar Stamp Bag! Click "be sweet to your feet" in the upper right corner of any Ped page to land at the Stamp Bag with the code that will bring a welcome 20% off at checkout! Swinging!)