Wednesday, June 19th, 2013
So far, Summer 2013 has been a doozy, Ped fans! Chilly days! Sweltering days! Stormy days!
But here's one forecast guaranteed to make you smile: sunshine and blue skies at the Ped Summer Sale! Those gorgeous sandals you've had your eye on since March? Chances are they now have an even prettier price!
Below is just a sample of the bargains currently bursting into bloom at Ped:
One of our favorite sandals this season is Accessoire's Alabama because it's vintage-girly and unlike anything else strolling down the street: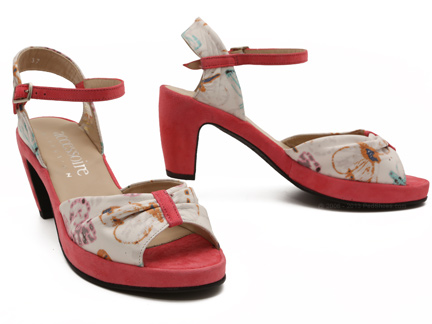 Everything about this comfortable sweetheart—from the combo of coral suede and printed leather to its air of 1940s Hollywood—is unusual and beautiful. Lovely at $358, it's stunning at $179!
Another shoe that charms with a variety of leathers is the Chie Mihara Isias oxford: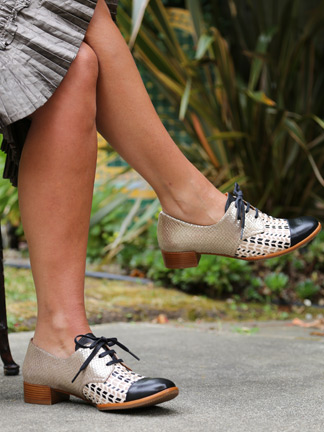 The Isias is also available in a rosy version, but we're fond of the mix pictured because a good metallic shines especially brightly in the summertime! Sparkling at $388, the Isias dazzles at $299!
If you fancy an all-metallic oxford, Fiorentini + Baker has your number with the Gip: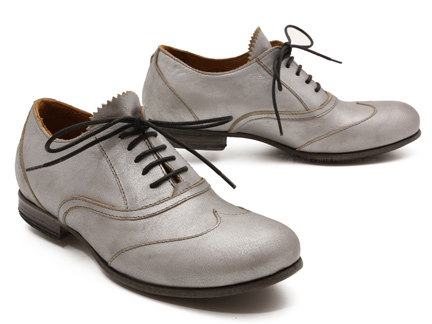 The Italian attention to detail is spectacular! lFor instance, the pinked edge of the tongue sends the Gip into the stratosphere of style! Fun at $458, it's a party for your feet at $358!
Looking for an everyday shoe that's more understated? Consider the streamlined beauty of the Cliff Dweller Norma: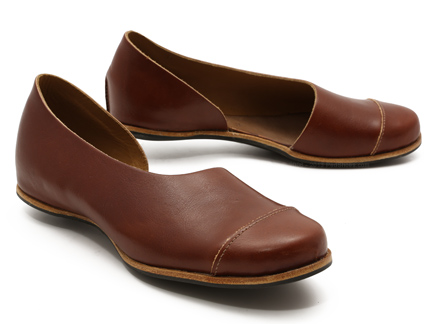 When a shoe is cut to perfection, it doesn't need bells and whistles to get whistles! Gorgeous at $238, the Norma's a knockout at $189! (It also comes in blue.)
If you like a run-around flat but long for a zing of color, say hello to the Vialis Pilar!
Simple yet saucy, the Pilar will instantly become your favorite! The only question is whether to pick cherry red suede (pictured) or curry mustard suede? Zesty at $212, the Pilar's spice is even nicer at $169!
Cydwoq has some particularly lovely flats this season, too, such as the airy Cover: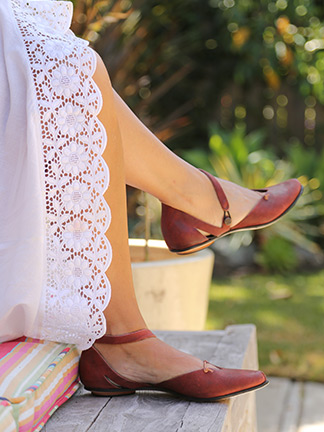 The holy grail of shoes, the Cover effortlessly goes from running errands Saturday afternoon out to a cocktail party in the evening! A find at $304, it's a treasure at $239!
Of course, summer isn't summer until your toes come out to play in a great pair of sandals! One of the best ever is the Cydwoq Copy: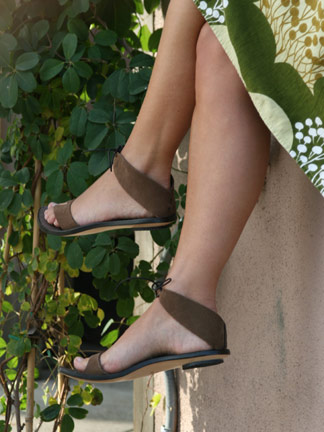 Practical meets sexy in this fantastic sandal, which is also available in black. Bonus: its heel design makes the Copy an ideal traveling companion! Juicy at $216, it's even more delicious at $169!
What's that? You prefer a slide? Then perhaps the Cydwoq Hurricane has your name on it: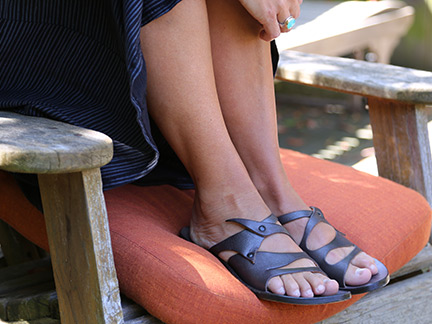 When you slip on this strap-happy and comfortable sandal, you'll think, "This is the life!" (And you'll be right!) Wonderful at $224, the Hurricane is a total pleasure at $179!
Even more fresh and breezy deals are waiting for you at Ped's main site! Pick something pretty and let the sunshine in!