Friday, April 12th, 2013
Ped fans, you've got to hand it to those Balouzians—they are one creative family! Before father Rafi founded Cydwoq and gained worldwide renown for his artistic handmade shoes, he was an architect. Following in his father's footsteps (wearing fantastic shoes, no doubt), son Ari began designing eye-opening footwear several years ago, contributing to Cydwoq's expanding line.
Ari also continued to pursue music as a trained violinist and composer, collaborating on video productions and creating film scores. The name of his media company? Cliff Dweller. Now,  just as his father infused his architectural sensibility into Cydwoq's designs, Ari is seeking to bring the unique aesthetic of his other creative endeavors to his shoes by launching the Cliff Dweller collection. Made by hand at the Cydwoq factory, with the same attention to materials and construction, Cliff Dweller boots, shoes, and sandals offer an edgy and modern twist on classic styles. Their inspiration comes from such eclectic sources as the city of Burbank, Dust Bowl Era work shoes, William Eggleston photographs, and films of the 1990s.
The results? See for yourself in Ped's new Cliff Dweller selection! We are wildly, madly, head-over-heels in love them!
One thing you'll notice right away is Ari's interest in unusual treatments of vegetable-tanned leathers. The Cliff Dweller Runner will knock your socks off: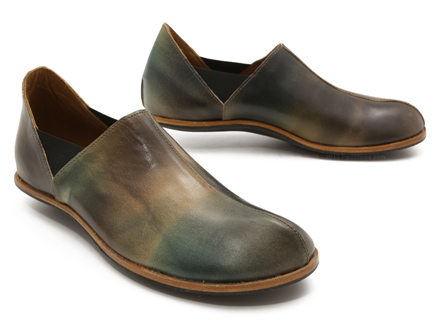 Are you swooning the way we are? The simplicity of this slip-on, with its elastic insets and single seam down the front, is attention-getting for its clean lines. But it's the "Earth" leather, with shifting layers of teal, brown, and tan, that makes us sigh! (Ped also offers the Runner in "Desert Sky," a rich brown with brushed grey strokes.)
Another kick-around shoe that has everyone at Ped HQ drooling is Cliff Dweller's Thomas: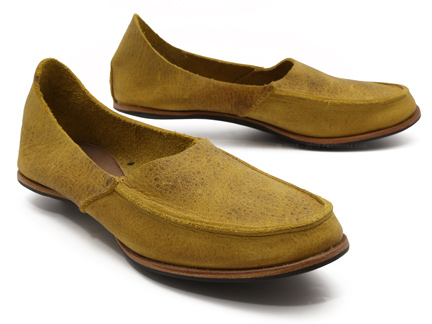 Ari's interpretation of the moccasin is hip and swinging to the 9's! It makes us think of what the Rat Pack might have worn poolside in Las Vegas. Yet for all its nostalgic charm, this easy flat is utterly modern and ideal for so many occasions. Just leave it by the door. (In addition to the luscious mustard shown, we have the Thomas in midnight blue—blue being the IT color of the season!)
Taking things in a slightly girlier direction, Cliff Dweller's Norma is another lovely that simply slips on and looks terrific: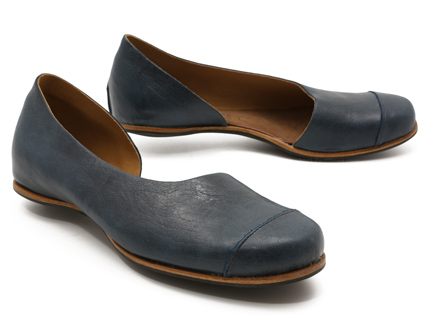 Taking a cue from father Rafi, who believes a woman's arch is the sexiest part of her foot, Ari creates an open area of interest on the inside of this skimmer. Chic and lean, we love the Norma in midnight blue, but this sweetheart also comes in warm brown, both so versatile!
Requiring just an itty-bitty bit more work (adjusting a buckle), the Cliff Dweller Mary is Ari's modern interpretation of a mary jane: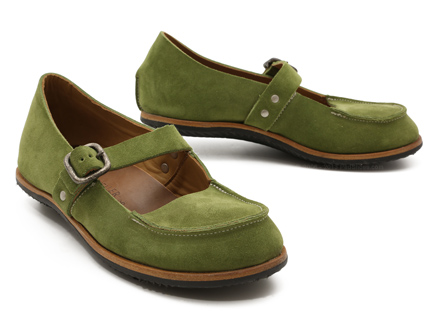 So much fun! My weakness for green is famous, and the luscious shade of this suede is fresh! I also love the rivet detailing and moccasin-like design. If green isn't your cup of tea, you can opt for the Mary in sizzling red hot suede or cool midnight blue leather!
Finally, if you've been searching for the perfect travel sandal, your quest is over! The answer is Cliff Dweller's Emma: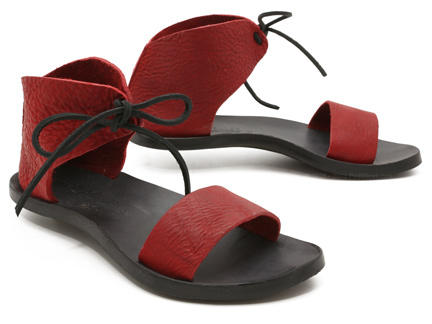 The Emma's enclosed heel holds your foot securely, while the simple band up front lets your toes enjoy the breeze! The tie in front of the ankle adds sexiness, and the molded leather footbed keeps your soles happy mile after mile. The textured red leather version is spicy fun, but Ped also offers the Emma in go-with-everything chocolate brown.
What a bevy of beauties! When you put on a pair of Cliff Dwellers, your feet will feel right at home on the cutting edge!
We can't wait to see what Ari has in store for us next fall!
(Psst, did you see the spring-tastic Sweet Treat this week? It's the sunny Vialis Elyse! Get a fresh 20% off by clicking "be sweet to your feet" in the upper right corner of any Ped page to reach the Elyse with the magic code to enter at checkout!)