Saturday, January 26th, 2013
It's the dead of winter. Holiday parties are long past. It's weeks before the first crocuses sprout. And daylight is still in short supply.
Time for a little pick-me-up, wouldn't you say?
Well, that's just what we at Ped Central have in mind! Welcome to the Ped Winter Sale, where those shoes you've been drooling over for months suddenly have a nicer price! Here's just a taste of the sweet deals we hope will brighten your smile on even the greyest day!
First up, one of our favorite ankle boots this season: Argila's oxford-inspired Lauren!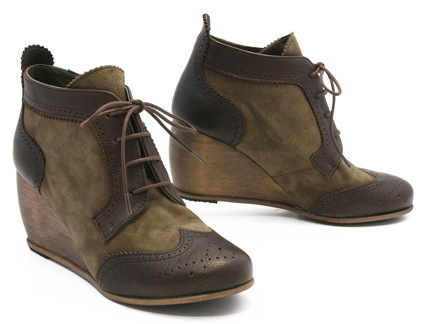 Argila serves up a lot to love, from the perforations on the toe to the leather's pinked edges to the sculpted wooden wedge! Drool-worthy at $418, it's even more delicious at $209!
Another wonderful suede style, unlike anything else on the street, is Accessoire's Euro-chic Ulrich: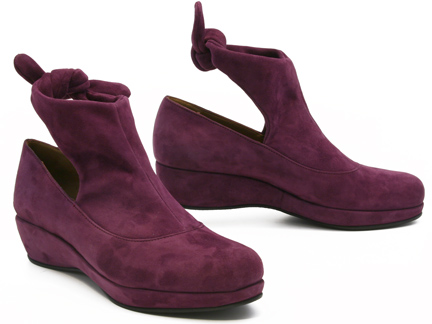 Here at Ped HQ, we just can't get enough of that luscious cassis color! Plus, the tie in back is so distinctive! Fabulous at $358, the Ulrich is off the charts at $179!
As long as we're on the topic of gorgeous suede shoes, take a gander at the Chie Mihara Pasion: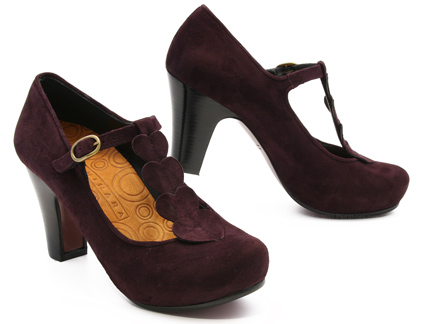 We heart this heart-embellished t-strap! Because it's from Chie Mihara, you know it will baby your soles with comfort! Lovable at $358, it's simply irresistible at $179! (Anybody else suddenly have Robert Palmer singing in their heads?)
At least six more weeks of winter awaits (we're making the prediction ahead of Punxsutawney Phil), so every Ped fan could use a great new pair of boots! Our suggestion? The Cydwoq's Bend!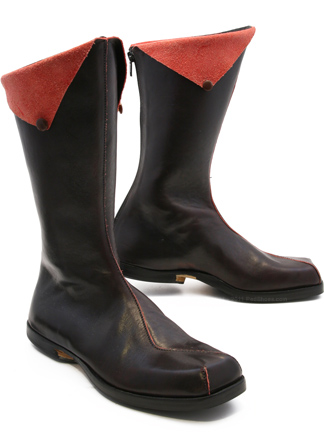 Crafted from Cydwoq's a-maz-ing double-dyed leather, we love the way the red underside of the black outer reveals itself in the top flaps and along the seam that runs down the front and snakes over the toe! Sizzling at $458, the Bend is burning down the house at $229!
Maybe a saucy little ankle boot is more up your alley? If so, one of the best this season is Cydwoq's Artisan: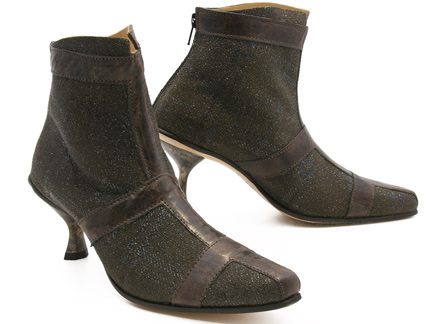 The mod look of this heeled bootie is smashing! We're wild about the ultra-cool and subtle plaid pattern of the textured leather beneath the brown leather overlay! And you can't beat a zipper up the back for sexiness! A looker at $368, it's a head-turner at $184!
If you're looking for a bootie that's less femme and more rock 'n' roll, consider the Trippen Brace: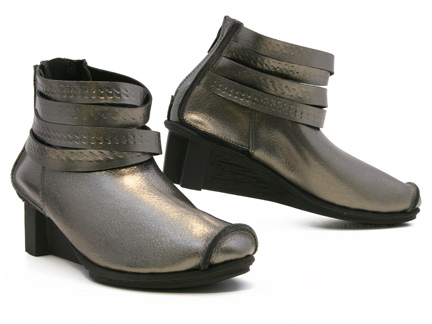 The steel leather is fantastic, and the industrial embossing of the cut straps around the ankle is cooler than cool! (In fact, it's ice cold, a la OutKast's "Hey Ya!".) Rocking at $318, it blows the roof off at $159! (Shake it like a Polaroid picture!)

Finally, we know many Ped fans wait with bated breath for us to put anything Fiorentini + Baker on sale! Well, rejoice because the "Bordeaux Wine" and "Blue Moon" versions of F+B's Emmy Boot temporarily have a sliced price that's oh-so nice (act fast because only a few sizes remain)!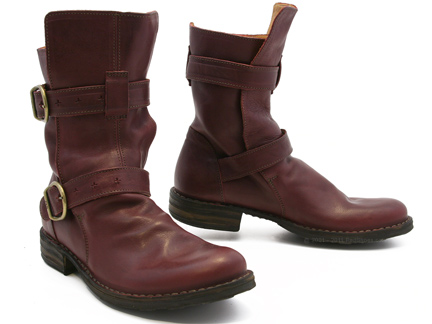 Fantastic Italian construction is always in style! Boots to love for a lifetime! Worth every penny at $518, they're the bargain of the century at $399!
As always, these are just a taste of the delicious deals awaiting you in Ped's sale section! What a way to give your puppies a little extra woof during these icy three-dog nights!
(One more special to tempt you: the Sweet Treat this week is Cydwoq's stupendous Regiment Boot, which is much more interesting than the rank-and-file boots out there! Simply click "be sweet to your feet" in the upper right corner of any Ped page to be whisked to the Regiment with the magic code that will bring 20% off at checkout!)