Boot booty, Part 2: Right ankles!
In our last post, we showed you a few options for taking boots as low as they go. Today we move on to ankle boots that stand a little taller, peaking just above the ankle bone. It's a height we love at Ped because it looks fantastic with skirts and plays nicely with jeans (without having to confront the over-or-inside-the-boot dilemma).
First up, one of our favorites this season,the Coclico Willa: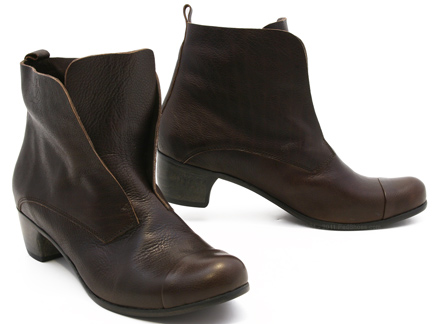 In a word: YUM! The gorgeous Willa is on trend with its laceless good looks, yet it's streamlined and classic, so it will never go out of style!
Of course, laces also have their place, as illustrated by Argila's Lauren: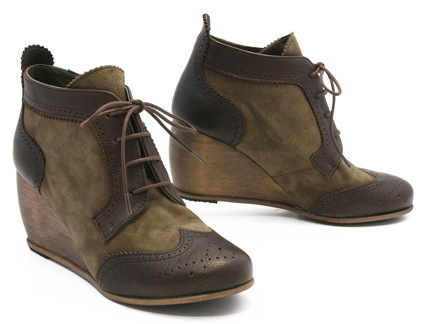 This suede and leather beauty checks three things off the au courant list in one easy sweep. Wooden wedge? Check. Oxford styling? Check. Ankle boot? Check! And scene (or should we say "seen")!
Taking things in a more mod direction, the Artisan from Cydwoq has everyone at Ped HQ swooning: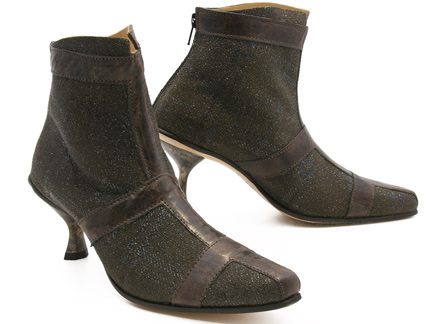 Wow. Just wow! The brown leather lattice over the textured metallic leather, sparkling with a subtle plaid pattern, is FAN-TAS-TIC! Can't you just imagine Megan on Mad Men wearing this with a micro mini ? (Don would be a helpless drooling puppy.)
Looking for something a little less overtly feminine?  Then get your attitude on in the Trippen Fence:
The sliced-up and laced-up (in back) Fence has held court at Ped for several years, but it still looks fresh and futuristic! Great barefoot but also sensational flashing colorful tights between its straps, the Fence will make friends everywhere you walk because everyone's going to ask where you got your boots!
There are plenty more ankle-high ankle boots to tempt you over at Ped's main site. (And just to ring the Fiorentini + Bell one more time, the new Pansy is super juicy!)
Stay tuned because we're about to heighten the boot interest again in the next day or two.
Tags: A877, ankle boots, Argila, Artisan, black, booties, boots, brown, Coclico, fence, Fiorentini + Baker, German, heel, Italian, lace-up, laceless, Lauren, metallic, mod, shoes, Spanish, suede, tan, Trippen, wedge, Willa, wooden heel