Cha cha with Chie!
Here's something that makes everyone at Ped HQ smile: boxes of new Chie MIhara styles arriving on our doorstep from Spain! We have such a good time admiring each design as we unpack Chie's latest! After all, Chie Mihara exemplifies everything we love at Ped: a unique design sense, meticulous craftsmanship, and comfort without compromise.
Let us tantalize you with a taste of what Chie's whipped up for the upcoming warm weather!
We know it's still winter where many of you live, so we'll start with a number you can wear right now—and keep wearing right through spring and summer: Chie's Lorensa.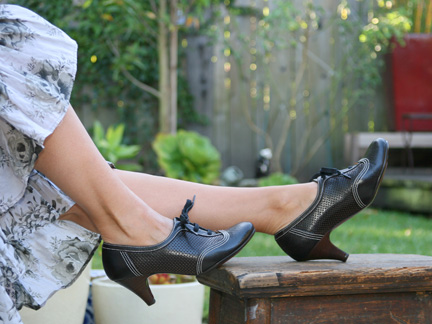 Honestly, this heeled oxford is in a class by itself! As usual, Chie gets the details just right, from the parallel lines of sinuous topstitching to the perforated leather that lets your tootsies breathe when the weather heats up.
Another new design that features beautiful topstitching and leatherwork is the Fideua: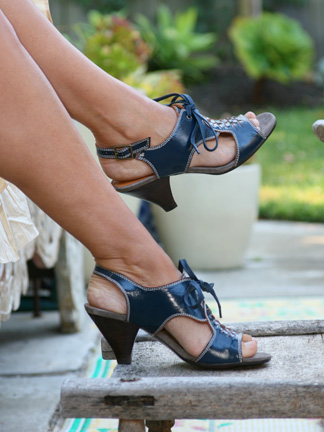 The woven leather over the toe, contrasting stitching, and lacing are rather unusual ingredients to combine, but what a tasty dish they make! Plus, we love the navy blue color!
Chie is always so good with selecting the perfect hues! Our favorite style for sheer cheerfulness is the sunny-day Yoisho: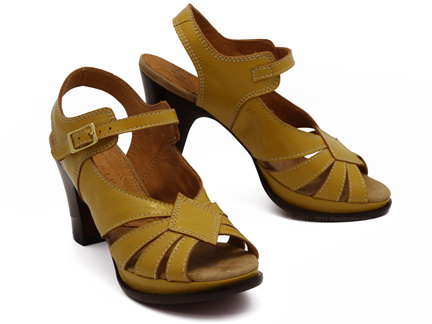 What a great shade of yellow, and it works so well with the 1970s' retro vibe of this sandal. Buckling up the Yoisho will give you both a physical and an emotional boost!
Speaking of buckles, we decided to bring back the smoking-hot Bankok, one of the sexiest styles Chie's ever designed: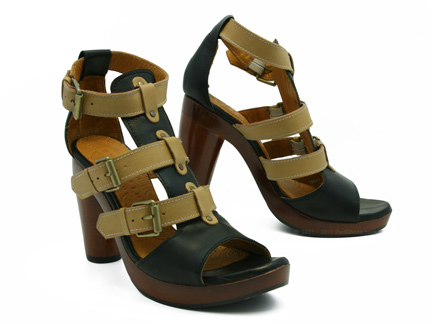 The Bankok is the very definition of "knockout"! When you strap on this badass beauty, you may want to carry a pocket fan to revive the people who can't take the heat of your sizzling sauciness!
But maybe you prefer to go more girly with your flirtatious style. If so, join us in sighing over Chie's Osmo:

In a word: DEVASTATING! It simply doesn't get any more glamorous than this rosette-embellished, red suede t-strap! In the Rojo, you're guaranteed to set hearts afire!
Some gals can pull off the Osmo on a daily basis, but if you want something a little more subdued for everyday wear, check out the Chie Mihara Oyko: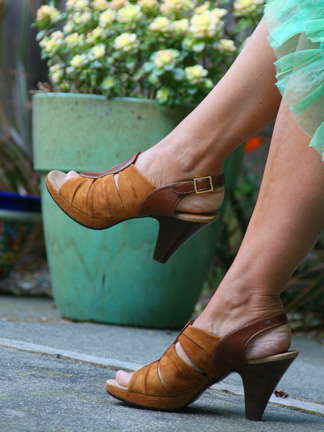 We love the richness of the whiskey-colored suede combined with the rich brown leather—so sophisticated. This gorgeous sandal is perfect for going from day wear to date wear!
Delicious, eh? And there are even more Chie Mihara styles to feast upon at Ped's main site. But before you click over, watch this video to learn a little more about  Chie's philosophy and design process. We promise it will make you even happier to have her shoes on your feet!
(By the way, the "sweet treat" this week is Trippen's fringed and fun Country Bootie. Click "be sweet to your feet" in the upper right corner of any Ped page to reach the Country with the magic discount code that instantly takes 20% off at checkout!)
Tags: black, blue, brown, Chie Mihara, heel, lace-up, leather, oxford, red, sandal, shoe, Spain, Spanish, spring, suede, summer, yellow