Spring into Spanish style! Olé!
Spring probably seems as distant as the moon for many Ped fans this week! So much snow in so many places! Perhaps you could use a trip to sunny Spain about now? Well, if you can't rearrange your schedule to jet off to Madrid or Barcelona or Majorca, Ped has the next best thing: a bevy of new Spanish styles that will remind you green grass and warm weather are only a few weeks away!
One designer who knows how to turn up the heat is Chie Mihara, who lives and makes her shoes in Elda, Spain. Her vintage-inspired styles are always girly and fun without being fussy. Plus, Chie is the undisputed queen of creating comfortable heels! Case in point, the Rocosa: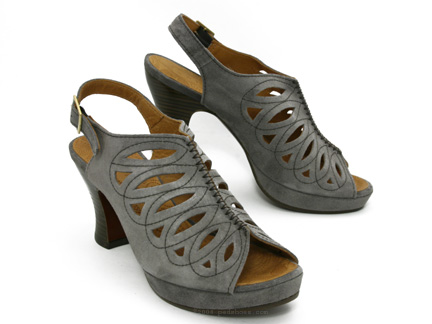 Be still our foolish hearts! What a glorious heel, full of retro funk in a modern, wearable package! It's all about the details with Chie Mihara, and the way the laser-cut design, the topstitching, and the seam down the front all work together is stunning. Plus, the Rocosa's 3″ heel is perfectly comfortable due to the 1″ lift up front!
You may prefer your heels a little lower, though, in which case, join us in sighing over Chie's new Cidra: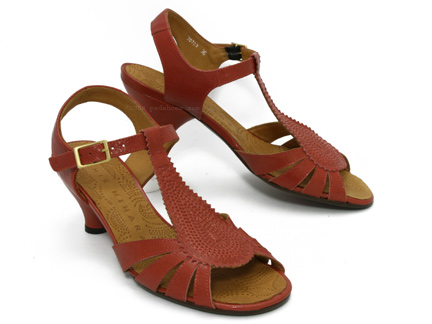 Delicious! Who doesn't love a red sandal? Chie found her inspiration for the t-trap in Indian paisley. (Fun fact: the paisley shape echoes the shape of a mango). So pretty, and the heel is an easy 2″.
But maybe you're a gal who thinks flat is where it's at. In that case, we're sure you'll agree the new Chie Mihara Wonder is well-named: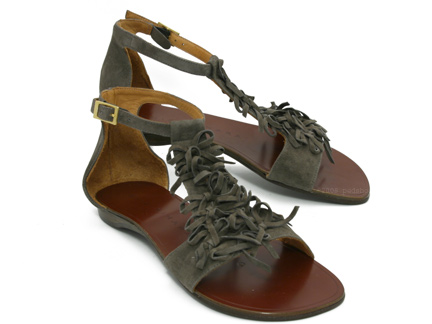 Too cute! In fact, Ped's Laura has been chattering about the Wonder ever since it arrived last week. "Look at the fringe! Can you believe they're little bows? Don't you think this sandal would be good for my vacation in March?" We're all kind of relieved she finally decided to buy it (not that it's not worth talking about).
Another line we love from Spain is Argila. Founder Pep Monjo grew up in a family of shoemakers, but he also studied shoe design in Milan, Italy and worked for several European shoemakers before returning to his hometown of Menorca to set up his own business. And what a biz it is! Argila wows us every time with cutting-edge designs and expert craftsmanship. To see what we mean, take a look at the just-in Eliana: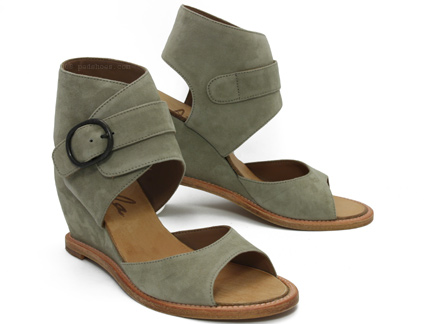 We are wild about the cool aloe color of the suede–so fresh for warm weather! And the style? Well, it speaks for itself (and in a beautiful voice)!
Argila also has your number if you're a gal who likes to show a little skin when the mercury rises. People will be mopping their brows, when you step out in the Zoe: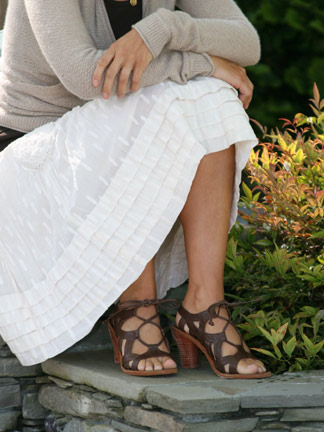 What's a four-letter word for Zoe? SEXY!!! But for all its bareness, this strappy sandal will last for years because it's so beautifully made.
Speaking of hot sandals that will let you salsa through spring and summer, how gorgeous is Cydwoq's Gaudi?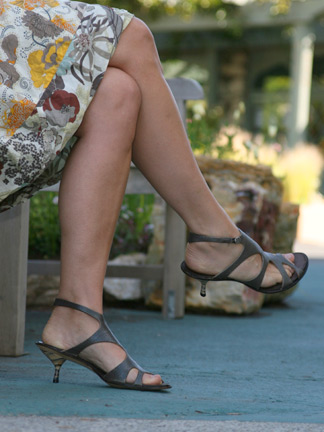 Although not technically from Spain (this knockout is handmade in California), the Gaudi sprang from Rafi Balouzian's recent trip to Barcelona, where he fell in love with the city's art and architecture. The eye-opening cut-work is inspired by Spanish architect Antoni Gaudi's artistry.
Looking at all this loveliness from Spain, don't you feel a little sunnier already? And there are more Spanish stunners to keep you smiling at the Ped site. Muy bonita! Bring on the spring!
Tags: Argila, Chie Mihara, Cydwoq, flats, heels, leather, sandal, sandals, Spain, Spanish, spring, summer