Have shoes! Will travel!
Ped fans, I recently returned from my biannual pilgrimage to New York, Paris, and Milan to attend the shoe shows and catch up with old friends! It's always a blast to combine shopping for Ped with sightseeing and people-watching—I learn so much from simply walking around these fashion-rich cities!
While I was in New York, my dear friend Kimmy became the most beautiful 50-year-old on the planet! It was fantastic to be able to celebrate with her and several of our longtime friends (including Nicole, who worked for Ped back in its Seattle days).
Then I was off to Paris!
At the Parisian shoe show, the emphasis was on oiled and brushed leathers, and the big colors were red, grey, navy, forest, and mocha. Metallics were also still running strong, so you can expect a lot of sparkle next fall and winter! As for styles, the must-haves were ankle boots yet again, but they've become both sexier and more practical. One of my favorite trends was unusual color combinations—the Chie Mihara designs, in particular, really packed a punch, so get ready!
Of course, we can never get enough of Cydwoq: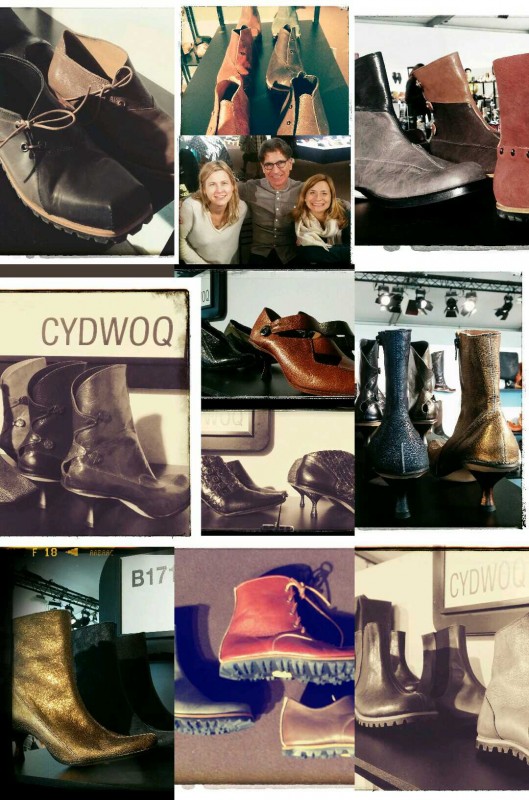 So much beauty to look forward to! (By the way, the lovely gal with Rafi and me up top is Margaret, the proprietor of Traipse, a fantastic shoe store in Chicago.)
After hours, it was fun to talk shop over dinner with friends in the biz!
After my brief sojourn in France, I flew to Italy for the Milan Micam show, which is one of the biggest shoe shows in Italy.
While in Milan, Ped's Fiorentini + Baker representative, Eliza, invited me to her home for a meal! One word: DELICIOUS!
After working two weeks straight without a day off, I finally took some time for myself. Milan is a wonderful place to roam around!
Then it was back on the plane to fly to home sweet home, Ped HQ!
In addition to lining up gorgeous new styles from all your Ped favorites, I discovered a wonderful new sock line while in Europe! Plus, look for the return of Vialis next fall! Such whirlwind traveling is exhausting, but I love finding things that I know will thrill you Ped fans. So stay tuned, there's a lot to look forward to in the coming months!
Tags: Cydwoq, Fiorentini + Baker, Milan, New York, Paris, shoe shows, travels, Trippen