March across the pond (Part I)
This spring things have been so busy at Ped that it's taken me until now to tell you about my fantastic March trip to the shoe shows in Paris and Milan. It's always so fun to catch up with Ped's favorite designers and see what they have on tap for the coming season!
I've decided to split my report into two parts. In this installment, I'll tell you all about who I saw and what we did. And tomorrow, I'll tell you the latest trends and how you can make your style cutting-edge and oh-so chic!
First, let's talk biz in Paris. As usual, I had my wonderful morning and evening walk through the Jardin des Tuileries going to and from the show.
The stroll really was the perfect way to begin and end the day. By the way, my home away from home was the Hotel La Perle.
The  booths of interesting items at the show were seemingly endless!
I get so many great ideas not only from browsing through the displays but also from seeing what everyone is wearing! (Stay tuned for Part II.)
Of course, it wouldn't be a Paris show without Cydwoq's Rafi and Trippen's Michael!
Sure, they make fabulous shoes, but the geniuses behind Cydwoq and Trippen are also just great guys!
When you spend as much time at shoe shows as I do, you get to know a lot of other nice retailers, like Louise from Gravity Pope!
Another friend I met years ago is the lovely Amy Gardner, who owns Scarpa in Charlottesville, Va. We met up in Milan for a few days of business and pleasure!
We loved where we stayed: The Hotel Milano Scala, an amazing "green" hotel with a delightful rooftop deck!
Of course, because we were in Italy, it wasn't all about shoes—it was about eating, too!!! If you like mozzarella, by all means go to Obika, which is a fantastic "mozzarella bar." We also enjoyed the fresh fish and ceviche at Pescheria de Claudio.
There were signs of Ped all over Milan—literally: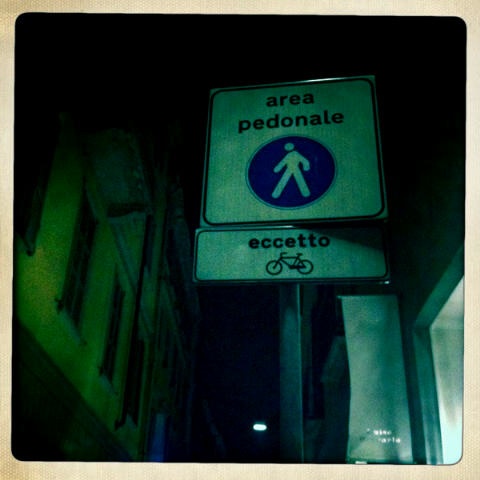 I came back to my desk at Ped HQ refreshed from seeing old friends and enjoying a dose of European culture, and excited about all the beauty coming Ped's way in the fall!
Check back tomorrow for Part II, when I'll tell you all about what's on the horizon for fall and how you can get a jump start on your cutting-edge style! (Why wait?)
Tweet