Tales of the Sole: Harriet Arthur's Trippen Liebchens have a harrowing mishap with art!
Hey Ped:
It's been a while since I set off on my "Adventures with Harriet," but since she's been browsing through your new Trippen styles and catching up on the blog, I thought I'd tell you about a near disaster that happened to me over a year ago.
In the fall of 2007, I found myself on Harriet's feet A LOT! (That woman wears me everywhere.) But one night she laced me up to install a piece she made for an outdoor art exhibition called "Let There Be Light" that celebrated the Winter Solstice (sorry, she didn't take any pics of her piece). Of course, she wanted to wander around to see the other artists' work. Well, one piece by Bree and Geoff Luck involved ice candles, which they invited visitors to place along a path.
Harriet decided to take her candle a little ways off the beaten trail, not realizing that a small ravine was waiting in the dark. Suddenly, we were stumbling and falling with FIRE about to slip out of her hands! Yikes! Harriet was trippin' in her Trippen! Fortunately, I'm pretty reliable, so I got us stopped—no burns on the skin, no flames in the brush! Whew. But I did come out of it with a few permanent scars that show how I suffer for Harriet's love of art. Here I am chilling at home, fully recovered: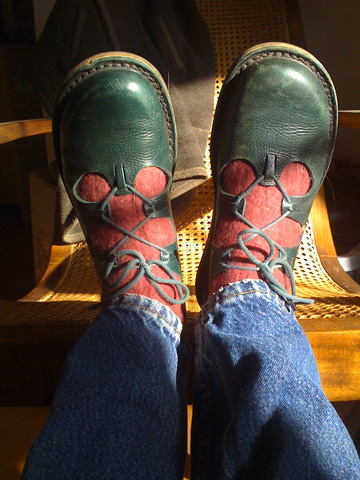 But let's take a closer look at my left side: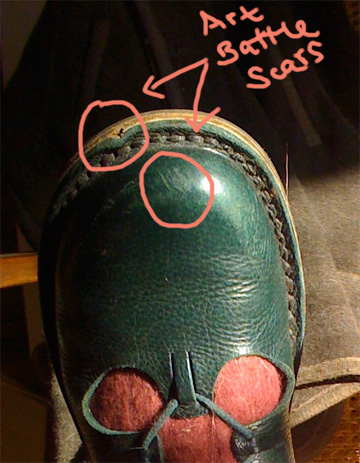 Harriet says she thinks it makes me look more interesting (something about "rugged beauty"). I'm just glad she gave me a break in 2008 and wore her worn-out hiking boots for her recent installation in the woods. Her photographer friend, Stacey Evans, took an image of her piece, "The Waiting Room":
Hope the hiking boots had fun dragging chairs through the trees! Me, I was glad to sit this one out at home.
Say hey to all the shoes for me,
Harriet's Liebchens, Charlottesville, VA