Viva Vialis!
As you Ped fans know, we're always on the lookout for new shoes and treasures to add to the Ped family. But our standards are almost impossibly high. Our checklist includes ethical and environmentally responsible production, exquisite craftsmanship (preferably by hand), first-rate materials, unusual design, style for miles, and comfort!
Which is why we are beside ourselves with joy to welcome Vialis into the Ped house!
Founded in Barcelona in 1996, Vialis (pronounced Vee-alis) quickly became known throughout Europe for beautifully made shoes designed to meet the demands of modern stylish women. Vialis's shoe salons in Spain and France became shopping destinations, and in 2004, the company introduced their shoes to the global market. Opening eyes with unmistakable Spanish flair, every Vialis style is constructed from carefully selected leathers and other materials, meticulously put together by hand to create a show that feels just as spectacular as it looks!
Take a gander and you'll see why we're wowed!
Since our previous blog post was all about oxfords, let's start with Vialis's unconventional take on the classic: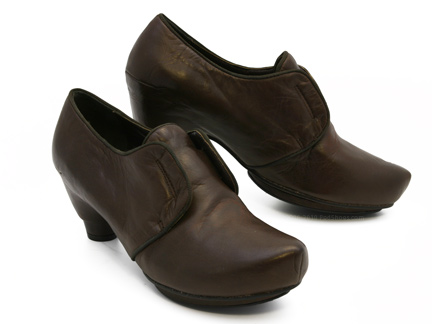 Wow! The Mila shoe is simply the coolest thing going! So urban and edgy, its design suggests an oxford but foregoes the laces. You can tell how supple the leather is simply by looking at the picture (it's that buttery)!
Moving on to our other must-have style of the season, Vialis puts an equally interesting spin on the ankle boot. First up, the Rambla: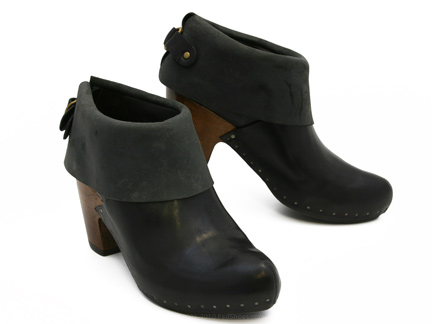 So many things to like: the wooden heel, the exposed nail heads so perfectly placed, the folded-over cuff, and the double-D ring brass buckle in back (which you don't even have to undo because Vialis has cleverly hidden elastic inserts to let you slip in and out of this bootie in a flash)! Color us enamored!
Perhaps your black bootie quota is filled, and you're looking for a brown number instead. Then drink in the Guell: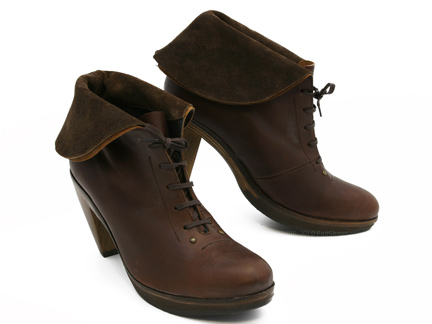 Of course, we love the hand-cut wooden heel, but our favorite design element is the double-layer cuff /collar of this lace-up beauty. You have the option of wearing it down and letting the interior suede show or wearing it up, so it curves around the back of your ankle just so. Either way, people are going to want to steal the boots off your feet! (Don't fall asleep on the train.)
Perhaps you've noticed at Ped HQ we've recently developed a thing for blue leather. We can't get enough, and Vialis is happy to fuel our new passion with the Marcella bootie: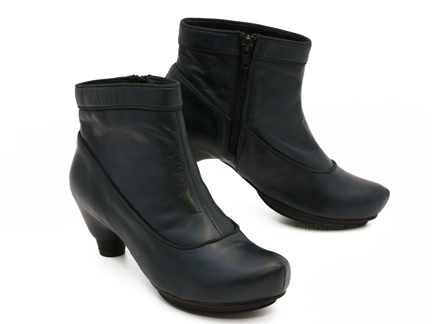 The acme of chicness! The combination of seaming and grosgrain piping gives this minimal boot maximal style! And, needless to say, the blue color is to die for.
Taking things a little taller, Vialis has created one of our favorite mid-calf boots ever: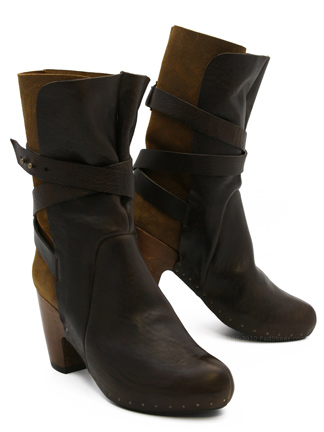 The way Vialis combines a rich brown leather front with a caramel suede back in the Barceloneta Boot is so eye-opening! Ped's Laura is beside herself with love for this wood-heeled beauty!
But we've saved Vialis's most innovative design for last! Behold the totally rockin' Fontana Boot: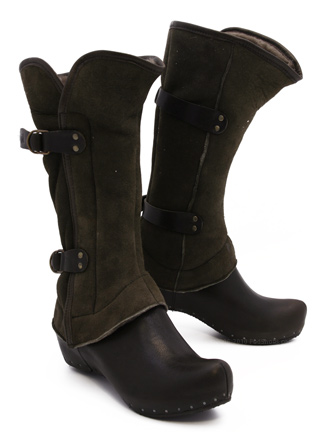 Sure, it's a gorgeous boot that's ideal for chilly days with a faux shearling-lined suede shaft, but you can whip that off by unsnapping it from the bottom and wear the stylish clog-like shoe on its own! In a word, FABULOUS!!!! We love, we love.
The Spaniards certainly know a thing or two about making artistic shoes that are wonderfully feminine and utterly wearable (witness our other Spanish lines, Argila and Chie Mihara), but Vialis has put its distinctive stamp on Spanish style. We're thrilled to add their winning personality to the Ped lineup!