Sunday, August 12th, 2012
There must be something in the water in Spain because, holy paella, are those Iberian peninsula designers ever serving up serious style! No sooner had we collected ourselves from swooning over Chie Mihara's fall designs than the latest Vialis shipment  arrived at Ped HQ, making our knees go weak all over again.
Vialis is famous for its stellar clog construction, but their old-school Spanish craftsmen also create wonderful shoes and boots. We've brought the best of Vialis to Ped for your fall pleasure! So drink in the Spanish goodness!
Let's start with a classic closed-back clog! For sheer beauty and versatility, the Vialis Adele is the queen bee: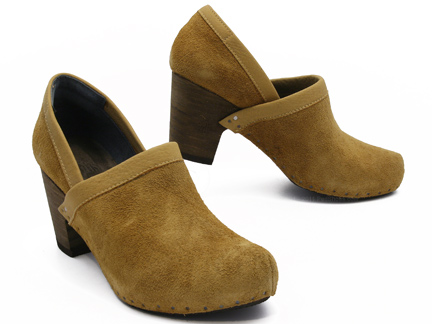 The rich whiskey color of the suede is intoxicating (okay, we couldn't resist..). Unlike other clogs, Vialis' wood-soled wonders are anything but frumpy, with a seam at the front of the toe providing a streamlined silhouette.
Craving a little more hot sauce? Perhaps the spicy Vialis Hannah is more up your alley: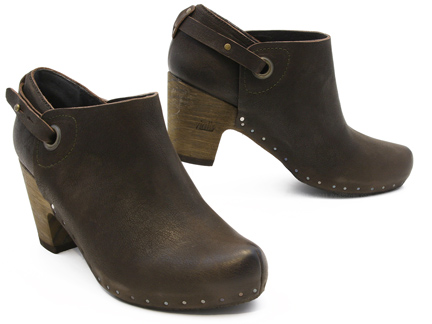 A little higher cut on the foot and a fantastic back strap that loops through a brass grommet to close with an adjustable rivet—it just takes a few well thought-out details to give a clog a shot of va-va-va-voom!
If you heart clogs, but heels aren't you deal, then consider Vailis' color-saturated Kate: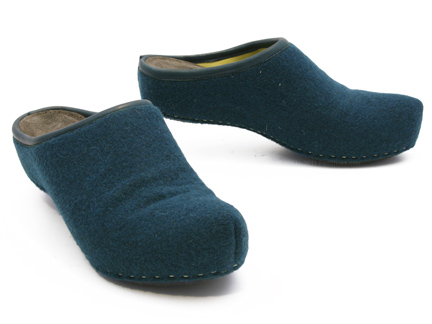 Pretty as a peacock! The stunning wool felt outer is lined with buttery leather, and of course, the comfort is heavenly. (It's by Vialis, after all!)
Speaking of comfort, you know we're always on the quest for a good walking shoe, and Vialis has given us just the thing with the Sadie: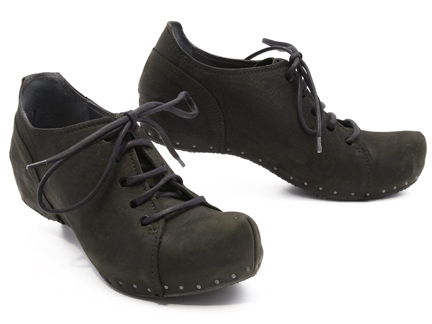 Clog meets shoe, and shoe meets clog in one glorious and funky find! The curved contour of the sole is designed to rock with rolling motion of your stride.
Looking for a more traditional oxford? Vialis has crafted one of the best in the Oliver: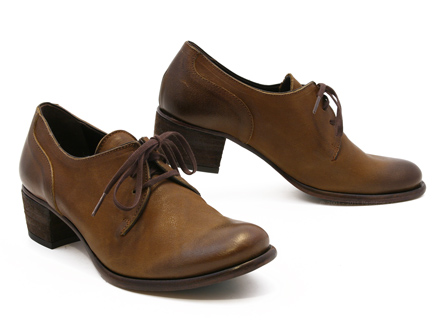 What an exquisite interpretation of the classic—no bells, no whistles, just class and sass! We're wild about this burnished honey-hued version, but the Oliver also comes in a beautiful marine blue.
Want to go laceless? The Vialis Katrina is lean, clean style machine: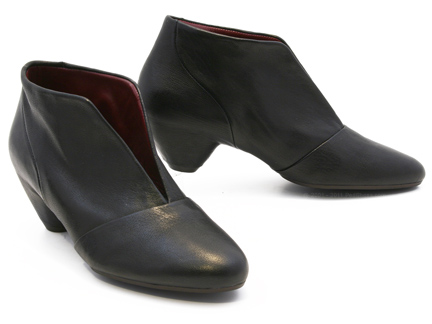 Sleek and minimal, the Katrina is a vision in supple black leather. However, this heeled bootie beauty hides a flirtatious secret—a racy red leather lining that occasionally flashes at the front opening. Talk about urban chic!
Taking the ankle boot a little higher—as well as saucier and bossier—the Vialis Lulu is at the top of our must-have list this season: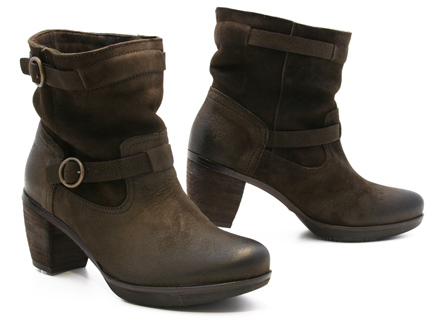 We adore everything about this pull-on bootie, from its perfect proportions to its distressed yet luxe leather to its circular brass buckles! It's a motorcycle boot whose style engine is on overdrive!
Are you feeling as woozy with love as we are? Well, there's even more Vialis to make your heart race over at Ped's main site. So give your feet a Spanish lesson—in Vialis, you'll always be fluent in style!
(You probably know Ped's on Twitter and Facebook. But did you know we're also on Pinterest and Google +? We like to socialize, so come join us!)