A shoe-in for the White House!
Here at Ped HQ, we're smitten with the new First Lady! Not only is Michelle Obama accomplished and brilliant, but she's also got miles of style! We admit we reveled in every minute of the January 20th inauguration, admiring her chartreuse dress during the day (as you probably know, I love green) and her white gown at night.
That said, we were all a little worried about how well her feet were holding up. Ms. Obama was standing practically all day! Whenever they showed close-ups of her during the parade, I thought I detected a well-masked hint of "oh-do-my-feet-ever-ache" underlying her smile. Nothing against the Jimmy Choos she wore, but, let's face it, most heels are instruments of torture after a few hours!
Which is why Ped humbly suggests the First Lady consider Cydwoq Vintage and/or Chie Mihara for her White House footwear wardrobe. Both lines offer super chic, cutting-edge yet sophisticated designs, perfect for the types of state functions Ms. Obama must attend. But, amazingly, both remain comfortable even after hours of standing and making diplomatic chitchat.
So, if you run into the lovely Ms. O, perhaps you could steer her to our list of recommendations, which we're offering in two parts. We'll start with a few Cydwoq Vintage beauties, and in a few weeks, we'll suggest a few Chie Mihara styles.
First up, the new Cydwoq Vintage Osmosis: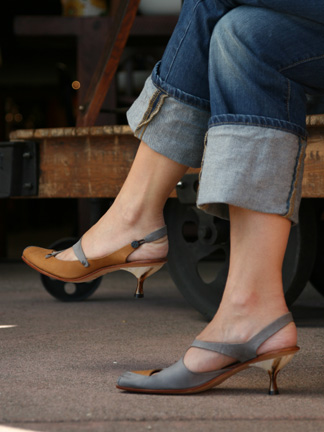 (No, that's not what you think–our little Corgi friend, Cooper, accidentally knocked over her water bowl in her excitement to see us.) How gorgeous are these??? When Ped's Laura saw them, she almost fainted! We think Michelle Obama would rock these, and their 2″ heel—placed precisely where it's most comfortable by Rafi, Cydwoq's genius in residence—would give her just enough lift. Considering she's a statuesque 5'11", we're guessing she likes to keep her heels fairly low. 
Or how about the ultra chic Palm?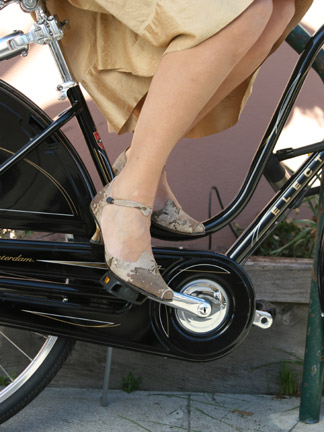 It is the epitome of understated sophistication! Plus, its neutral color palette would allow Ms. Obama to pair it with so many outfits (and if she's bored at a luncheon, she could just look down at her feet for some entertainment). We're pretty sure it would become a favorite!
Another goes-with-anything option is Cydwoq's Wing: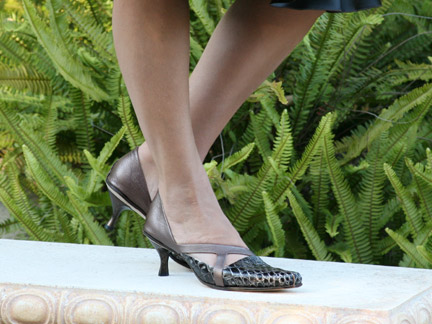 Can't you just envision Michelle in this embossed faux croc and bronze number? We can!
Finally, we've noticed Ms. Obama appreciates a zing of color, but we also know she probably needs a pair of fall-back black pumps. Which is why we think the Canvas has "Michelle Obama" written all over it: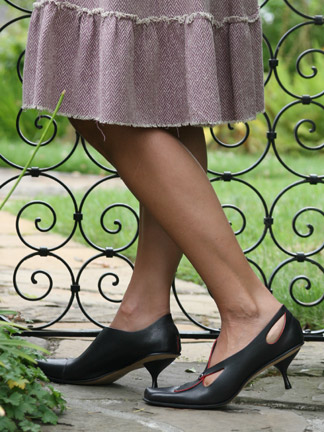 That little red edge just makes this shoe! 
Looking ladylike was never such a treat for the feet! After all, it's not whether the shoe is too big or too small,* it's whether it works for you.
(*actually, it kind of is, but I couldn't resist the line…)