Color my world
As Ped fans know, I have a serious thing for green. Nevertheless, when fall rolls around and the green world of summer transforms into a sea of orange, red, purple, and ochre, my heart sings! To celebrate, here's a tempting array of Ped treasures to put you in the spirit of autumn.
Who doesn't love the Fiorentini + Baker Emma boot? Well, now we've got your favorite in drop-dead gorgeous red: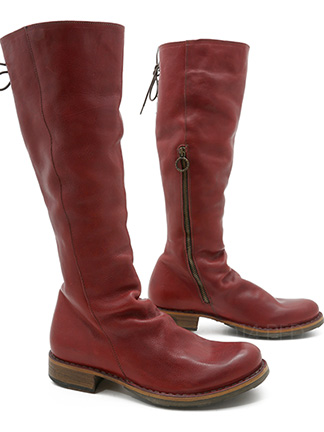 People in Berkeley will tell you that I practically live in my black Emma's, and Ped's Laura has them in caramel. But this red edition may be the prettiest of them all! Combine old-school Italian craftsmanship with red leather and sexy lacing in the back, and you've got an unbeatable boot!
I love green, but the color that has Laura's heart is orange. So, you'll understand why this Jamie Joseph ring is on her personal wish list: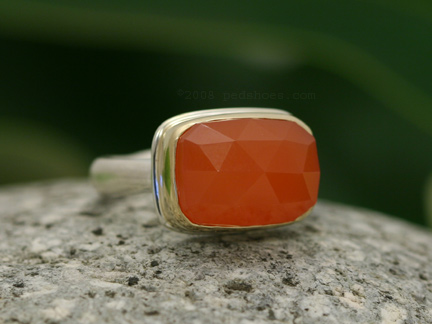 The stone is orange chalcedony—thought to encourage happiness and a positive attitude—and it's beautifully set in 14kt gold mounted on a sterling silver band. Why not put a little fire on your finger?
Everyone at Ped Central burst out with oohs and aahs when 49 Square Miles' fall bags arrived because those SF girls have added "loganberry" to their leather colors. It makes us think of maple leaves and chrysanthemums: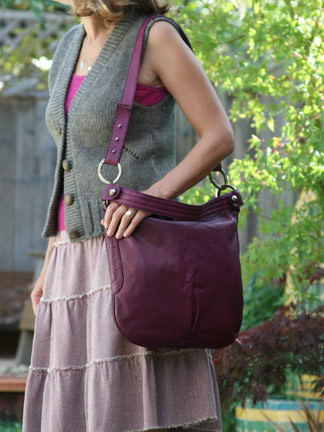 This Starlet Top Zip is a new style for Ped, too. I fell in love with it because not only does the bag embody the best of 49 Square Miles—supple leather, hammered brass hardware, and fantastic detailing—but its two straps also let you choose between wearing it as a short over-the-shoulder or handheld bag and slinging it  across your body courier-style.
Another beautiful new bag in a rich fall color is Cydwoq's Oak in "Alma brick":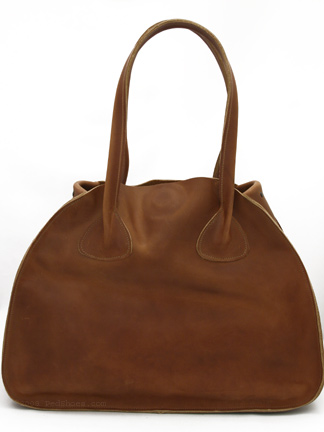 Cydwoq's Rafi took his cue for this design from bowling ball bags. We love the clean-lined shape, and, needless, to say the leather is luscious!
But autumn is not without its greens (yay!)—they just tend to be more of the olive and moss variety, as embodied in the Cydwoq Vote: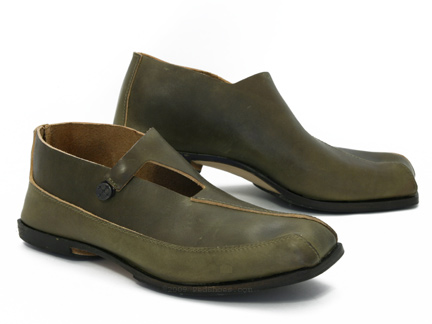 This is one of those shoes that once you put it on you won't want to take it off. It's practical and comfortable yet unlike any other kick-around shoe you're likely to find.
Maybe, though, you want a shoe that doesn't just shine with one fall color. You want one that dazzles with a combination of autumnal hues. Chie Mihara has your number: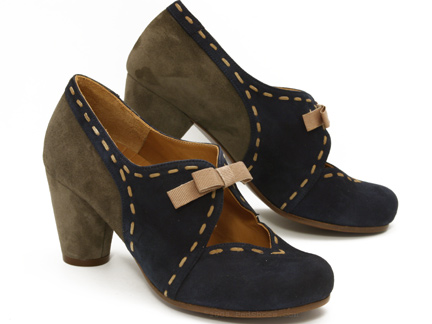 Ped just added the Gretchen to our Chie lineup, and it's instantly become one of our favorites! The tan top-stitching and bow are just so pretty with the deep blue suede toe and cocoa suede heel.
Friends, you don't have to turn your back on black—just spice it up with some seasonal color! You'll look as fresh as a crisp fall day.
Tags: 49 Square Miles, autumn, bag, boots, brick, brown, chalcedony, Chie Mihara, Cydwoq, Eternity, fall, Fiorentini + Baker, gold, green, handbag, heel, Jamie Joseph, jewelry, leather, Oak, ochre, orange, purple, red, ring, shoes, shoulder bag, silver, Starlet, Vote