Une tasse de café (ou deux ou trois)
During the first week in October, I made my biannual trip to Paris for the international shoe show (and, of course, for a dose of Parisian culture, shopping, and food). I had so much fun! Although I didn't notice any overriding new trends—just a lot more black—I do have some wonderful tips about things on tap from Cydwoq, Trippen, and Fiorentini + Baker.
At the show Cydwoq and Trippen had their booths right next to each other, which makes sense since they both appeal to customers who appreciate edgy, arty, and comfortable shoes that have an ethical and environmentally aware sensibility. Michael of Trippen bought a new espresso machine, which he set up in Cydwoq's booth, so you can guess where everybody gathered!
Cydwoq has gorgeous washed leathers for spring and summer in beautiful shades of caramel, dark brown, and yellow. Trippen, meanwhile, fulfilled my constant quest for green shoes, plus I discovered great silver and steel metallics at Trippen. And, yes, the popular wedge and cups soles will be coming your way again for spring (we love them).
Meanwhile, over at Fiorentini + Baker, I fell for the relaxed tall boots and low ankle boots in suede. And get ready for the F+B triple-buckle sandal that's coming to Ped for warm weather!
Plus, Fiorentini+ Baker is offering styles in lovely new greens and blues. Ped fans, you will swoon!
When I wasn't working, I shopped and ate and ate and ate some more. My shoe pals and I noshed on great Lebanese food at Noura, and we made our regular pilgrimage to Fish La Boissonnerie for homemade bread and, yes, fish. And, needless to say, we all drank a lot of coffee!
The weather was beautiful the first two days, so I took time to visit the Jardin de Tuileries.
Unfortunately, it rained the rest of the time, but since I had to be inside anyway, it didn't really matter. After all, who can complain when my walk home every evening offered this view?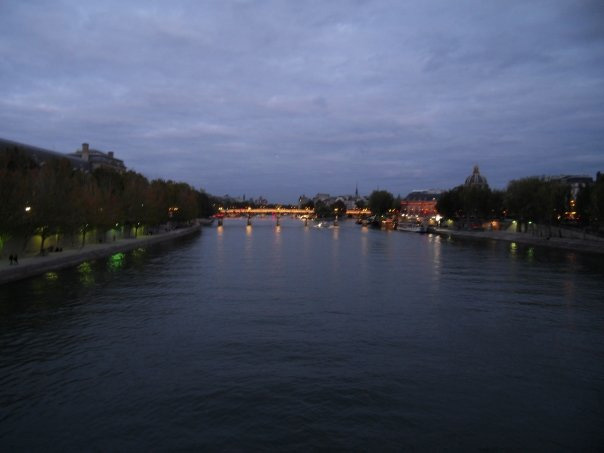 Tags: Cydwoq, Dayna, Fiorentini + Baker, France, Paris, spring, summer, Trippen