Knee high in tall boots!
We love this time of year at Ped Central! The mornings are crisp, the leaves are turning brilliant colors (Laura the orange-lover is in heaven), and the air smells so good! Although we advocate wearing tall boots anytime you like—so cute with a light summer dress!—when fall rolls around, they become de rigueur daily wear.
I always keep you Ped fans in mind when I study what boots to offer for fall and winter. Your feedback helps me so much in making selections that stay comfortable all day, offer versatility, flash the 'zazz, and still accommodate a range of calf sizes (many Ped boots let you adjust the fit depending on whether you're a skinny Minnie or a curvy Katie). And, of course, they're all beautifully made and designed to last for years.
Here are a few of the full-length boots that are high on our list this season.
Okay, Ped fans, it's no secret that the Cydwoq Game Boot is my absolute favorite: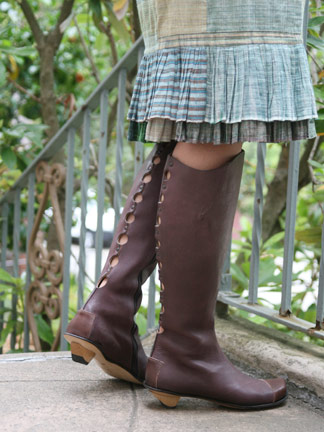 As you can imagine, I see a lot of beautiful boots, so my powers of resistance are well fortified (otherwise, I'd be broke). But when Cydwoq's Rafi showed me the Game, I was a goner! I simply adore it! The 1″ wooden heel is super easy to wear. The Italian leather is beyond gorgeous. The dart at the top of the shaft makes the Game extra calf-friendly! And those windows–those sexy little windows running up the back, well, oo la la, do they ever bring in the compliments!
Another favorite here at Ped HQ is Trippen's March:
I decided to show you the rear view because the exposed seams are so fabulous the way they curve around from the front of the boot and run up the back! Plus, the March features Trippens' t-shaped wedge sole, which has a legion of fans devoted to its comfort. And the color? Well, see for yourself—pretty as a Maple leaf or a glass of cabernet.
Another Trippen boot with backside interest is the Medea: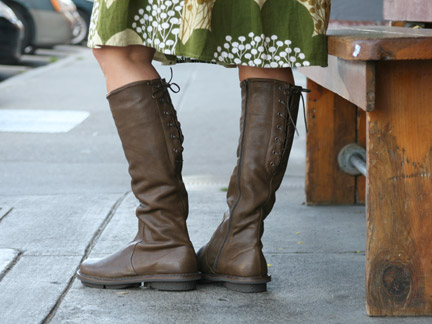 Crafted from buttery buffalo leather (you have to touch it to believe how sinfully soft it is), this beauty offers flirty lacing up the back that's not only sexy but also functional. Notice that it extends below the fullest part of the calf, meaning you can adjust it to fit your individual leg. Once you've got everything just right, then you can leave it be, thanks to the Medea's full inside zipper that lets you get in and out of this boot in a breeze.
But don't just take our word for it. Ped customer S.N. recently wrote from Seattle,
"I'm in love with my Medea boots.  They are so cool and soft and overall awesome.  I also really appreciate that they can be expanded in case my calves do the same."
Giraudon's versatile Miranda boot also has a great system for fitting a range of calves: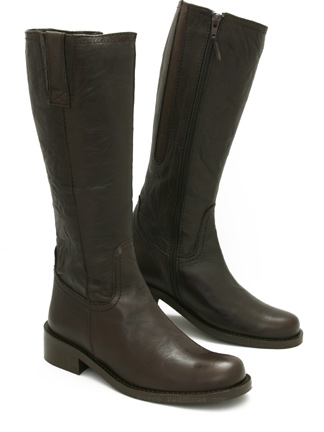 Featuring classic riding-boot good looks, the Miranda's secret is an elastic panel on the inside of the calf and another hidden under the boot loop on the outside. Neither interferes with the clean lines of this brown stunner but both love your leg like no tomorrow.
Those are just a tasty sampling of the feast of tall boots spread out at the Ped site. (Hello, did someone say Fiorentini + Baker? Mmmmm. Our delicious reorder is due in shortly–e-mail us if you'd like to be notified when it arrives!) So kick up your heels as you kick up the leaves and enjoy!
Tags: boot, boots, Cydwoq, Cydwoq Vintage, fall, full length, Game, Giraudon, knee high, leather, March, Medea, Miranda, tall, Trippen, winter