Masculine influence (with a feminine twist)
For the longest time, pointy toes, high heels, and frou-frou dominated the catwalk. Girly girls rejoiced, but the rest of us said, "So fussy…" and "Ow!" Happily, the pendulum is now swinging the other way—the classic oxford is the coolest shoe going (this year worn laceless if you're on the cutting-edge), and a clear masculine influence is everywhere on the runway.
But the new menswear-inspired shoes go beyond just tomboy appeal—these designs are devoted to modern women who need to go, go, go but who want to look stylish getting from here to there. Here are a few of Ped's latest ways to do just that:
Chie Mihara always excels at putting a feminine and modern spin on classic styles. Case in point: the Darrer, Chie's contribution to the laceless look: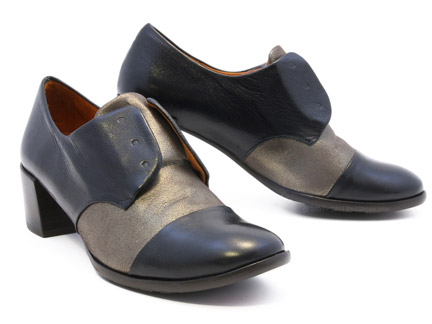 So fun and super chic! The boys may have inspired the oxford, but the metallic leather and heel are just for us gals! Think how great this laceless beauty would look with a pencil skirt!
We are always begging Rafi and Ari at Cydwoq to rework some of their men's designs for women. When they indulge us, the results are predictably fantastic, as demonstrated by the Date: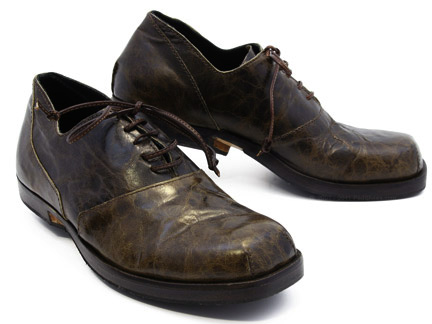 I couldn't resist this one and got it for myself! I've hardly taken it off since i first laced it up! I'm a skirt-wearing kind of gal, and the Date is so flirty with my knee-length, A-line numbers!
Meanwhile, Ped's Laura has a big crush on the Cydwoq Collect: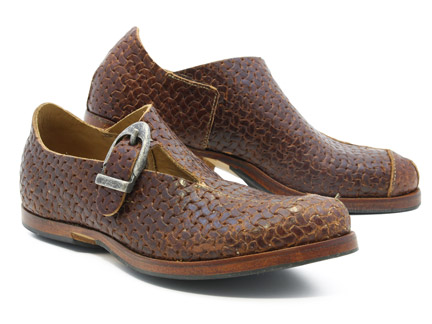 What a fantastic shoe! The woven brown leather is eye-opening and will have everyone talking! And the western-style buckle provides the perfect accent, as well as a custom fit.
Speaking of fun details, take a look at Cydwoq's new Legal: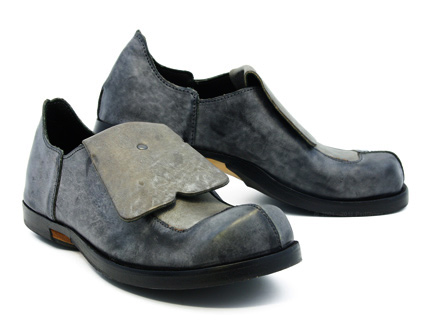 J'adore! This knockout flat calls to mind a classic golf shoe, with its smashing front flap punctuated by a central rivet. But the Legal is so much cooler than anything that's ever hit the links and features "aging" grey leather that darkens with wear.
Cydwoq also uses "aging" grey leather in the Recent, which offers a hep-cat take on the interplay of masculine and feminine: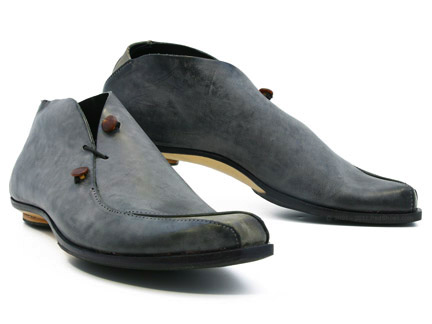 We love the fluid insets on the heel and toe. Plus, this loafer-like flat is a cinch to slip on and off, thanks to the artistic elastic lacing!
It's not only shoes that are benefitting from putting a little male in the mix—check out the fabulous Deform ankle boot from Cydwoq:

When you buckle up this bootie, you are instantly going to become the object of envy for everyone who sees you! Definitely badass in the best kind of way!
We love all the different ways the above designs put an infusion of femme into traditionally male shoes, but if you simply want a timeless oxford, Fiorentini + Baker's Eliza is the straight-up, gold standard: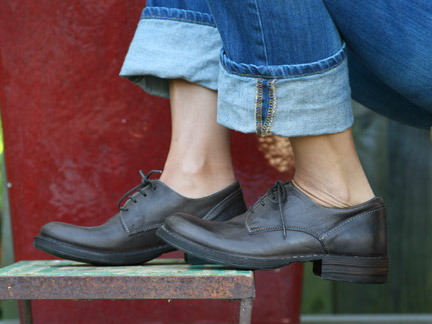 So gorgeous. So comfortable. So beautifully made! And it looks GREAT with everything!
Sure, menswear is the inspiration for this new crop of wonderful shoes, but it's the feminine twist that makes them must-haves! Classic sophistication was never so much fun—or such a treat to wear!
(By the way, this week's Sweet Treat is Trippen's incredibly comfortable  Sioux. Simply click "be sweet to your feet" in the upper right corner of an Ped page to land at the Sioux with the discount code that will bring 20% off at checkout!)
Tags: ankle boot, boot, bootie, brown, Chie Mihara, Collect, Cydwoq, Darrer, Date black, Deform, Eliza, Fiorentini + Baker, flat, gray, grey, handmade, leather, Legal, loafer, masculine, menswear, metallic, oxford, Recent, shoe