The scoop on scarves!
Did you see this New York Times article about the versatility of scarves? Apparently, stylists and trendsetters have suddenly discovered the myriad ways a beautiful scarf can rework a wardrobe—something Ped fans have known for years! The NYT may have declared the scarf the "IT" item of the season, but an exquisite scarf is timeless and will never go out of style. Many families pass them down from grandmother to mother to daughter.
Whether you're new to scarves or a connoisseur, you'll recognize Ped's are delightfully different and true works of art. We've recently added a few new designs to let you wrap up summer in style!
Printed scarves my be pretty, but they can't compare to the luxury and beauty of a loomed textile, where the pattern is actually woven into the fabric! Epice excels in just this area, hiring the most highly skilled and respected weavers in India to produce their designs. One of our summer favorites at Ped HQ is Epice's Toulouse Scarf: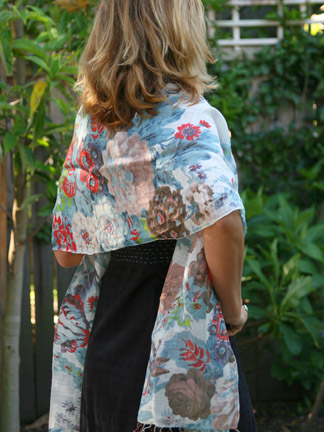 A tad smaller than Epice's Rose Garden scarf, the Toulouse is still wide enough to wear as a shawl when you need just a little something on your shoulders. We love the "latte" color palette shown here, but this beauty also blooms in terracotta and marigold yellow.
Another pretty floral that will complement so many things in your closet is Epice's Monte Carlo Scarf: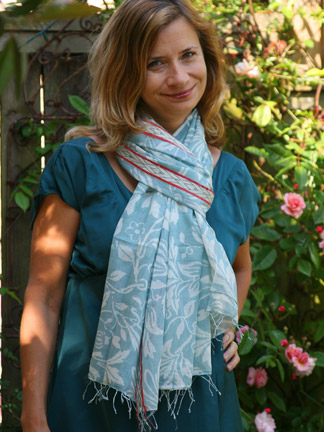 So light and soft, this all-cotton lovely is a luxury you'll find yourself wearing every day. (Think beach pareo, think sarong, think sash…) Aqua not your favorite? We also have it in juicy lime green and dreamy lilac!
If you're a Ped regular, you know how much we love stripes! So, Epice's Avignon Scarf is right up our alley: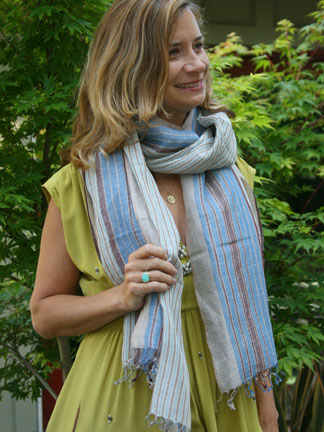 The combination of linen and cotton make this striped treat the perfect weight for warm-weather wear. We think the aqua / mocha combo pictured looks so fresh, but the Avignon in rose /mustard/ mocha is equally beautiful!
Another stripe-tastic creation from Epice is the gorgeous Chamonix Scarf: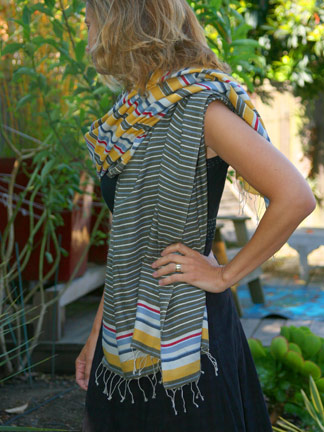 Whereas the Avignon's understated stripes run vertically, the Chamonix's bolder stripes are arranged horizontally. Also available in a black / brown / blue palette, this sweetheart just happens to be the "Sweet Treat" through tomorrow, Tuesday, July 11. Just click "be sweet to your feet" in the upper right corner of any Ped page to reach the Chamonix with the discount code that will bring 20% off at checkout!
Speaking of deals, we recently added Sophie Digard's wonderful Love & Chance Scarf to the Ped Summer Sale: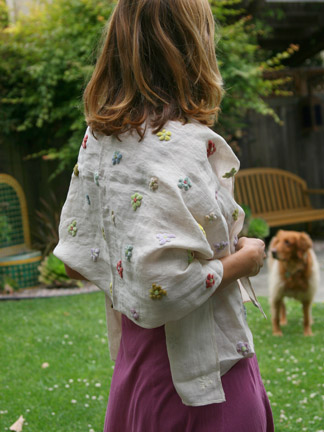 Sophie has scattered a beautifully loomed linen background with 85 hand-sewn velvet flowers—so pretty on a hot summer day! This Sophie Digard treasure also comes in fresh grass green. A labor of love well worth the original price of $398, it's as refreshing as a glass of lemonade at $299.
Perfect for wearing to a garden party or wrapping around your shoulders during an al fresco dinner, Epice and Sophie Digard scarves are the summer romance your wardrobe has wished for!
Tags: cotton, Epice, floral, linen, pareo, sarong, sash, scarf, scarves, shawl, Sophie Digard, stripes, velvet, woven, wrap