Sole salvation? Summer sandals!
Bring on the ice tea and turn on the fans because it's as hot as blazes! When midsummer gets sultry, we like open-air breezes—and that goes for our feet, too! Although we love prancing around barefoot, feeling green grass beneath our soles and squeezing sand between our toes, it's not always practical. Which is why a great summer sandal is a Ped fan's best asset!
And do we ever have some terrific ones! Behold Ped's favorite tried-and-true sandals that are almost better than barefoot:
Of course, the masters of summer sandal design are Rafi and Ari at Cydwoq! The way the leather of every pair conforms to your feet is simply heaven. Case in point, Cydwoq's Copy: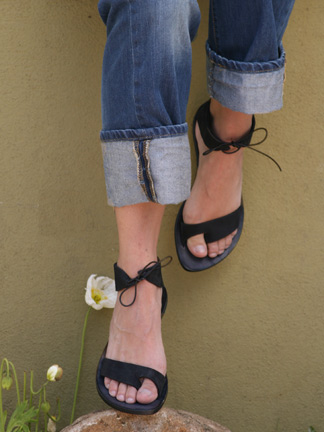 So easy to wear anywhere, the Copy cradles your heel with a riveted back that comes around to tie at the ankle! Cool and sexy, just the way we like it! (And it comes in brown, too.)
Another stellar Cydwoq style is one I personally own: the Tomcat!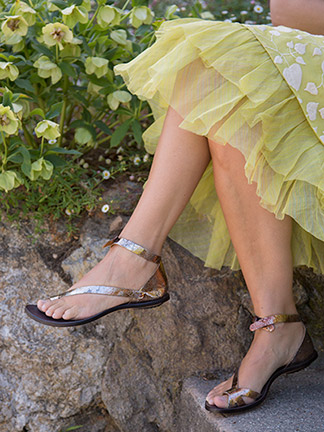 The way Cydwoq has meticulously cut the toe ring, so that a strap branches off it to arc gracefully over the foot, is elegant without being fussy! (Fans of black, rejoice, we also have  it in your favorite color.) I love mine so much that I recently took a pic of my happy feet :
Perhaps you love the feeling of a wooden sole against your skin and the gentle sound it makes when you walk? Well, you're in luck because Ped just received our summer shipment of Cydwoq's fantastic Revolt sandal clog!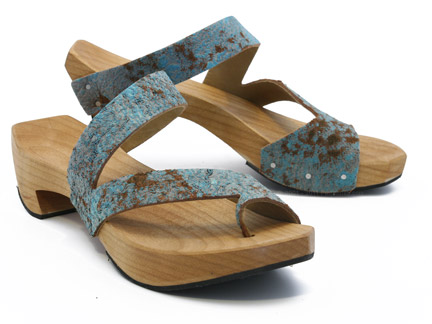 Ped's Laura is wild about the beautifully textured turquoise and brown leather, but we also have the Revolt in black. Whichever you choose, it's guaranteed to be your go-to summer shoe.
Those German design geniuses at Trippen also know a thing or two about strolling through summer in comfortable, arty style! Check out Trippen's eye-popping Knit Sandal: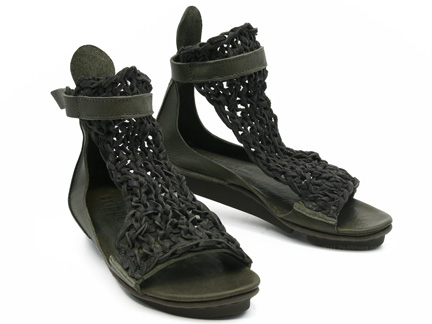 Yes, that's right, the section running up the middle of your foot is literally knit leather! Meanwhile, the heel features Trippen's sinuous seams running up the back! Cutting. Edge.
For Ped fans who love metallics (and I'm a card-carrying member of that club), the Trippen Nepal is just the ticket: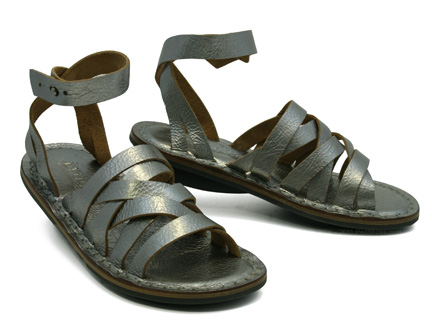 It's an ideal travel sandal for long days of sight-seeing! Even as you turn every head you pass, your feet will stay comfortable with every step, mile after mile. (Plus it's so pretty and shiny!)
But perhaps our favorite sandal this summer for sheer funky drama and all-out impact is Trippen's Tarantula: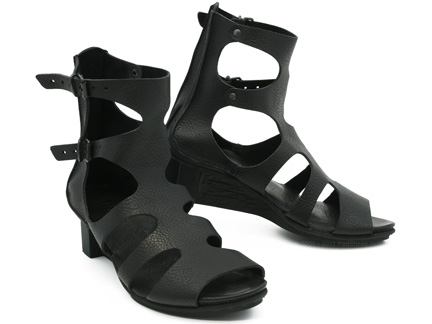 KA-BOOM! Now that's how to amp up the style! You'll look as hot as the weather wherever you walk in this super-sexy sandal boot that stands on Trippen's über-comfortable t-shaped wedge! (We love it!)
As always, there are plenty more sandals at Ped's main site, ready to help your dogs survive the dog days of summer! So, slip on something airy and let your toes frolic in the sun!
(By the way, although not a sandal, this week's Sweet Treat is about as sweet as it gets: Fiorentini + Baker's spectacular Paula Boot!!! Simply click "be sweet to your feet" in the upper right corner of any Ped page to arrive at the Paula with the magic code that brings a cool 20% off at checkout! Happy Fourth of July!)
Tags: black, blue, brown, clog, Copy, Cydwoq, German, gold, gray, grey, handmade, knit, leather, Nepal, Revolt, sandal, sandal boot, sandal clog, sandals, silver, smog, tarantula, Tomcat, Trippen, turquoise, wood sole