Measure for Measure: How to ensure a good fit! (*Updated 6-13-14*)
We completely understand—ordering shoes online comes with a smidge of trepidation! After all, who wants to fall head over heels for a beautiful pair of sandals/shoes/boots, only to have them not fit when they arrive at your doorstep?
Ped is dedicated to helping you avoid such disappointment! We carefully analyze each style when it arrives at the Ped warehouse in order to offer accurate fit information. We also keep records of Ped fans' past orders, and if we think a new shoe you've ordered might fit you differently, we'll contact you before putting it in the mail. (We truly aim to please!)
We realize you're spending a pretty penny, and we know you want to be as sure as possible that the size you order will suit your feet. When in doubt, we invite you to contact us with your soles' measurements, and we'll offer candid advice on what size to order (or whether to order at all—some shoes simply don't suit some feet).
But how do you measure your foot without one of those old-school metal contraptions? If you have a printer, you can print out Ped's own do-it-yourself Brannock Device (that's the official name for the aforementioned contraption) and use it to size up your foot. We've included a link underneath the "order box" on every shoe page!
If you don't have a printer, here's another way: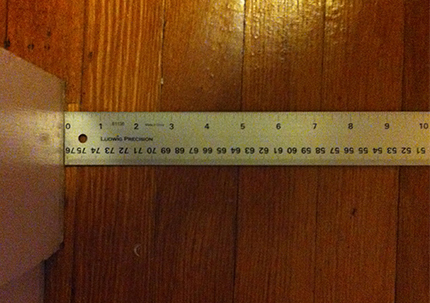 1) Place a ruler or a tape measure on a hard floor, extending it perpendicular to the wall with the "zero" where the wall meets the floor.
2) Stand on the ruler barefoot with your heel at the wall and measure to the end of your longest toe. Do the same for both feet. (Surprise! Your feet are not exactly the same length!)
3) Next measure the width of the ball of your foot by standing on the ruler sideways with the edge of your forefoot against the wall.
4) If you have especially narrow or especially wide heels, you can measure them the same way!
Once you have all the numbers, send them to Ped! Also, tell us about any unusual aspects of your foot or leg—bunions, high instep, low arch, skinny calf, etc. The more we know about your foot, the better we can assess what size is optimal! Then we'll measure the shoes that are your heart's desire to make sure the size we send will bring you smiles mile after mile.
See? Easy peasy! Here's to happy tootsies!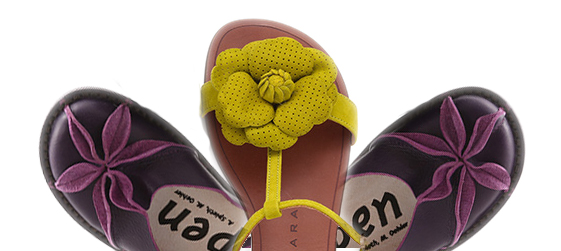 Tags: Chie Mihara, fit, foot length, foot width, knowhow, Measure, measurement, size, sizing, Trippen