Beside ourselves over Cydwoq!
Everyone knows how crazy we are for all things Cydwoq! But, honestly, Rafi and Ari—the father and son team responsible for Cydwoq's ultra-cool designs—have really outdone themselves for 2011. A smorgasbord of new warm-weather styles just arrived in the Ped warehouse, and Cydwoq has served up something for everyone from strappy heels for the girly girls to run-around-town flats for the tomboys at heart.
Here's a taste to whet your appetite and encourage you to think spring (or, if you're lucky, mid-winter vacation)!
One area where Cydwoq excels is in creating practical walking shoes that still turn every head with their unusual style! Case in point, the new Sabates: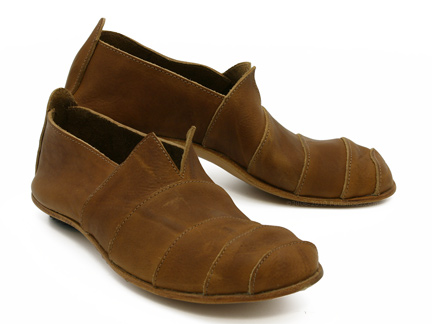 Too cool!!! But cutting edge funkiness is not the end of the story because these artistic shoes are also easy to wear. Simply slide your foot into the welcoming interior—no buckles, zippers, or even elastic to fiddle with!
Another great runabout style is Cydwoq's Penalty, which is our pick for the first thing to pack if you're heading somewhere warm.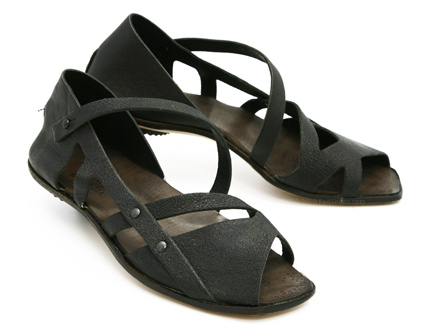 You can cruise through sightseeing, shopping, and sipping a cocktail at the end of the day, looking terrific whatever the venue. And thanks to Cydwoq's famous construction, you may be tired, but your feet will be blister-free and ready to go again tomorrow.
But maybe you're looking for a wearable heel to go to the office (without sacrificing any snazz). Then breathe in the Vapour!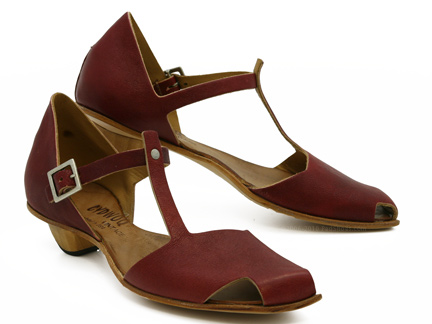 Everyone at Ped is smitten with the Vapour's off-center t-strap. Plus the red color is simply delicious. (I ask you who doesn't love a red shoe?)
And if you enjoy a sassy buckle-and-heel combo, then Cydwoq's new Possession has your name on it!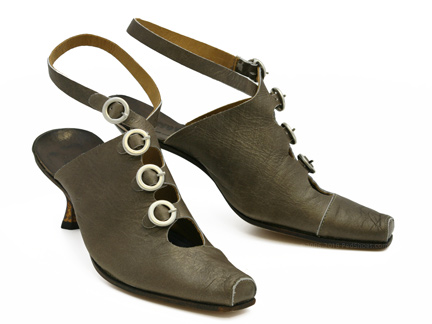 Just like A.S. Byatt's novel of the same name, this beautiful heel embodies both a 19th century romanticism and an utterly modern attitude. For lovers of the steampunk aesthetic, the Possession is a retro-futuristic dream come true!
Another thing we admire about Cydwoq is how their designs often bring artsy and organic together into a harmonious whole.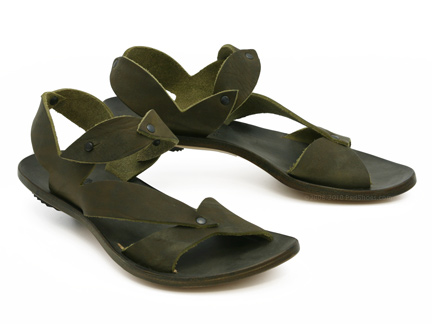 The new Buds sandal is earthy and urban all at once. We love the way rivets connect the leather leaves, but we confess this sandal had us at green (our favorite)!
For sheer impact, though, we recommend lacing up Cydwoq's new Expo!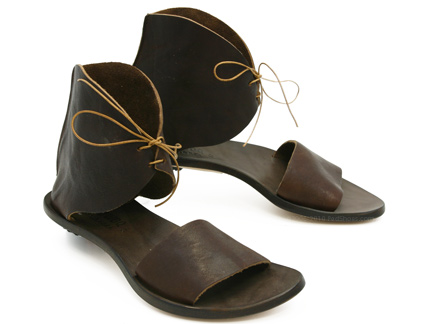 Kapow! This sandal's rustic yet clean-lined design takes the gladiator sandal a step ahead, out of the arena and onto the runway! Super chic—imagine how terrific the Expo will look with a floaty summer dress! A perfect exercise in contrasts!
The above bevy of beauties is just a glimpse of the panorama of Cydwoq styles awaiting you at Ped's main site! You'll love the view—but Cydwoq's hand-crafted comfort is what will win your heart!
(Have you seen this week's "sweet treat"? It's Trippen's over-the-knee Nox Boot! Whether you pull it high or cuff it and scrunch, the Nox is the perfect tall, dark, and lovely boot you've been hoping to find. Just click "be sweet to your feet" in the upper right corner of any Ped page to be transported to the Nox, where you'll find the magic code that will bring a cool 20% off  when entered in the box at checkout!)
Tags: 2011, Ari, artistic, Balouzian, black, brown, buckles, chic, Cydwoq, design, fun, funky, green, handmade, heel, lace-up, leather, moccasin, Rafi, red, sandal, shoes, spring, urban, wooden