Hides to seek
Know what wows us these days? The myriad techniques Italian tanneries use to transform already-beautiful leather into artistic canvases that make shoe and bag designs POP! From twice-dyeing to embossing to hand painting, these methods yield leathers that elicit "oohs" and "aahs" from everyone who sees them.
Cydwoq's Rafi Balouzian is particularly adept at picking eye-opening leathers for his unusual designs, a skill he's passed on to his son Ari, who makes shoes for Cliff Dweller. Let's take a look at some of their gorgeous finds!
Hands down (feet down?), the best way to sparkle and shine at your upcoming holiday parties is to wear Cydwoq's Skate: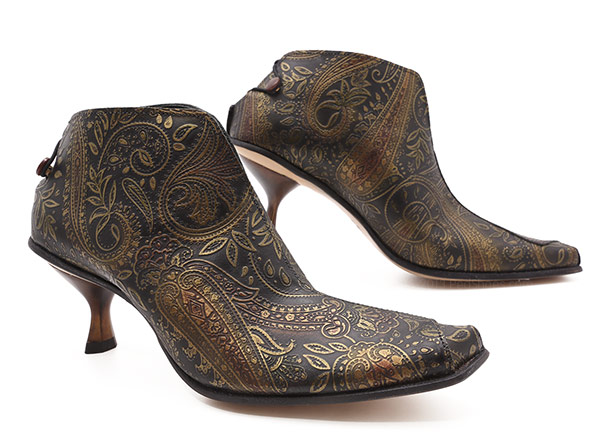 Drink in the way the embossed paisley pattern shimmers in red and gold against the black matte background! We're sure your favorite LBD is chic, but it's going to look truly spectacular with the Skate!
Another festive head-turner is Cydwoq's Rotate: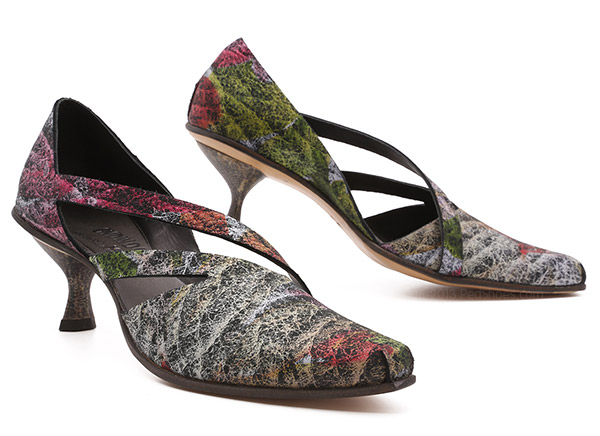 The design itself is fluid work of art, but it becomes a masterpiece when crafted from this stunning multicolored marbled leather!
Also impressive is how Italian tanners have mastered replicating rare animal hides, like python and alligator, without touching those endangered species. Check out the Cydwoq Range to see what we mean: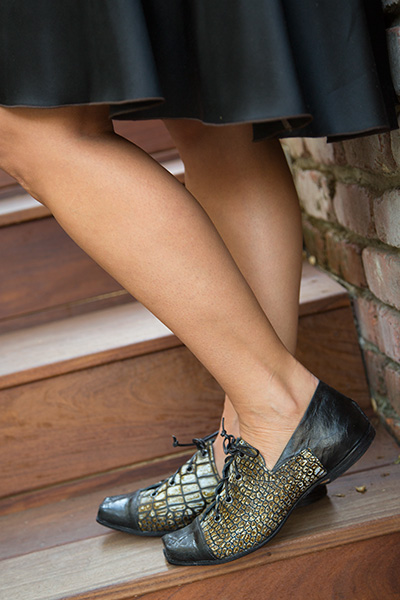 We love how the sienna and ocher details enhance the persuasiveness of the embossed scaly midsection of this outstanding oxford!
Another convincing copy is the faux ostrich leather of the Cydwoq Mountain: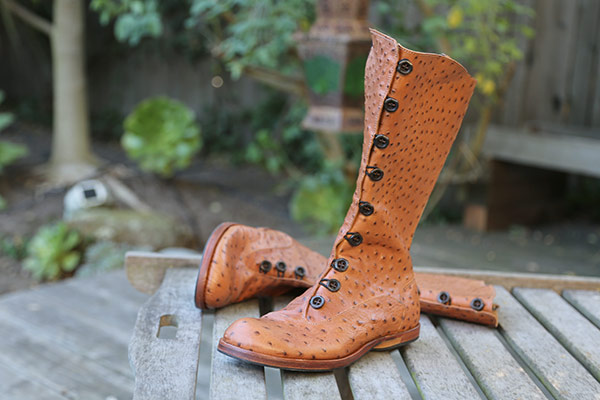 The vintage feel of these mid-calf beauties is enhanced by the "ostrich" leather, which calls to mind the romance of a different era.
Cydwoq also use the spectacular leathers it finds to make wonderful bags. The same Picasso leather used for the stunning Larkspur shoe can found in this edition of the Olive bag: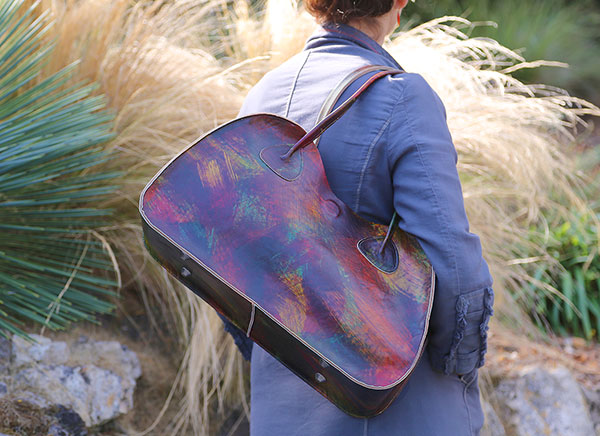 The increased "real estate" of the bag really shows off the jaw-dropping beauty of the leather! (Also, note the stoppers on the bottom, which will help protect the leather when you set the Olive down.)
At Cliff Dweller, Ari Balouzian's specialty is designing modern versions of classic styles, which he often constructs in unexpected leathers. A perfect example is the Cliff Dweller Canoe: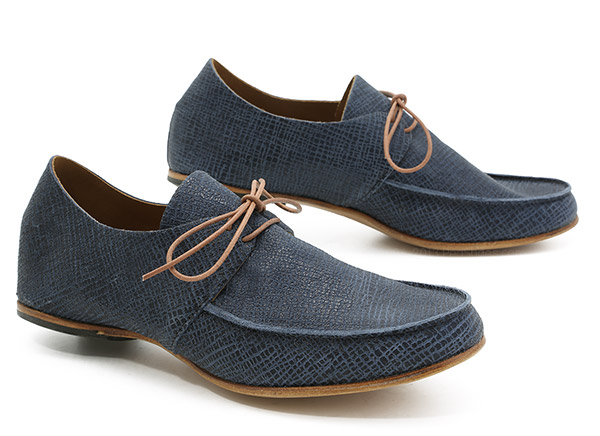 Here Ari updates the classic deck shoe/loafer hybrid and makes it in a modern blue leather that's hatched for visual and textural interest.
But perhaps the prettiest shoe yet from Cliff Dweller is the swoon-worthy Yoga: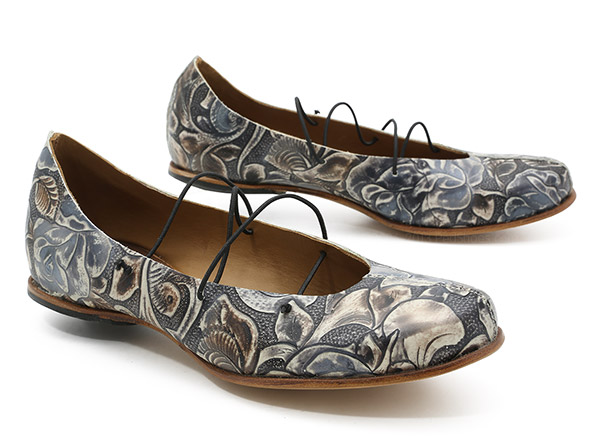 Let's face it, ballet flats are a dime a dozen, but the Yoga, crafted in this spectacular floral leather that's perfectly complemented by the crisscross elastic lacing, is truly one in a million! Talk about a gorgeous shoe!
As usual, there are more specialty leathers to make you (and your fans) wake up and take notice over at Ped's main site! Let your feet and eyes take pleasure in the leather!
(In case you're wondering, this week's Sweet Treat is the Trippen Drama Boot! Zip up with flair for 20% off when you click "be sweet to your feet" at the bottom of the box on the left of most Ped pages. No code needed—when you click through from "be sweet to your feet," the discount is automatic when you add the Drama to your shopping bag! Yep, the treat just got a little bit sweeter.)
Tags: alligator, ankle boots, artistic, bag, ballet flat, booties, boots, Canoe, Cliff Dweller, crocodile, Cydwoq, embossed, handbag, handmade, heels, leather, loafer, Mountain, olive, ostrich, paisley, purse, python, Range, Rotate, shoes, Skate, snake, specialty leather, Yoga