J'aime Paris en mars
Bon jour from Paris, amis du Ped, where I am looking here and there, at the trade shows and out on the street, for new delights to bring back to Ped. I love my annual visits to Paris, even when the weather is daunting (it was snowy but beautiful two years ago). Not only is it fun to find out what's cutting-edge in Europe, but also the city itself is so eye-opening.
Last year, all the European shoe pros were wearing (and raving about!) Trippen's Tidy, and the most stylish Parisian woman making the rounds was carrying Cydwoq's Telegram bag (yay for our beloved Rafi and his California-based biz). I can't wait to see what's all the rage this year!
Of course, I'll drop by Sophie Digard's shop to see her latest crochet wizardry. On my last visit, I swooned over her new necklaces, in particular, the Pastille Pop strand. 
So, what do I wear when I'm in France? I always go for true-blue classics that are timelessly chic. For me, those include:
1) My Cydwoq Sphinx Boots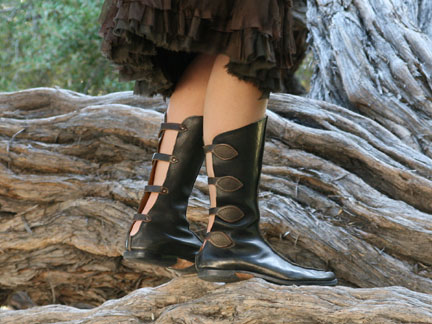 I have had these beauties for years, and yet they still bring in the compliments every time I step out in them. There is nothing nicer than being in Paris, a city synonymous with style, and having people oooh and aaah over my boots! 
2) My Sophie Digard Signature Scarf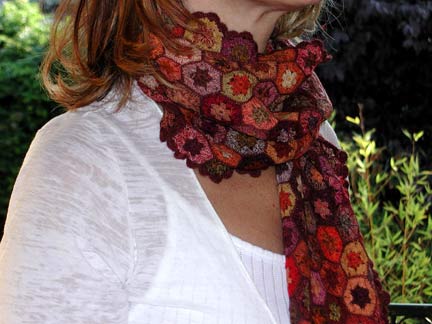 It originated in Paris, so I give it a little trip home every year. I feel effortlessly chic when I wrap it around my neck. Plus, it's warm, and I never tire of looking at its amazing craftsmanship. (If you haven't used the "zoom" feature on Sophie's scarves at the Ped site, I strongly encourage you to give it a try. You will discover a veritable universe of multicolored fine yarns intertwined in the most stunning combinations.)
I'll be back at Ped HQ next week, ready to report on my Paris adventures. But before I board the plane, you can bet I'll stop by this chocolate shop!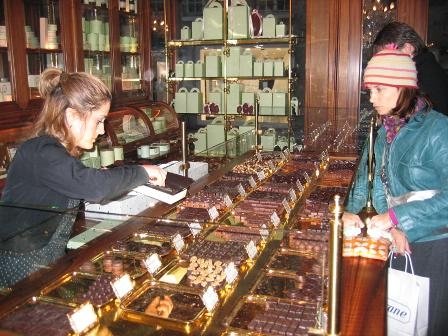 I'll eat a bon bon for you, okay? Au revoir, mes amis!
Tags: boots, Cydwoq, handbag, necklace, Paris, Pyramid, scarf, shoes, Sophie Digard, Sphinx, Tidy, Trippen