Deck the neck!
Twinkling lights, glittering tinsel, wreaths of greenery, and mistletoe waiting to inspire kisses are just a few of the reasons we love this time of year. Here at Ped HQ, we think you, too, should shine as brightly as the Holidays! As long as you're hanging ornaments on the tree or lighting the menorah candles, why not add a little dazzle to your neck (or to the one of someone you love)? We have the prettiest necklaces at Ped to make your festive spirit sparkle (and they'll look just as beautiful in the new year)!
Nothing catches the eye quite like diamonds and gold! Jamie Joseph's new Buttercup necklace is absolutely stunning: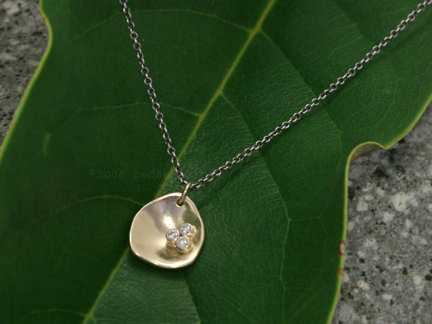 Jamie's organic designs always make us swoon! This necklace's trio of diamonds look like tiny stars sitting so prettily in their gold buttercup.
Want to make a bolder statement with your jewelry? Sophie Digard has just the thing: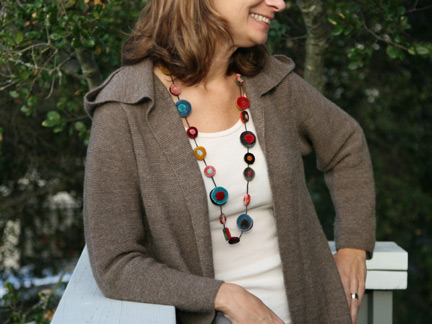 Ped's Laura recently got Sophie's Pastille Pop necklace, and she says everyone goes gaga whenever she wears it! Not only do the velvety beads slide, allowing you to cluster them in a variety of ways, but each features a different color combo on each side, so you can spin them to change up the overall composition!
If you really want to create a buzz, nothing gets people talking like Pepita's imaginative jewelry!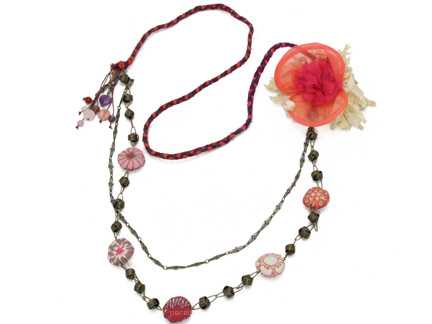 We can't get over this Agnese necklace with its fantastic mix of fabric beads, brass fittings, glass beads, braided silk cord, and chiffon rosette! Imagine how great this necklace would look with your favorite little black dress on New Year's Eve!!! Everyone will be toasting your style!
So, deck your neck as you deck the halls! You'll look spectacular!
Tags: diamond, French, gift, gold, holiday, Italian, Jamie Joseph, jewelry, necklace, Pepita, Sophie Digard, velvet, winter