Hola, Argila! And 49 Square Miles of new bags!
Ped fans, happy spring and have I got good news for you!! As I mentioned in my last post, Ped is extremely selective about the lines we carry. Whatever we bring you not only has to offer stellar style and comfort, it also has to meet Ped's high standards for craftsmanship, ethical production, and environmental awareness. No easy feat! So, we are over the moon to add TWO new lines to Ped's inner circle! Both are spectacular!
Pep Monjo, founder of Argila, studied design in Italy and collaborated with some of Europe's most innovative footwear designers before returning to his hometown of Menorca, Spain, to found his own company. Made from the most beautiful handpicked leathers (you can practically feel the quality just by looking at the pictures), all of Argila's shoes are crafted right in Menorca! And are they ever gorgeous!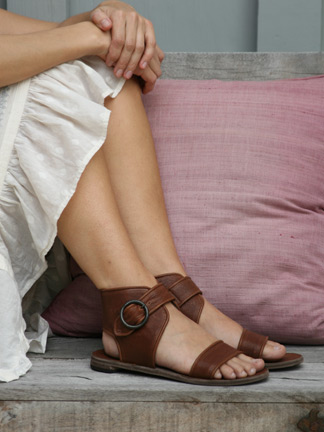 I could live in Argila's Ella sandal this spring and summer. There's nothing better than a practical sandal that goes with everything in your closet and yet still shines with unique personality. 
Those of you who need or simply like a dressier look are also in luck.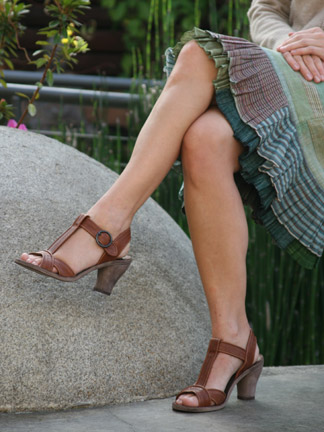 Argila's Alana T-strap sizzles with clean-lined simplicity! Although it can pass for conservative, this heeled beauty will turn every head in the room! And the leather is cut and stitched just so (use the "zoom" at the site to see what I mean). 
Joining Argila in the Ped line-up are bags from San Francisco's 49 Square Miles. Named for the area the city occupies, 49 Square Miles designs bags that capture the spirit of SF's people and culture. So, you know they're colorful and cutting-edge! Plus, they're handcrafted from the most deliciously touchable leather you can imagine. I mean, really—everyone at Ped HQ is swooning over how these bags feel!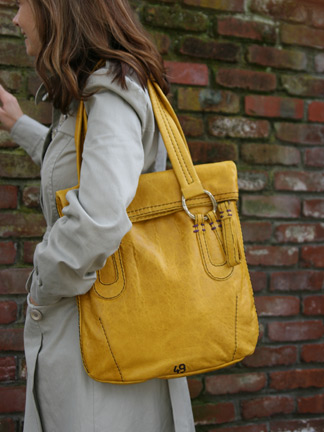 This Bookworm Slim Tote is flat-out irresistible! Between the color and the details (I am especially smitten by those organic brass rings) and the fact that it can hold everything you could possibly need, what's not to love?
Then there's the Crossbody Sling: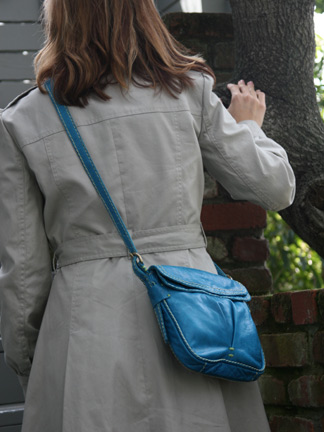 Could anything be fresher for spring than this grab-it-and-go bag with its eye-catching color and top-stitching? At Ped, we love it when function comes with big ol' jolt of 'zazz!
So, hop on over to the site and have a drool over both Argila and 49 Square Miles. They are worthy!
Tags: 49 Square Miles, Argila, bags, blue, brown, handbags, handmade, leather, San Francisco, sandals, shoes, Spain, yellow