Bonne Maison, home sweet home for your heels and toes!
Ped fans, it has been quite a while since I've gotten swept away by a new line! But off my heart went when I discovered Bonne Maison at the Paris Accessories show last March! Truly, love at first sight!
French for "good home," Bonne Maison offers socks that give your toes a beautiful place to live! Using the finest Egyptian cotton, spun and dyed in Italy, Bonne Maison creates the loveliest patterns to liven up your legs, all produced in a small family-owned factory in France. Here are a couple photos to give you an idea of their headquarters:
Ready to see the textile wizardry worked by these machines? Get ready to ooh and aah!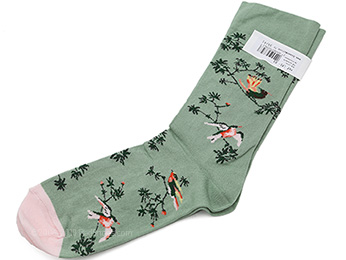 The way to get any day off to a good start is to put on Bonne Maison's Colorful Bird socks. Talk about an instant pick-me-up!
Perhaps you're more inclined toward geometric rather than representative patterns? Check out these sweet Peas socks:
Bold and fun, these dot-a-rific socks are easy to wear with almost anything!
"Flowers, give me flowers," you say? Done and in the prettiest way: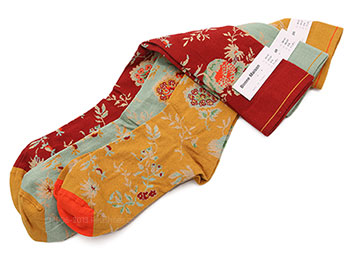 The pattern and colors of these Autumn Flower Knee Highs are soooooo luscious! (Don't be surprised when you find yourself building outfits around your socks!)
Ped fans, you know how much we love a good stripe! Bonne Maison clearly has our number: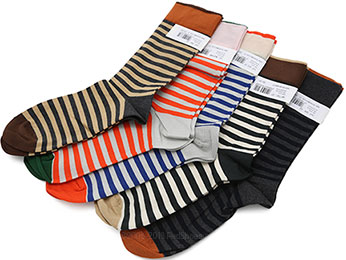 Bonne Maison calls these Calm Stripe socks, and although they're understated and soothing, they still have just the right zest! We adore the contrasting toe, heel, and top band!
We've saved our favorite pattern for last. Who can resist the charm of Bonne Maison's Rabbit Knee High?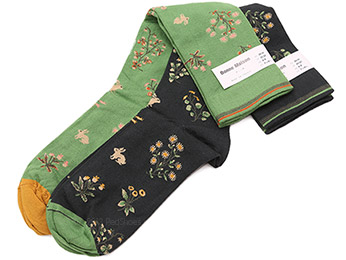 Every time we look at the tiny bunnies hopping amid the flowers, we go weak in the knees! Sweet for your feet, indeed!
Such soulful homes for your deserving soles! You may find yourself living in beautiful Bonne Maison.
(Yes, we DO have the fantastic Diamond Socks pictured above—now you just need some lemons to accessorize…)
(As long as we're making parenthetical statements, you still have a couple days left to snag this week's Sweet Treat, the chic and edgy Coclico Tecla! Just click "be sweet to your feet" at the bottom of the box on the left of most Ped pages to land at the Tecla with the discount code that will bring 20% off at checkout!)
Tags: birds, Bonne Maison, cotton, dots, floral, French, hosiery, knee-highs, rabbits, socks, stripes