Saturday, February 28th, 2009
So, Ped fans, I'm two trips down, with one big European foray to go! Last weekend I was in New York City hunting for well-designed things you might enjoy, but I also made time to hang out with old friends. All work and no play is simply not the Ped way! And, honestly, good friends are what make the world go round. 
I thought you might like to see what happened when a bunch of great girlfriends got together for dinner in Brooklyn. It was freeeezzzziiiinnnngggg cold when Amy, Kimmy, Nicole, Becky and I, plus several more friends, made our way to Brooklyn's Five Leaves, the restaurant backed by the late Heath Ledger.
Most of us are involved in retail: Amy owns Rock Paper Scissors and Scarpa in Charlottesville, Va; Kimmy works for Eileen Fisher, where I get most of my gorgeous sweaters that you see paired with Ped things at the Ped site; Nicole also works for Eileen Fisher and used to work for Ped when we had our store in Seattle, Wa.; and Becky owns Les Amis, my favorite Seattle boutique and the source for most of the clothes you see modeled with the shoes in Ped's pics. So our conversation is always lively!!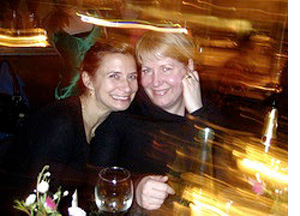 That's Becky (on the right) with me at Five Leaves. I'm not sure what was up with the camera, but maybe it simply captured the energy of the night! Because after dinner, things got a little crazy out on the street…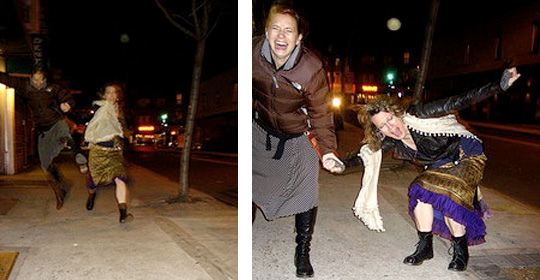 Kimmy (on the right), wearing her treasured Cydwoq Sin boots (which are on sale right now, incidentally), and I, in my favorite Fiorentini + Baker Emma boots, decided to kick of up our heels outside the restaurant. Amy called it our "Riverdance"! And none of us could stop laughing! Lunatics, yes, but lovely lunatics in our Ped boots!
There is nothing better on earth than hanging out (and cutting up) with good friends!!! I hope all you Ped heads have as much fun with your circle as I do with mine!