Monday, April 18th, 2011
As much as we enjoy our winter woolens, we also enjoy putting them away when spring sails in with warmer weather! Nevertheless, we still need a little coziness in the early morning and after the sun goes down. Plus, it's nice to to spice up a summer outfit with an extra dash of color and pattern. Just in time to fulfill both needs are the latest scarves from Epice and Sophie Digard!
Designed in Denmark and handcrafted by master weavers in India, Epice's gorgeous scarves are meticulously loomed from fine cotton and linen. Each is also wide enough to wear as a shawl when your shoulders get chilly. Meanwhile, Sophie Digard, the inimitable Parisian queen of crochet, always wows us with her linen creations that are light and soft wearable works of art!
Below is a sampling of our warm-weather favorites from Epice and Sophie!
Epice is famous for their imaginative use of color, exemplified by the bold, tropical palette of this new Casablanca Scarf: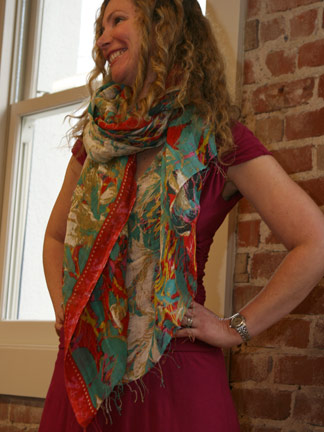 Carmine, turquoise, yellow and khaki look so lively—it's impossible to be in a bad mood when you have this fun linen and cotton scarf wound around your neck!
But if you prefer to make a quieter style statement, see what you think of Epice's 100% linen Parisian Spring Scarf: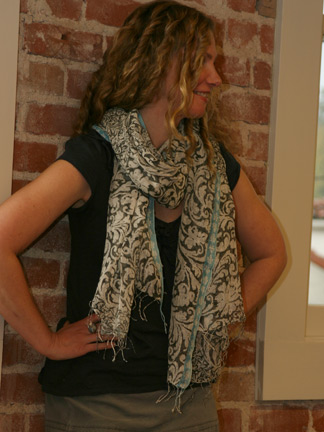 Graceful arabesques in cream dance across a warm gray background, perfectly accented with a patterned aqua border. So pretty!
Another Epice style that makes us sigh with delight is the Indian Summer Scarf: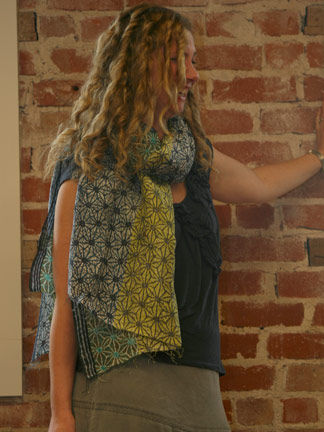 A stylized floral pattern is interpreted in three different color combinations: cream and blue, grey and citron, and brown and turquoise. The ultralight fabric is 70% linen and 30% cotton, yielding a drop-dead gorgeous scarf that's an ideal summer weight!
Of course, Sophie Digard knows to how thrill with flowers, too! Check out the sweetness of her new Love & Chance Scarf: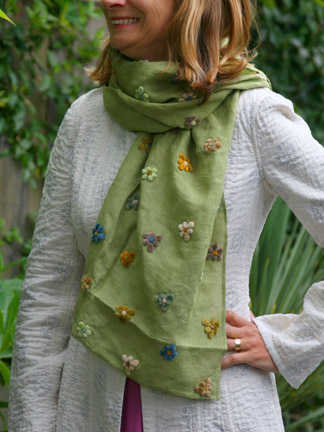 Handmade velvet posies scatter across this grass green linen scarf—the very essence of summer!!! As you know, I have a weakness for anything green, but Ped also offers the Love & Chance scarf in ecru for those of you who love all things cream.
Needless to say, Sophie  has created a slue of new crocheted designs in lovely linen. One of the loveliest is the Confetti Scarf!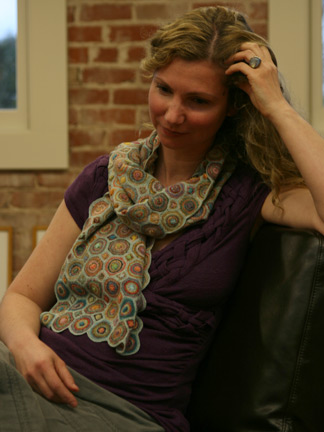 We keep picking up this scarf because its pattern of small diamonds interspersed among larger concentric circles—each with a tufted velvet center—is so mesmerizing. The variation in colors is delicious against a background of pale blue. (Use the "zoom" tool to fully appreciate this beauty!)
But perhaps our favorite of all the wonderful scarves this season is Sophie Digard's super-super-super-cool Ecouter Summer Scarf: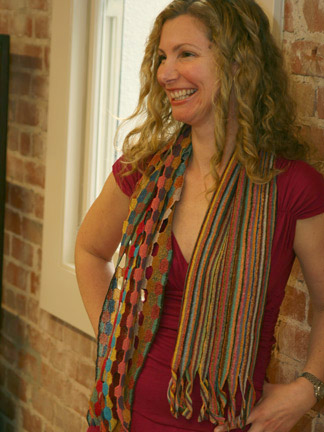 The design of this scarf is so innovative!!! Sophie crochets an open honeycomb in a juicy summer palette of pink, turquoise, red, mustard, blue, and more on one half of the Ecouter's length; on the other half, she uses the same palette to create tiny parallel stripes that separate and twist into fantastic fringe at the end! Did I mention the Ecouter is super cool? It's SUPER COOL! (We also have the Ecouter Scarf in a springy pastel palette.)
And there are more designs from both Epice and Sophie Digard to dazzle you at Ped's main site. Whether you're looking for a light wrap or a beautiful and unique accessory to enliven your wardrobe, Epice and Sophie Digard have you covered!
(Psst, you have just one more day to enjoy a 20% discount on Chie Mihara's Lorensa as this week's sweet treat. Click "be sweet to your feet" in the top right corner of any Ped page to reach the Lorensa with the discount code that makes the price extra nice at checkout.)