Sunday, April 4th, 2010
We Ped-sters tend to resist trends, but I admit we've fallen hard for the latest "in": platform sandals! Wedges and sky-high heels have dominated the runway for several years, but now they've received a jolt of retro power via the addition of platforms á la the 1970s (and before that, the 1940s). This vintage kick has more going for it than just being cute; it makes adding a few inches of height oh so comfortable. With a 1.5″ platform up front, a 4″ heel suddenly becomes a cinch to wear because the pitch is only 2.5″. No pain, all gain!
We went a little crazy with the platforms this season, but we think you'll agree each one is something special. Here are just a few to whet your appetite for height.
There's no better way to welcome warm weather than with a big pop of color! So, say, "Good day!" to Chie Mihara's Hito: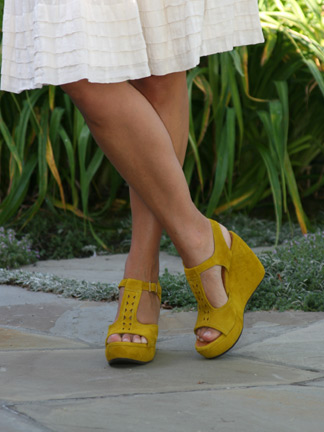 You'll be walking sunshine in this curry suede number! Make that tall walking sunshine because the wedge is a sassy 4″—but figure in the 1.25″ platform, and the pitch is an easily manageable 2.75″. You'll have your head in the clouds from all the compliments swirling around you!
Another platform that seems like summer incarnate is Cordani's Erin: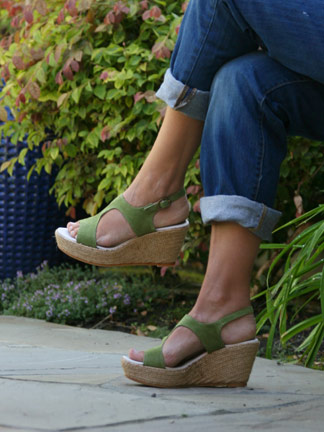 Who doesn't love an espadrille? The combination of the braided raffia on the platform and the pistachio green suede is so fresh!
These shoes may look substantial, but all of them are light on your feet. Case in point,  Coclico's cork-soled Metalmark:

We love the modern, urban edge the straps and rivets bring to this sole that's reminiscent of disco days.
Speaking of 1970s vibes updated for the 21st century, check out Chie Mihara's Riana: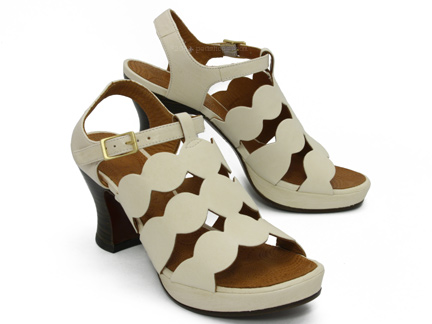 The laser-cut circles that form the straps on this chunky-heeled platform really come to life once this beauty is on your foot. The 3″ heel—which would be fine even without the platform—is super easy with the 1″ lift up front.
But if you're a little more ambitious about enhancing your height and setting fire to the streets, then look no further than Chie's Voy: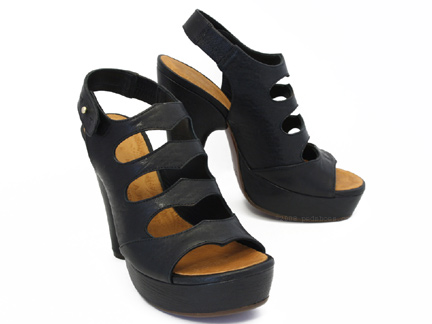 Ay, caramaba! This knockout is so hot it just might give the sidewalk blisters (but never your tootsies)! You'll be a modern-day disco inferno walking on the Voy's 4.5″ heel, but the 1.25″ platform in front will keep your stride cool and confident.
Head over to Ped's main site for even more ways to stand tall while staying comfortable. We're sure you'll find a platform to believe in!