Wednesday, June 30th, 2010
Do you belong to the church of Chie Mihara? Because for anyone who has suffered through long hours in high heels, discovering Chie Mihara is like finding religion! This Spanish designer preaches (and practices) the gospel that beautiful and feminine shoes can also be comfortable!
Born in Brazil to Japanese parents, Chie Mihara studied fashion design in Japan and New York City before establishing her company in Spain. Her multicultural background comes into play whenever she designs a shoe: Brazil's celebration of the feminine, Japan's penchant for innovative design, the get-it-done practicality of NYC, and Spain's appreciation of craftsmanship. Her vintage-inspired styles, embellished with playful details, all feature a footbed Chie designed specifically to accommodate a woman's foot. And once you've walked a mile in her heels, you'll never again be satisfied with anything less.
Our first shipment of Chie Mihara's fall styles just arrived, and in a word: WOW! Witness for yourself:
Oxfords are all the rage right now, and Chie gives hers a feminine twist: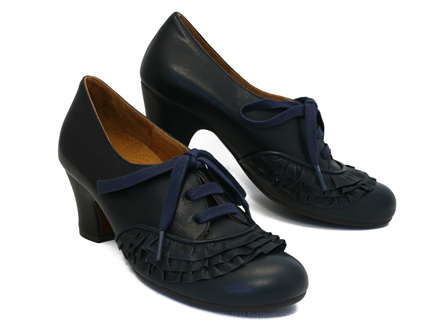 A blue leather lace-up with three rows of ruffles? Be still our shoe-loving hearts! The Chie Mihara Loti has us under its spell!
But maybe you're a member of Team Mary Jane rather than Team Oxford (not that you have to choose):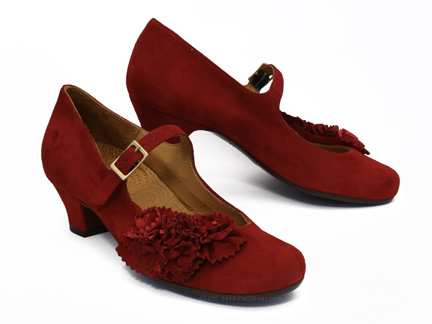 Fact of life: You can never have too many red shoes! And when you find one as pretty as Chie's red suede Nilon, why resist temptation? We guarantee you"ll have no regrets—only shoe-wearing joy!
You say what you really want is a gorgeous ankle boot? Chie, again, answers your prayers: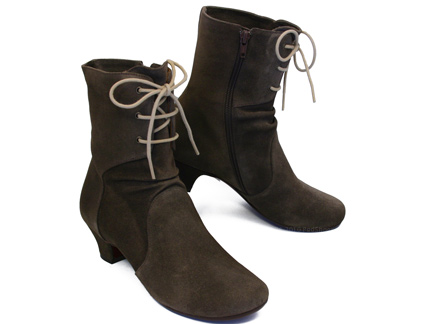 It's as if Ms. Mihara has magically melded a Victorian lace-up with a riding boot and thrown in a little extra 'zazz to create the Narista!
For those who like to amp up the volume both in terms of height and unabashed femininity, prepare to say oo-la-la: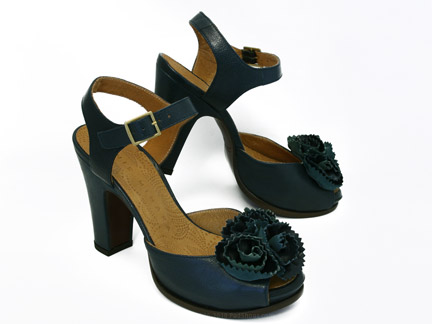 Altogether now, "OOH-LA-LA!" The Vasca is the height of old-school Hollywood glamour!
We love that ocean blue leather, but some days we want to step into the world with bang-pow-razzle-dazzle-wow: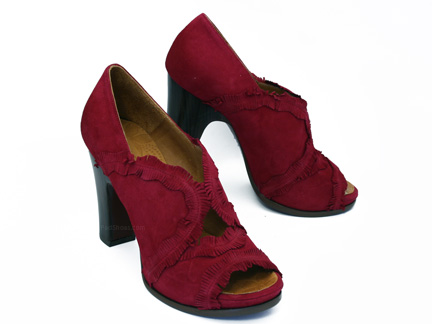 Hello, Veranito! This fringy, ruffled, fuchsia peep-toe is Chie's gift to femme fetales everywhere! Go forth and be fabulous!
And there are five more equally amazing, new Chie styles at the main Ped site. So cast those misery-making, ankle-aching stilettos into the back of the closet, and shout, "Hallelujah!" because Chie Mihara's heels are nothing short of heaven!
(And, just fyi, this week's "Sweet Treat" is Trippen's über edgy Stream sandal boot. Simply click "be sweet to your feet" in the upper right corner of this page or any Ped page, and you'll land at the Stream with the magic code to give you 20% off at checkout.)